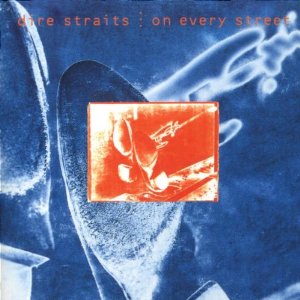 I knocked around the fringes of academia for years, but it's just as well that I never became a teacher — because there's nothing I find more irritating than a C+ paper from an A student. And that's what On Every Street is, for the most part. In Mark Knopfler we have a singer-songwriter capable of excellence, even occasional genius, half-assing it through a set of tunes that barely rise to the level of "adequate."
It's not as if Dire Straits had gone soft. Knopfler was never exactly a firebrand to begin with, and the band's records had always been graced with their share of Lite FM moments. But there's nothing wrong with soft rock per se if it's done with craft and taste, and this Dire Straits had done exceptionally well. Earlier love-over-mellow-gold numbers, from "Wild West End" to "Your Latest Trick" blended wry, observational lyrics with their pudding-smooth sounds.
Six years had come and gone since the bazillion-selling Brothers In Arms. That's a long time between records — plenty of time to develop and polish a solid set of songs, one would think. And to its credit, On Every Street is highly polished. But for all the prep and expectations, the songs fall short. While Knopfler the producer, Knopfler the guitarist, and Knopfler the arranger all bring their A-games, Knopfler the lyricist barely bothers to show up.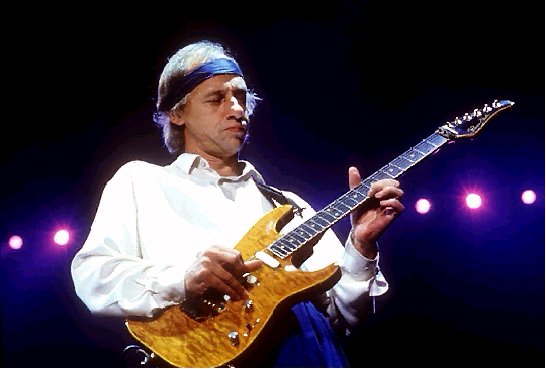 The hard-boiled narrative and character work that defined Dire Straits on records like Making Movies and Love Over Gold is absent. For the lead single "Calling Elvis" (download) Knopfler has scarcely written a lyric at all. The damnable thing is that it sounds so good — the blend of Paul Franklin's pedal steel into those snarling lead runs, Jeff Porcaro's endlessly inventive mutations of the beat on the long fadeout, the steady throb of John Illsley's bass under the hovering keyboards — that you can almost forgive it for being a vamp passing itself off as a song. Almost.
Other cuts are more structured, but no more successful. The would-be noir "Fade To Black" scans as if composed with a rhyming dictionary in hand. When you're paying more attention to the schema of the song than to the meaning, you know there's trouble. And there are the inevitable retreads of pas successes. "Iron Hand" assays the elegiac tone of "Brother In Arms," but again falls short, while "The Bug" (later covered by Mary Chapin Carpenter) is an easygoing rockabilly pastiche in the vein of "Walk of Life," but lacks the latter's indelible hooks.
More than anything, On Every Street stinks of missed opportunities. "Heavy Fuel" boasts a literary inspiration, but the winking, knowingly-stupid bridge tips the whole thing to easy comedy, rather than the more ambiguous (and therefore more cutting) parody that Knopfler had mastered before. Listening to "Money For Nothing," the unattentive listener might — and many did — accuse Knopfler of homophobia; but there's nothing in the cartoonish machismo of "Heavy Fuel" or the filthy-rich gags of "My Parties" to suggest anything but condescension.
A couple of tracks rise above mediocrity. "When It Comes To You" (download) works a familiar, rolling-and-tumbling country groove, but there's a genuine, unforced charm missing from the more calculated cuts. And the title track (download) is a stunner; a thematic sequel to the classic "Private Investigations," it explores the same territory of betrayal and longing, but with a gorgeous resignation standing in for the former's self-pity. The arrangement creates real drama, not facile melodrama. When that guitar riff finally bursts through at the end, it is as satisfying a moment as any in the band's catalog.
Otherwise, though, it's all lazy licks ("Planet of New Orleans"), cheap laughs, and easy targets ("Ticket to Heaven," about televangelism — a tired subject, even then). It's all unfailingly tuneful and pleasant, if a little soporific. But there's a palpable lack of ambition, and onetime admirers cannot help but feel let down. Perhaps it is unfair to consider an artist's output in comparison to their earlier triumphs; but without the promise implied by Dire Straits's other work, On Every Street would hardly be worth considering in the first place.