What did fledgling pop stars think homeless people wanted more than anything else at the dawn of the '90s? For the answer we turn to "Penny Lady," a ballad from Louie Louie's debut album, The State I'm In (WTG/Epic): "Is your life so empty? No one really knows / The smile on your face, it would never let it show / And then she said, 'I need a bath, I could use a shower' / I said, 'Here, take my album, and you can sell it for a dollar.'"
Okay, two problems here. One, no homeless person in the history of homelessness has ever said, "I really wish people would stop giving me money, and instead would consider donating goods that I can then sell to passersby for a fair yet mutually beneficial price. Oh, how I've always dreamed of being a music-retail middleman." Two, The State I'm In is worth much more than a dollar, so stop selling yourself short, Louie Squared.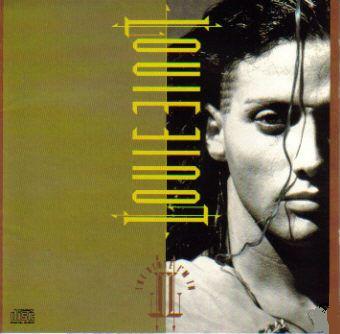 Granted, a dollar is all I paid for this album at a half-price book store early last year, but it turned out to be the best secondhand purchase I'd made in a long time — "Penny Lady" is the only overearnest clunker on the disc. (Allow me to ruin the final verse's twist ending for you: after learning the Penny Lady has passed away, L.L. falls to his knees and sobs, at which point she taps him on the shoulder and says, "Surprise! The guy who told you I was dead? He drinks too much." Aw, why can't all obituaries be written by misinformed winos?)
The rest of The State I'm In is filled with effervescent, hook-happy dance-pop, influenced by both Latin and new jack swing rhythms and performed with considerable verve by Louie Louie (prior to 1990 he was best known for playing Madonna's boyfriend in her video for "Borderline"), particularly the album's lead single, "Sittin' in the Lap of Luxury," which cracked Billboard's top 20 in the summer of '90. Graced with a classy cameo by Dizzy Gillespie and his muted trumpet, the track cribs its moral from the Time's "Gigolos Get Lonely Too" and earns a spot as one of the best singles of the year.
Louie Louie's gigolo gets a dose of his own medicine on "Mata Hari," where the listener's left with the impression that his lover is stepping out with another woman, while a reference to M. Butterfly adds to the romantic confusion. That sense of uncertainty becomes a recurring theme on The State I'm In, but it first rears its ugly head in the title track's opening lines:
All I want to know is why, the president's face appears in Hustler
All I want to know is what, what Jesus Christ has to do with sex
All I want to do is cry, because my friend has never met his father
All I want to do is sigh, and ask myself what's next
Not exactly a carefree way to kick off an album of energetic pop songs, but it points to Louie Louie's strong suit here: he's got a lot on his mind, but like most people, his mind is scattered. After his gigolo insists "I Wanna Get Back With You" and "Stop Lookin' for Someone Else," he reverses his stance by declaring "Let Me Divorce You," which cross-fades into "I'm Sorry That It Happened to You." I love the phrasing of that sentiment — not "I'm sorry I did that to you," but "I'm sorry it happened to you." The song might as well be subtitled "I Refuse to Take Responsibility for My Actions, or at Least That's What My Know-It-All Therapist Tells Me."
All kidding aside, the luxury Louie Louie indulges in on his debut album is warts-and-all honesty, and it pays off handsomely. Rumor has it the singer was booted from Sony's roster in the early '90s after he refused to back down from label president Tommy Mottola in a contract negotiation — his second LP, 1993's Let's Get Started, was recorded on Warner's dime, and later in the decade he created a successful showcase for his talents in Las Vegas — but if The State I'm In is any indication, the only apology the former Mr. Mariah Carey is likely to get is "I'm sorry that it happened to you."
The State I'm In is available at Amazon.com, with used copies starting at a penny.