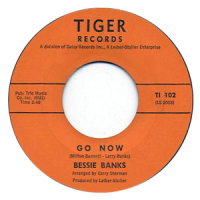 When pressed, I have been known to designate the 1964 Moody Blues smash "Go Now" as my favorite single ever. It features the powerful piano playing of Mike Pinder, and for all of you Wings fans, that's Denny Laine doing the soulful lead vocal.
It wasn't until years later, some time in the '80s as I recall, that I learned that the Moody Blues hit was a cover version of a song released by Bessie Banks earlier that same year. "Go Now" was written by Banks' ex-husband Larry Banks, along with Milton Bennett. It was produced by Jerry Leiber and Mike Stoller, and originally released on their Tiger Records label. It was hardly a chart-topper, just reaching #40 on the Cashbox R&B Singles chart. Still, "Go Now" by Bessie Banks is an undeniable soul classic.
The enormous success of the Moody Blues version of "Go Now," and the British Invasion in general, put a huge dent in the Bessie Banks' career, as it did to many American artists at the time. Though she recorded several more singles for Verve Records, and later Volt Records over the next ten years, she never achieved the kind of success that at one time she seemed destined for.
Happy New Year to all of the Soul Serenade readers. I appreciate the nice comments I have received for this column, and for Popdose overall. Thanks for your continued support.
[kml_flashembed movie="http://www.youtube.com/v/qLgdcGEqgcw" width="600" height="344" allowfullscreen="true" fvars="fs=1" /]