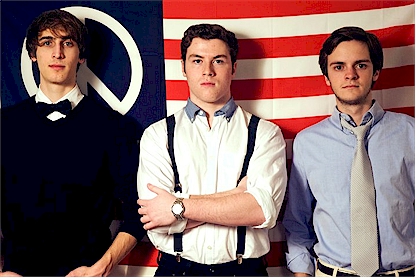 What did you do in your spare time at college (or from the ages of 18 to 22, if you didn't matriculate)? Discuss literature with pretty coeds? Perfect your Frisbee flick? Engage in leg-bending hacky sack shenanigans? Learn to drink like a fish and crawl like a snake? Play your albums, smoke your pot, and meet your girlfriend in the parking lot?
I imbibed my share of cheapo half-gallon-bottle vodka (Popov, you gut-rotting bitch—I will one day have my vengeance upon thee), deejayed shows no one listened to, and wrote passionately about music—not a bad way to while away the time.
Reader Beth, however, was kind enough to hip me to some Drexel University undergrads who are spending their non-study time in an infinitely cooler fashion—writing and recording music, opening shows for interesting artists, and even touring on their own.
The band D&M consists of three strapping young gents—Danny Fornasa (vocals), Miles "Dean" Mueller (percussion), and Matt Klahre (guitars)—who play a brand of acoustic pop spiked with vocal harmonies and bluesy instrumental flourishes. It's the kind of music that's all over pop and AC stations these days—an amalgam of stuff like Jason Mraz, Train, O.A.R., John Mayer, and the like. What's striking, though, is the seriously accomplished fashion in which the music is played—pretty impressive for a band so early in its development. Give 'em time, and they might just give the big boys a run for their money.
"The Ballad of Peter and Wendy," from their 2010 release The Eyepatch EP, bursts forth with Klahre's distorted guitar riffage and Fornasa's alternatively pleading and finger-poppy vocalizin'. Propulsive and engaging, it breaks down and builds back up with ease. Less dynamic but no less affecting is "The Eyepatch Song," a goshdurned pretty bit of sentimentality, lifted immeasurably by vocal harmonies and a killer chorus.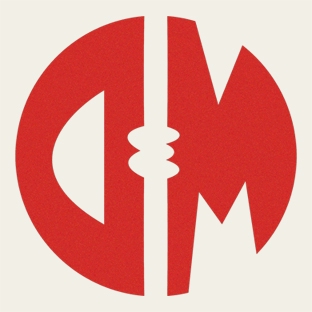 Better still is the stuff on the band's recently released EP, Delawanna. The title track's piano base and laid-back accompaniment gives Fornasa plenty of space to emote and ride Mueller's solid groove. Fornasa also blasts out of the dynamic "I Wish You Were Here" coiling inside the verses before exploding in the full-throated chorus. Klahre's understated solo after the second chorus is gorgeous; his aggressive outro solo is scary cool.
It really all comes together on "Just to Be with You," which should be impacting AC radio, like, now. Fornasa's vocal is looser, almost slurry, in the verses, settling in over the repetitive guitar figure and shuffling rhythm. It builds through two verse/chorus passes into a climactic middle eight, then back into the chorus, with voices and little harmony pieces coming at you from all directions. Seriously, if "Hey Soul Sister" can stay on the charts for a bloody year, there has to be room for "Just to Be with You."
D&M is on a fan-funded national tour, through the end of August. If you're in Vegas, L.A., San Diego, Atlanta, or any of the other towns the band is playing, check 'em out.
I conducted a brief email interview with the band, which went something like this:
You all met at Drexel. Are you still in school? If so, describe what it takes to balance student life with the life of a band trying to earn a wider reputation.
Matt Klahre: Yes. Dean (our drummer) just graduated from Drexel, so his focus is 100 percent on the band. Danny and I are still in school, and although sometime it is tough to balance both, we learn a lot from our music industry classes at Drexel that help us as a band. We know that without Drexel we never would have had this much success.
You're using Kickstarter to fund a national tour. Discuss this a bit—why did you turn to Kickstarter? How successful was the campaign? Where is the tour taking you?
Danny Fornasa: We used Kickstarter to help fund our national tour. After returning from our regional winter tour, we decided we wanted to do a much more expansive tour over the summer, but soon realized how expensive it would be. We turned to Kickstarter to help fundraise, and met our goal with time to spare. We'll be playing the entire east coast, west coast, and even a few cities in the Midwest.
You've done supporting slots for a wide variety of artists—from Kevin Rudolph to Yoko Ono. Do you approach opening for an act any differently than you do when headlining? What's been the most responsive audience you've encountered as a support band?
Miles "Dean" Mueller: We just recently supported Windsor Drive at The Barbary, in Philadelphia. The fans there were amazing and extremely receptive. When we're playing a support slot, we have more limited amount of time to win over the audience that is composed mostly of other act's fans. But when we do, it is even more rewarding.
And I guess I should ask, as nicely as possible, Yoko-friggin'-Ono? Really??? How?
DF: We played at the opening of the Ni Una Mas art exhibit in Philadelphia at which Yoko was the featured artist. We were lucky enough to be asked to open the show, soon after we opened for Kevin Rudolph and N.E.R.D.
What does a typical D&M live set sound like? How many songs? Originals and covers or just originals? If you do covers, what covers do you do?
MK: A typical set ranges from 30 minutes to just over an hour. We stick with mostly originals; however Bill Withers' "Ain't No Sunshine" has become a staple in our sets this summer. When we do perform covers, we try to make them as much our own as possible.
Your Web site indicates that Danny is the chief songwriter—how does he present new material to the band? What's the process by which a Danny demo turns into a D&M song?
MK: It is very complicated actually… When Danny writes a song, he plays it for us, then we try playing it all together, and we end up playing it at a show later that week.
DF: It is a testament to our chemistry that everyone is able to make the song work and feed off each other immediately.
You have two EP's out, including the new Delawanna. What were your expectations when recording these, and what are your expectations now that they're available?
MDM: With each EP, we set higher standards for ourselves. We believe in the quality of the songs on the new Delawana EP, and hope that others love the songs as much as we do. In the near future, we hope to have the budget to record the debut LP that we have always dreamed of making.
Why release EP's, rather than do a full-length record?
DF: We have been waiting to do a full-length album until we could do it right. Meaning, we want to have the budget professionalism, and time to make an album that we feel best represents us.
You got an exclusive track streamed on Relix and the whole Delawanna EP streamed on AOL Radio. What was the process you went through to get that kind of exposure?
MK: We have a great publicity company that was able to get our music heard by all these people. It is a testament to the record that they were willing to give us this opportunity.
You're making music videos at a time when videos are not the promotional vehicle they once were. Do you produce/fund these yourself, or do you have friends in high places? How do you see the role of, say, the video for "Delawanna" in getting the song into more iPods or onto radio playlists?
DF: We'll have to disagree with you on that one. Even though MTV isn't playing music videos any more, YouTube is one of the top ways that people discover new music now, and having a great music video is essential for an up-and-coming band. The idea and production of the video was made and funded entirely by us as a band.
I hate Coldplay. You like Coldplay. What am I missing? What are you hearing in their pompous, bombastic twaddle that I'm not? (I ask this of every Coldplay fan I encounter).
DF: Haha! Matt wasn't a fan of Coldplay when I first met him either. For those who have just heard the radio singles, Coldplay may not seem like the best band. This same curse befalls John Mayer. But if you listen to the records or see them live, it is impossible not to be impressed by their songs and their musicianship.
What one area of your band do you hope to see the biggest growth in, say, the next year (songwriting, playing, groupies, etc.)?
MDM: Our fan base is what allows us to be a band, and we hope that is continues to grow forever.