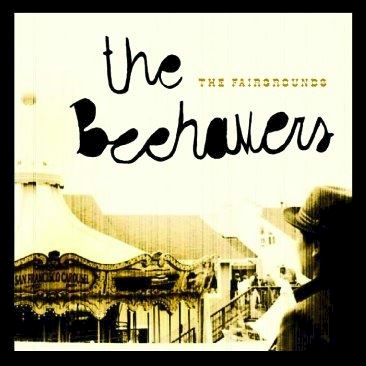 Some of us here at Tha Dose not only write about music, but practice the art ourselves, in sundry forms, with varying results. Regardless of where Ken Shane lives (Rhode Island, these days), the breath he exhales smells like the salty air of Atlantic City, and his record—2004's South Ridgeway Avenue—sounds like the result of spending many nights on the pre-MTV Jersey shore, soaking up folk and rock. Li'l Jason Hare leads a couple excellent cover band projects in New York City, including the excellently named Evil Prince Ludwig the Indestructible. Dw. Dunphy has made, by my count, four cool records of layered progressive rock; even poobah Jeff Giles (y'all) tinted his hair and made a couple records back in the day. My duo project with the illustrious Jim "Jimbo" Moser broke up 14 years ago, but on occasion, we threaten to reunite and make another cassette-only release. You know, for the fans.
Michael Fortes, denizen of San Francisco and contributor of the fine "Parlour to Parlour" series, plays bass in an interesting musical collective called The Beehavers. Led by singer and main songwriter Tante Nosined, the band creates a rollicking stew of sound, pulling from a host of disparate influences, from rock and soul to gospel and percussion-heavy African music. In a lot of ways, it's a band that could only be formed in a place like San Francisco, feeding off the city's inherent openness and curiosity to create something at once familiar and original.
The structure of Nosined's songs let the music breathe, and the Beehavers' most recent record The Fairgrounds is better for such space. The title track kicks off the album, and is in many ways indicative of the band's strengths and challenges. The song is a gypsy gumbo of piano, accordion, brushed drums, and percussion bursts—think of a Tom Waits-ian racket, with bits of instrumentation coming on at different angles, moving in and out of the space given it by the arrangement. Nosined's bass-baritone (a la Crash Test Dummy Brad Roberts) doesn't so much sing the lyrics as slide around in them. It's an interesting approach, though not always the most accurate; when he slides past an intended note, it distracts from the overall effect of the song. When he hits it, though, he nails it, and it's a fine thing indeed.
"To Your Freedom" takes the approach a step further, mixing the double-tracked lead vocal way up, and though I think I hear a mandolin somewhere in there, it's mostly obscured. The song really flies, though, when the harmony voices enter and swirl around. An undercurrent of vocals also lifts "Sleep All Day" (my favorite song on the record)—an uptempo, happy-sounding tune that masks a darker mood beneath the surface. Nosined slides around the melody some more, making a line like "I've been searching for some thing now / That doesn't make me blue" all the more striking. There's a lot going on here (Zach Rubin-Rattet's muffled, backwards-sounding guitar solo made me smile), and for the most part, it works.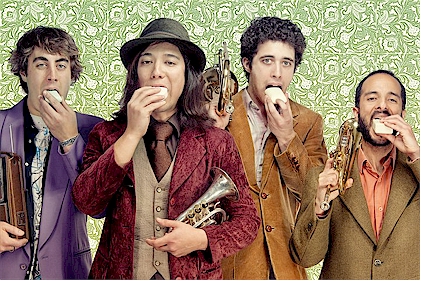 Many of Nosined's vocal performances sound double-tracked—a common recording technique, meant to make a performance sound fuller. Problem is, on some songs, the tracks don't sound completely synched, making each sound just a little off, a little out of phase. It's noticeable on the album-closing "Time (For All)," and less so on "Old School Amelia"—the difference between the two is the focus on harmony in the latter, whereas the vocal tracks on the former really need to sound more in unison than they do. Indeed, I think the band would benefit from even more vocal harmony; it'd make the sliding approach to melodies a little more accurate, while more fully complementing the band's rollicking instrumental performances.
My guess is the Beehavers would be cool to see live, where double-tracking doesn't happen and the combined energies of band and audience can turn capable performers into spirit-conjuring shamans. As fate would have it, this Wednesday (December 14), they're playing San Francisco's famed Bottom of the Hill club (1233 17th Street). If you're in the area, go check them out; report back in the Comments section below and let me know if I'm right. And head over to the Beehavers' Soundcloud page to hear The Fairgrounds in its entirety.
That's all I can't say no to in 2011. Check back in the new year, when I'll share my thoughts on, among other things, a heavy-as-fuck metal band from Poland, some grungy goodness from my backyard, and whatever else you folks ask me to listen to. Have a great holiday season.