Weekly (or maybe biweekly, or whenever) thoughts on miscellaneous cultural ephemera, recent and otherwise. With apologies and much respect to Greil Marcus and a titular tip of the hat to my high school lit mag.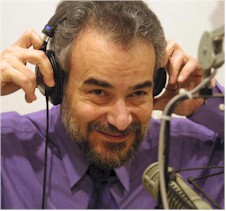 1. WFUV-FM, Saturday, April 28, 4:00PM to 10:00PM. A six-hour wake for the late, great New York DJ Pete Fornatale, spread over the course of his own show (Mixed Bag, guest-hosted by friend/colleague/quasi-protÁ©gÁ© Don McGee) and that of longtime compadre Vin Scelsa (Idiot's Delight). The latter tribute was pure Scelsa—funny, free-form, and moving. It began with a great Peter Falk monologue from Wim Wenders' Wings of Desire, segued into Simon and Garfunkel's original "Sound of Silence," and wound its way through two hours of reminiscence and Fornatale faves (Scelsa didn't even speak for the first half hour; it was almost as though he were gathering himself).
McGee, though, seemed to channel his friend through 48 songs and several themed mini-sets (a Fornatale specialty). The show opened with a funereal swing through S&G's "Bookends Theme" (Fornatale had co-authored a book on the album), into James Taylor's amazing "Enough to Be on Your Way," into a ten-year-old Poco song ("One Tear at a Time"), into Dylan's profound "Every Grain of Sand." It ended with a series of radio-centric tunes (The Ravyns' "Raised on the Radio," Rush's "Spirit of the Radio," Van Morrison's "Caravan," and the Kinks' "Around the Dial"). Between was a leisurely stroll through songs both classic and contemporary, from the Beach Boys to Springsteen, Phil Ochs and Dion to Aztec Two-Step, deep cuts from Hall and Oates, the Strawbs, and Michael Stanley Band, plus obscurities from acts like Joe Brooks, Mark Roth, and Batdorf & Rodney.
It was like a hole had opened in the time/space continuum of FM radio, letting that Sixties and Seventies free-form magic mingle with tunes in the here and now. WFUV specializes in this stuff, and has some of the old-school masters plying their craft on its airwaves, but on this night, there was something especially unique and touching about the whole endeavor. Somewhere, out in the ether, Fornatale was smiling.
2. Enter the Haggis, "The Basket or the Blade" (from Whitelake, CD Baby, 2012). I assume the imagery of guillotines and beheadings and the like are a metaphor for something a little less medieval—something a little more emotional and universal. No matter; the truly brilliant portion of the song is its building tension in the second verse, and the lift after the second chorus, in which singer Brian Buchanan lets his Bono flag fly and Enter the Haggis, for about 40 seconds, sound like they could reach the nosebleed seats at the local Enormodome, if not the outer reaches of heaven itself.
3. 2012 White House Correspondents Dinner, 4/28/12. I know it's been going on since, like, the Lincoln administration, but I can't help but wonder whether this annual dinner/yukfest—dubbed "Nerd Prom" by its fans—has outlived its usefulness, whatever that usefulness might have at one time been. Perhaps journalism students benefit from scholarship monies the thing purportedly raises—good for them. It's their first lesson in being bought and paid for.
See, as I've understood it, it's the press' job to hold politicians' proverbial feet to the proverbial fire and by doing so render them accountable for their actions and shit. It's not the press' job to plant their noses firmly up the politicos' asses and be grateful for the whiff (regardless of what the Bush administration told them), nor is it their job to lap up the Cristal and give high-fives to people whose shoe soles they should be burning. Yeah, I know, I'm a little old-fashioned, a little naÁ¯ve, hopelessly nearsighted, and possibly quite drunk. But the thing just makes me angry, regardless of who's in the Oval Office.
So Wolf Blitzer gets to rub elbows with Reese Witherspoon and walk a red carpet like a movie star. Great. Give him a role in the next Legally Blonde movie; it'll do just as much for his credibility. Or let him admit that the Washington press corps—and, by extension, the White House Correspondents Association—is nothing more than a really bad cast of a really long film with a really shitty script, complete with a Kardashian cameo.
4. Neil Cowley Trio, The Face of Mount Molehill (Naim Jazz, 2012). Cowley's trio does not play jazz, but a spunky, fun, jazz-like creation with wit and precision, a music that insinuates itself in your head and internal rhythms from the very first listen. It's an instrumental opiate, from the baby-giggle basis of "Mini Haha" to the epic sweep of "Distance by Clockwork," to the toe-tapping playfulness of "Rooster Was a Witness." Listen at your pleasure, or peril. You have been warned.
5. Dana Spiotta, Stone Arabia (Scribner, 2011). The subtext of this lauded short novel about memory and family relations is the alternate history one might imagine for oneself, in the absence of any real achievement in one's life. We read of Nik Kranis, the ne'er-do-well songwriter/bartender brother of the narrator, who constructs just such a history for himself in a 30-year-long diary/multimedia project, in which he casts himself as a misunderstood musical genius and phantom presence in the rock world. He hand-makes his own CDs, writes pseudonymous interviews with and reviews (both positive and negative) of himself and his work. Essentially, he spends decades writing himself into the Rolling Stone Encyclopedia of Rock and Roll, all the while treating his reality (financial, health-wise, and otherwise) as a sideshow he can step into and out of at will.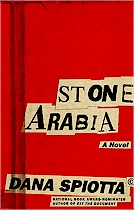 How many of us have not, at one or another time, imagined a grand fate for ourselves, lived out moments of popular adulation in front of great audiences, all of it in our own heads? Those stadium-rocking daydreams can be momentarily satisfying, and if we're unable to make them come true, there is little lost but a few moments of time we should have been doing something else. The intrusion on reality is minimal.
Nik's life's work reminded me of the Jack Lemmon character in the 1989 film Dad, who suffers from a kind of dementia, in the throes of which he reveals the alternate reality he has been imagining for himself for decades—a different wife, a different occupation, a different family. He had constructed these things in his mind as a kind of joyful retreat, an escape from a life in which he was profoundly unhappy. Similarly, Nik's retreat into his daydream keeps him alive, keeps him from coming to grips with the promise he had once shown, promise he has been unable to bring to fruition. He is the soul of Stone Arabia, a perfectly hewn character in an imperfect novel, a character that resembles the novel's readers more than they would probably care to admit.
6. Alex Pareene, "Tucker Carlson's Downward Spiral" (Salon.com, posted 4/26/12); David Baerwald, Facebook post (date undetermined). Pareene kicks off a new "Hack List" series of least-favorite media figures (it should be subtitled "Great American Douchebags") with a blow-by-blow takedown of the Á¼ber-smarmy Carlson, complete with links that support every point with evidence straight from the bowtied fucker's own mouth and pen. It's a good read—one worth digging through if you have some time to spend on such a thing, in the interest of reminding yourself why you dislike him so.
You could, conversely, revel in a little snippet from songwriter Baerwald's Facebook wall, and it'll only take you a couple seconds. The post has been removed, so I'll have to reconstruct it from memory. It's not difficult.  Baerwald is at a party; Carlson is at the same party. Carlson approaches Baerwald.
Carlson [extending hand]: Hi, I'm Tucker Carlson.
Baerwald [withholding hand]: I know who you are.
[end of scene]