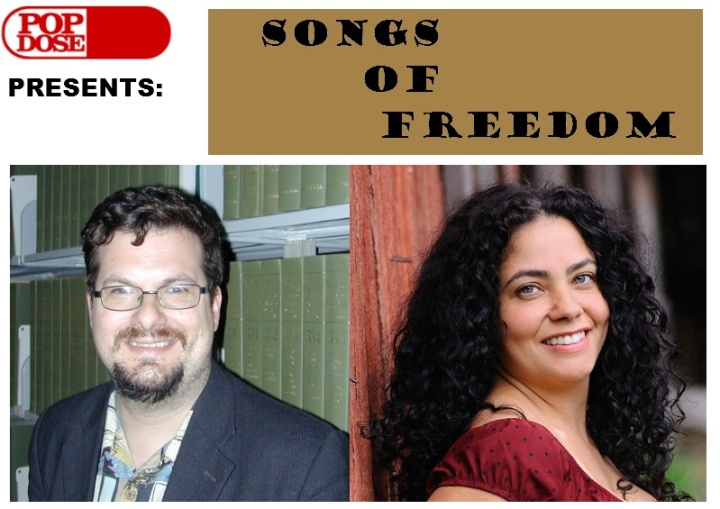 The fifth episode of Songs of Freedom continues the discussion from the last episode on politics and female recording artists.
Matthew Bolin and Lyana Fernandez enter into the conversation this time by talking about the similar career paths of Sinead O'Connor, Lauryn Hill and M.I.A., not only in terms of their messages crossing politics and sexuality, but the "self-destructive" events that seemed to begin occurring at their greatest points of success. With a more specific focus on Lauryn Hill, the talk turns to how the industry, media, and the general public portray and react to the controversies and eccentricities of female musicians versus male counterparts. At one point, special attention is made of Prince, and his own taking-on of the feminine persona Camille throughout his album Sign O the Times.
Another topic covered is the limits of responsibility female artists have (or are expected) to support each other. The career so-far of Lana Del Rey is covered, and Liz Phair's Op-Ed defending her and supporting female self-expression–regardless of its quality. Matthew and Lyana disagree with the usefulness of that last position, then Matthew spends some time ranting about Del Rey, and what he sees as a troubling lack of distinction between art and artifice in "debutante rock".
The conversation wraps up with a discussion about the future of female artists in the music industry, including their marketing, and ends with a point from the first part of this podcast on why the industry prefers looking for the next Miley Cyrus as opposed to the next Adele or Lady Gaga.
Along the way, Grace Jones is compared to Stevie Nicks, Madonna's 2012 European exploits lead to face-palming, and a host of other points are pointed out.
—————————————————————————————
Songs of Freedom — EPISODE FIVE (53:44, 49.2 MB)
*
Playlist— Here's a selection of songs by artists discussed in this episode, and other tunes related to the episode's subject matter:
Camille (Prince) w/Sheena Easton – U Got the Look from Sign O the Times (1987)
Miley Cyrus – Party in the U.S.A. from The Time of Our Lives (2009)
Lana Del Ray – National Anthem from Born to Die (2012)
Ani DiFranco – The Million You Never Made from Not a Pretty Girl (1995)
Lisa Germano – The Dresses Song from Happiness (1994)
Lauryn Hill – Doo Wop (That Thing) from The Miseducation of Lauryn Hill (1998)
Grace Jones – Slave to the Rhythm from Island Life (1985)
Annie Lennox – Walking on Broken Glass from Diva (1992)
Maria McKee – Absolutely Barking Stars from Life is Sweet (1996)
Joni Mitchell – All I Want from Blue (1972)
M.I.A. – Bad Girls from Mantangi (2013)
Sinead O'Connor – Nothing Compares 2 U from I Do Not Want What I Haven't Got (1990)
—————————————————————————————
Matthew Bolin can be contacted on Twitter @Hadrians_Dad. Lyana Fernandez can be contacted @lolitapop9. Comments as well as topic/song suggestions are welcomed.