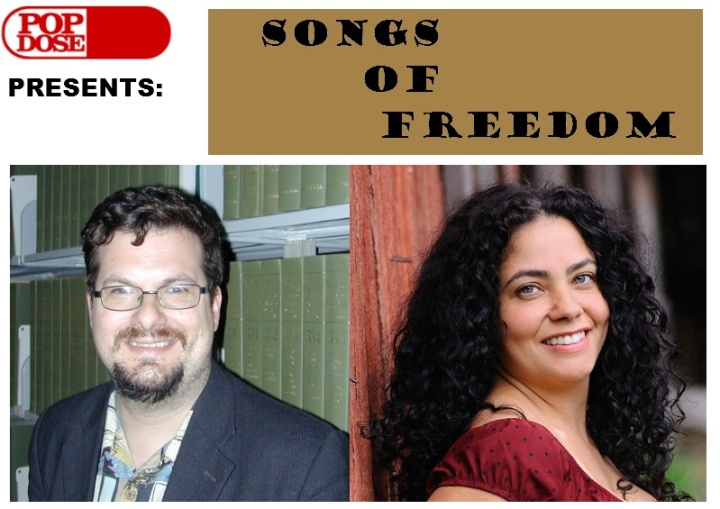 The sixth episode of Songs of Freedom focuses on the subject of cultural — especially musical — appropriation, using the inexplicable success of the "Harlem Shake" meme as a jumping-off point.
Matthew Bolin and Lyana Fernandez discuss the difference between the meme'd Harlem Shake versus the actual dance, noting not only the lack of sample clearance by Baauer in constructing the "tune," but the almost total dominance of white individuals taking part in this meme. Is it just a multi-layered form of cultural appropriation (or misappropriation)? Or does it go beyond even ignorance, and straight to what can be labelled "hipster racism"?
This leads to discussions of what is "real" versus "artifice" and how that affects discussions of artists such as Amy Winehouse and Justin Timberlake for example. Furthermore, the idea of whether appropriation can ever actually have a positive connotation is debated, and possible examples of it are given. Matthew and Lyana also discuss whether only white fans are brought into the fold when white artists appropriate black culture, or whether, for instance, Eric Clapton's version of "I Shot the Sheriff" might have introduced Bob Marley to black as well as white audiences.
The conversation concludes with a few notes on "immersion culture," and if growing up in an environment dominated by music that until the last 15-20 years had limited crossover into the "mainstream" now changes the concept of cultural and musical appropriation compared to how previous generations defined it.
---
Songs of Freedom — EPISODE SIX (48:57, 44.8 MB)
Playlist — Here's a selection of songs by artists discussed in this episode, and other tunes related to the episode's subject matter:
Adele – Lovesong
Baauer – Harlem Shake
Carl Bean – I Was Born This Way
Beastie Boys – Rhymin' & Stealin'
Pat Boone – Tutti Frutti

Eric Clapton – I Shot the Sheriff
Bob Dylan – No More Auction Block
Hector "El Father" – Maldades (Remix)
Marvin Gaye & Tammi Terrell – Ain't No Mountain High Enough
Howlin' Wolf – Little Red Rooster
Lady Gaga – Born This Way (Grum Remix)
Little Richard – Tutti Frutti
Macklemore & Ryan Lewis feat. Ray Dalton – Can't Hold Us
Elvis Presley – Hound Dog
Elvis Presley – Tutti Frutti
Paul Robeson – No More Auction Block
Rolling Stones – I Just Want to Make Love to You
Rolling Stones – Little Red Rooster
Big Mama Thornton – Hound Dog
The Wailers – I Shot the Sheriff
Muddy Waters – I Just Want to Make Love to You
Amy Winehouse – Tears Dry On Their Own
---
Matthew Bolin can be contacted on Twitter @HadriansDad. Lyana Fernandez can be contacted @lolitapop9. Comments as well as topic/song suggestions are welcomed.