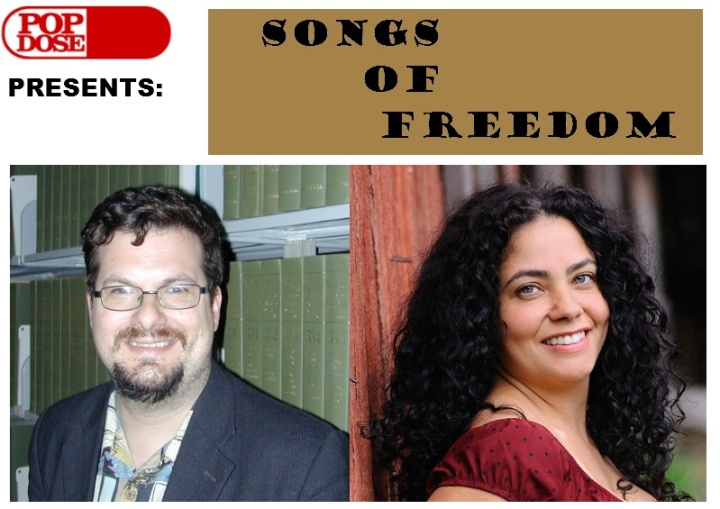 In this third episode of "Songs of Freedom", Matthew Bolin and Lyana Fernandez focus on MTV: the role of politics in its history and programming, and about the politically motivated artists who have been a part of its history, both inclusive and as critics.
Special focus is given to the "peak" years of the channel's involvement in the political process (approximately 1988-1994): How the hiring of former Rolling Stone journalist Kurt Loder in the later 1980's changed their image; how the 1992 election made them (for a moment) a possible political influence on the national landscape; and, how shifting demographics, ownership by Viacom, and a dependence on reality-based programming eventually removed most traces of both politics, and then music itself from the network. Included in this portion is talk of how the shift away from music led to first the addition of other related television channels, and then the creep of non-video, non-music, and eventually reality-dependent programming across all their channels.
In addition, they discuss how the homogenous programming style they currently have parallels a similar sameness in much of the videos that have been played on the channel (especially in its early years); the difference between the original U.S. MTV and its sister channels across the globe, especially in the area of politics; and, whether the network is currently undergoing another change-or crisis of conscience-that may (slowly) affect how they portray themselves and their relationship with both politics and music moving forward.
NOTE FROM MATTHEW: At one point in the episode, I recall off the top of my head that Dire Straits' Brothers in Arms album had sold between twelve and fifteen million copies. Turns out that it sold nine million….just in the United States. Worldwide, it has sold to date around thirty million copies worldwide, and as of this week is still the sixth biggest selling album in the history of the British charts (though Adele's 21 is likely to push it to seventh sometime in the next few months).
—————————————————————————————
Songs of Freedom — EPISODE THREE (1:12:55, 66.8 MB)
*
Playlist— Here's a selection of songs by artists discussed in this episode, and other tunes related to the episode's subject matter:
Calibretto 13 – Why Can't I Be On MTV? from Adventures in Tokyo (2002)
The Clash – (White Man) In Hammersmith Palais from The Clash (U.S. Version) (1977)
Dead Kennedys – MTV Get Off the Air from Frankenchrist (1985)
Deep Purple – MTV from Rapture of the Deep (Special Edition) (1986)
Dire Straits – Money for Nothing from Brothers in Arms (1985)
John Mellencamp – Pop Singer from Big Daddy (1989)
Nirvana – Serve the Servants from In Utero (1993)
R.E.M. – Losing My Religion from Out of Time (1991)
The Replacements – Seen Your Video from Let it Be (1984)
U2 – With or Without You from The Joshua Tree (1987)
Neil Young – This Note's For You from This Note's For You (1988)
Frank Zappa – Be in My Video from Them or Us (1984)
—————————————————————————————
Matthew Bolin can be contacted on Twitter @Hadrians_Dad. Lyana Fernandez can be contacted @lolitapop9. Comments as well as topic/song suggestions are welcomed.