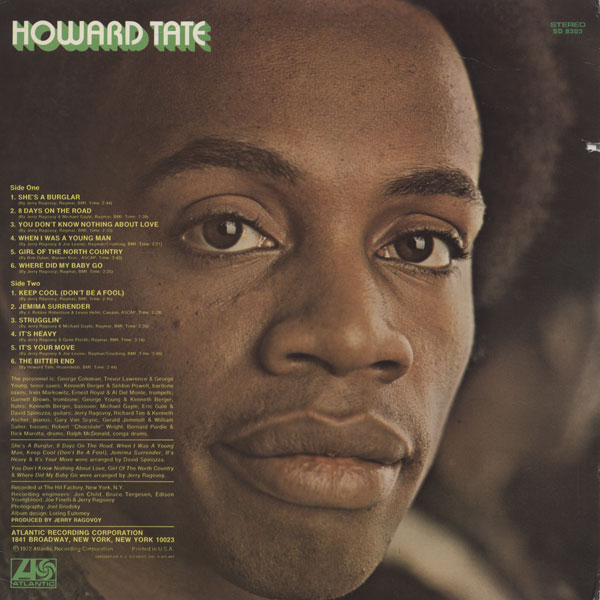 Last night I learned of the death of Dobie Gray and I posted something on Twitter reflecting the fact that this god awful week for the world of music has also seen the deaths of the wonderful soul singer Howard Tate, blues guitar legend Hubert Sumlin, and Stax star J. Blackfoot. E.J. Friedman (@loudersoft) concurred that it has been a nightmare, and mentioned the importance of celebrating these great artists while they're alive. I replied that I try to do that every week in this column.
I fucking hate it when I have to use the column as a eulogy for someone who has been lost. After all, as I've said time and time again, these people are irreplaceable. We won't see their likes again. On the other hand, I suppose it's inevitable that as time goes by we will lose more and more of these stars of the '50s, '60s, and even the '70s. Inevitability doesn't make it hurt any less though.
When I heard about Howard Tate's death on Saturday I decided to focus the column on him this week. So despite the other major losses, and with all due respect and love, that's what I'm going to do.
Tate was born in Macon, GA, and grew up in Philadelphia. As a young man he sang with Garnet Mimms in a group called the Gainors. They recorded for Cameo Parkway and Mercury Records, but it was when Mimms introduced Tate to renowned producer and songwriter Jerry Ragavoy that the fun really started. Together Tate and Ragavoy created a series of soul sides for Verve Records that were among the best of the '60s. Titles included the Billboard top 20 R&B hits "Ain't Nobody Home," "Stop," and "Look At Granny," all written or co-written by Ragavoy.
Tate left Ragavoy to make an album called Reaction, which was produced by Lloyd Price and Johnny Nash, and released in 1970. Reaction was well received by critics, but didn't see much in way of sales. Tate and Ragavoy reunited for a self-titled Tate album released by Atlantic Records in 1972. Along with Ragavoy's songs, there were covers of Bob Dylan's "Girl From the North Country," and Robbie Robertson and Levon Helm's "Jemima Surrender." "8 Days on the Road" was one of the songs on that album, and it's a perfect example of the great work that Tate and Ragavoy did together.
Success proved elusive for Tate, and by the late '70s he had retired from the music business. He scuffled along, but by the '80s he was dependent on drugs, and living in a homeless shelter. Thankfully, the story doesn't end there.
By the mid-'90s Tate was counseling drug abusers, and saving souls as a preacher. In 2001, a NJ disc jockey discovered Tate's whereabouts and that same year Tate played his first gig in many years, in New Orleans. The led to a reunion with Ragavoy, and the pair collaborated on the album Rediscovered, which was released in 2003. There were a few more albums, including Howard Tate Live, released by Shout! Factory in 2006.
Howard Tate died on Saturday. He was soon joined in heaven by Hubert Sumlin, Dobie Gray, and J. Blackfoot. It's hard to remember a week when the world lost so much music in such a short time. Rest in peace, all.