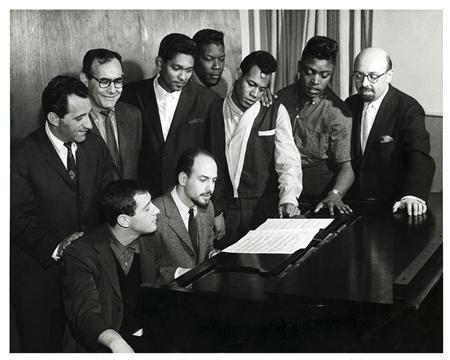 Monday was simply a terrible day for the world of music. It was on that day that we lost two of the greatest songwriters in the history of popular music. Both Jerry Leiber and Nick Ashford were best known for their classic soul and rhythm & blues songs, so it is appropriate to pay tribute to them in this column. This week I'll pay homage to Jerry Leiber, and next week I'll do the same for Nick Ashford.
I'll start with the basics, though you may have already read them in the countless tributes that poured in when Jerry Leiber's death was announced. He came from Baltimore, but moved to Los Angeles where he attended Fairfax High School. He was working in a record store during his senior year when he met Mike Stoller in 1950.
The two young men soon found that they shared a love of rhythm & blues music, and they ended up working together for more than 60 years, Stoller creating the blues-based music and Leiber crafting the street smart lyrics. From the start it was their intention to write with black artists in mind.
The team wrote "Hound Dog" for Big Mama Thornton in 1952, but it wasn't until Elvis Presley scored a huge hit with the song in 1956 that Leiber and Stoller became the hottest songwriters in music. Ironically, Leiber hated the Presley recording because not only did he think that Elvis did the song too fast, but the lyrics had been changed. That "never caught a rabbit" stuff was not something that Leiber wrote. "I'd never write such a dumb line" Leiber once told the Chicago Tribune.
Leiber and Stoller loved Elvis though, and ended up writing the music for several of his films including "Jailhouse Rock."
Despite the Elvis hits, Leiber and Stoller are probably best remembered for the uproarious and sometimes just flat out funny singles that they created for vocal groups like the Clovers ("Love Potion No. 9"), the Drifters ("Ruby Baby"), the Robins ("Smokey Joe's Cafe," "Riot In Cell Block No. 9"), and especially the Coasters, who Leiber and Stoller helped to spin off from the Robins ("Yakety Yak," "Searchin'," "Poison Ivy," "Charlie Brown," "Down In Mexico," and "Little Egypt").
Leiber/Stoller songs were covered by dozens of artists including the Beatles, the Rolling Stones, and Aretha Franklin. Their most recorded song is "Kansas City," which is best known as a hit for Wilbert Harrison in 1959.
In the late '50s, Lieber and Stoller moved to New York were they became part of the collection of songwriting giants who worked at the Brill Building. While in New York, they mentored a young producer by the name of Phil Spector.
It was in New York that Leiber and Stoller worked with the Drifters, creating hits like "On Broadway," and later with Ben E. King. "Spanish Harlem", a song written by Leiber and Spector (though it is worth noting, as Jim Fusilli of the Wall Street Journal did recently in a note to me, that Stoller arranged the song and did other work that merited a songwriter credit), was King's first hit after leaving the Drifters. Then King collaborated with Leiber and Stoller on "Stand By Me," one of the most indelible songs in the history of popular music.
For several years Leiber and Stoller had a deal with Atlantic Records that allowed them to produce for other labels, making them perhaps the first independent record producers. After they left Atlantic in the early '60s, they produced hits for Jay and the Americans ("She Cried") and the Exciters ("Tell Him"). But it was in 1969 that they had their biggest hit of the post-Atlantic era with Peggy Lee's rueful "Is That All There Is."
Leiber and Stoller continued working together through the ensuing decades, but the hits were fewer and farther between. The honors, however, were just beginning. In 1985 they were inducted into the Songwriters Hall of Fame, and two years later into the Rock and Roll Hall of Fame. In 1991 they received the ASCAP Founders Award, and in 1994 they got a star on Hollywood Boulevard. More awards would follow.
In 1995 a musical revue called "Smokey Joe's Cafe," based on the music of Leiber and Stoller, was nominated for seven Tony Awards and became the longest running musical revue in Broadway history. Leiber and Stoller won a Grammy Award for the cast album.
A founding father of rock and roll is gone and cannot be  replaced. Thank goodness we will have the music of Leiber and Stoller forever. Speaking of that music, listen to this great Leiber and Stoller Playlist on Spotify.
[kml_flashembed movie="http://www.youtube.com/v/gj0Rz-uP4Mk" width="600" height="344" allowfullscreen="true" fvars="fs=1" /]