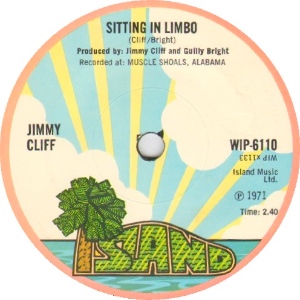 A 1972 Jamaican film called The Harder They Come made a big splash in the cinema world, and an even bigger splash in the music world. The film itself starred Jimmy Cliff, and was based on the life of the notorious Jamaican criminal Rhyging. No one paid much attention when The Harder They Come opened in New York in 1973, but gradually the film gained cult status as a result of midnight screenings.
It was the film's soundtrack album that really created a buzz though. It was released in the US in February, 1973 by Mango Records and featured several songs by Cliff including the title track which was the only song recorded specifically for the film. The balance of the album was a compilation of earlier Jamaican singles from Cliff, Desmond Dekker, the Maytals, Scotty, the Slickers, and the Melodians.
Although the album only reached #140 on the Billboard albums chart, it was pivotal in popularizing reggae music in the US, and as such it is a landmark album. It was #119 on Rolling Stone magazine's greatest albums of all time list in 2003, and was also included on greatest albums lists from Time magazine and Blender magazine.
In addition to the title song, Cliff's contributions to the album included the wistful "Many Rivers To Cross," "You Can Get It If You Really Want," and this week's featured song, "Sitting In Limbo".
The film's plot revolves around Ivanhoe Martin, a young reggae singer in search of a hit. When he's on the verge of getting one, he finds out that the only way to make it to the top is to sell the rights to his music. At that point he turns to a life of crime with tragic results. "Sitting In Limbo" perfectly describes Ivanhoe's predicament as he finds himself suspended between the world of music, and the world of crime. It is the song of a battered but determined soul trying to find his way. Most of us have never contemplated a life of crime, but we've all been in this place.
Sitting here in limbo
Waiting for the dice to roll
Sitting here in limbo
Still got time to search my soul
Meanwhile they're putting up resistance
But I know that my faith will lead me on
[kml_flashembed movie="http://www.youtube.com/v/TWaqRwFrYZ4" width="600" height="344" allowfullscreen="true" fvars="fs=1" /]