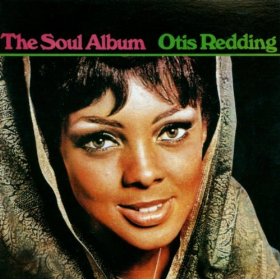 So there I was sitting in my apartment watching Seinfeld reruns last night, and thinking about this week's Soul Serenade column. As far as I knew it was Tuesday, so I had the entire next day to get the column ready for Thursday. Chalk up another victim of the Monday holiday week confusion curse.
Fortunately, I knew what I was going to write about this week. There were actually three items that I wanted to address, so here goes.
Otis Redding would have been 70 years-old on Friday. For many, he was the greatest soul singer who ever lived. His death in 1968 was tragic on a number of levels. Not the least of these was that he had only recently started to cross over to a white audience when his plane went down in a Wisconsin lake on December 10, 1967.
Looking back it's hard to imagine that Otis Redding was ever anything less than a superstar, but that is the case. It wasn't until has appearance at the Monterey Pop Festival a few months before his death that he really began to expand his audience. A year earlier, an engagement at the Whiskey A-Go-Go (beautifully captured on Live on the Sunset Strip) had started his ascent, and he sealed the deal with his fiery set at Monterey.
Otis Redding was only 26 years-old when he died. It is hard to fathom the amount of great music that he undoubtedly would have created had he lived. Fortunately, he left some indelible music behind, including the majestic 1966 soul ballad "Cigarettes and Coffee", which appeared on  The Soul Album.
[kml_flashembed movie="http://www.youtube.com/v/dael4sb42nI" width="600" height="344" allowfullscreen="true" fvars="fs=1" /]
Wardell Quezergue died this week. The brilliant New Orleans producer/arranger/bandleader was known as the "Creole Beethoven," a title he won with his work on some of the greatest recordings in the history of popular music.
Quezerge's first hit it big with Robert Parker's soul smash "Barefootin'" which was released on Quezergue's own NOLA Records label in 1964, and reached #2 on the R&B chart.
Stax and Atlantic didn't make too many mistakes when it came to great soul records, but when they initially passed on Quezergue's recordings of King Floyd's "Groove Me," and Jean Knight's "Mr. Big Stuff," he took them to little known Malaco Records. Eventually both records became huge national hits.
Quezergue went on to work with artists like Paul Simon, Willie Nelson, Dr. John, and B.B. King. All of this is just the tip of the iceberg though. I urge you to do a little digging and listen to some of the work that this great musician left behind. Here's a Spotify link to get you started.
[kml_flashembed movie="http://www.youtube.com/v/J_o3SjxAwL0" width="600" height="344" allowfullscreen="true" fvars="fs=1" /]
Finally, you may recall that I wrote about the first three volumes (the contest is long over) of Concord Records' Stax reissue program a few months ago. The next three volumes in the series will be released on September 13. This time out the albums are Whatcha See Is Watcha Get by the Dramatics, Do the Funky Chicken by Rufus Thomas, and Woman To Woman by Shirley Brown.
The title track of each of these releases was a big hit back in the day. All three albums have been remastered, and each one includes bonus tracks, and new liner notes. For any soul music fan, this series is essential.
[kml_flashembed movie="http://www.youtube.com/v/DwlGNNqGf_g" width="600" height="344" allowfullscreen="true" fvars="fs=1" /]