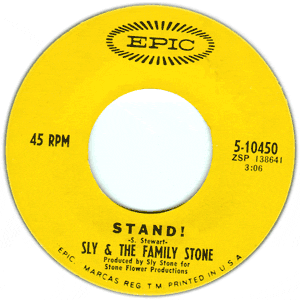 When "Everyday People" raced to the top of the pop and R&B charts in late 1968, it became incumbent on Sly & the Family Stone to come up with a great album. That is exactly what they did. Stand!, the band's fourth album, would turn out the be the breakthrough that they had been looking for. The album was released by Epic Records on May 3, 1969, and reached #13 on the Billboard Pop Albums chart, and #3 on Billboard's Top R&B Albums chart.
In addition to "Everyday People," Stand! included hits like "Sing a Simple Song," "I Want To Take You Higher," and the single"Stand!" All is not what it appears to be, however. When Sly Stone played an acetate of the newly recorded song in a San Francisco club, it did not get the kind of response that he was hoping for. He went back into the studio to rerecord the gospel freakout that takes place at the end of the song. Since most of his band wasn't available for the session, he brought in a group of session musicians. So "Stand!" as we know it is the result of the combined efforts of Family Stone members Rose Stone, Freddie Stone, Greg Errico, Larry Graham, Cynthia Robinson, and Jerry Martini, and a group of LA studio musicians.
The "Stand!" single was #22 on the Billboard Pop Singles chart, and #14 on the Billboard R&B Singles chart. The b-side of the single was "I Want to Take You Higher," which also became a hit. Three months after the Stand! album was released, Sly & the Family Stone cemented their place in rock and roll history with a legendary performance at Woodstock.
[kml_flashembed movie="http://www.youtube.com/v/14yEO8nfqxE" width="600" height="344" allowfullscreen="true" fvars="fs=1" /]