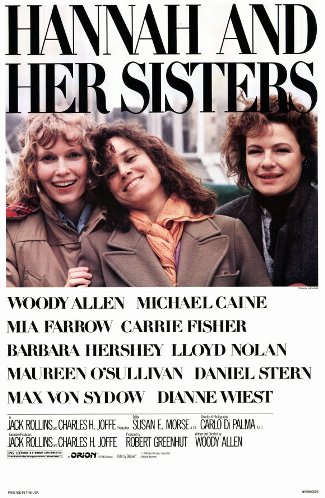 I have never been much of a Woody Allen fan and if you were to ask me why, I would respond with, "I don't know." Of the handful of Allen films I've seen — and I do really mean a handful, as I've only seen six — I've enjoyed them. I know that probably makes me a bad cinephile, and I have no real excuse for myself. I am going to be off work recovering from surgery for basically the entire month of December, so perhaps I will make it a project to have a marathon of Allen's movies. I'll add it to the marathon of Ingmar Bergman movies I have planned.
One of the Allen films I have seen, and absolutely love, is Hannah and Her Sisters (1986). In fact, of the few Allen movies I've watched, this one is probably my favorite. Incidentally, I recently heard actor/director/screenwriter Ed Burns reveal on the Filmspotting podcast that Hannah and Her Sisters is his favorite Allen movie, too, so I guess I'm in good company.
I will admit that I was a little hesitant to write about this film for Soundtrack Saturday, mostly because I know Allen has such a rabid fan base who would no doubt school me on my lack of Allen knowledge. But, after watching the film again and listening to the soundtrack, I knew I couldn't pass it up.
[kml_flashembed movie="http://www.youtube.com/v/Qtgw38Yq2Qs" width="600″ height="344″ allowfullscreen="true" fvars="fs=1″ /]
One thing I love about Allen's films is the natural — and beautifully awkward — dialogue that he is so adept at, which also leads to their being eminently quotable. Hannah and Her Sisters is full of some of the funniest lines to be uttered onscreen. Some of my favorites:
"For all my education, accomplishments and so-called wisdom, I can't fathom my own heart." – Elliott (Michael Caine)
"Then at lunch she got drunker and drunker and finally she became Joan Collins!" – Evan (Lloyd Nolan)
"How the hell do I know why there were Nazis? I don't know how the can opener works!" – Mickey's Father (Leo Postrel)
"I have got to get my teeth cleaned." – Lee (Barbara Hershey)
"…this haircut that passes for a man." – Norma (Maureen O'Sullivan)
"Listen, kid, I think you snapped your cap. Maybe you need a few weeks in Bermuda or something. Or go to a whorehouse!" – Gail (Julie Kavner)
"If Jesus came back and saw what's going on in his name, he'd never stop throwing up." – Frederick (Max von Sydow)
"My poor analyst got so frustrated, the guy finally put in a salad bar." – Mickey (Allen)
Until the release of Match Point in 2005, Hannah and Her Sisters was Allen's most financially successful film, grossing more than $40 million at the box office. It was nominated for seven Academy Awards, including Best Picture, Best Director for Allen, Best Screenplay Written Directly for the Screen, Best Supporting Actress for Dianne Wiest and Best Supporting Actor for Michael Caine. Wiest and Caine both won their in their respective categories and Allen won for his screenplay. Incidentally, no film since has won Oscars in both of the supporting actor categories.
In addition to its flawless performances and witty dialogue, the soundtrack to Hannah and Her Sisters is also quite perfect. Allen is adept at using music to add dimension to the characters and storyline. The two theme songs of the film, if you will, seem to be Harry James's take on "You Made Me Love You" and "Bewitched, Bothered and Bewildered," which is performed during the film's first Thanksgiving scene by Lloyd Nolan and Maureen O'Sullivan, then is heard throughout the film in a piano-only incarnation, performed by Dick Hyman.
Additionally, the characters and, indeed, their relationships also have a specific soundtrack. For example, trumpet-laden songs, such as the two Count Basie tracks, fit best with Mickey and Lee and Elliott's relationship is soundtracked by Bach's harpsichord concertos. And the opera — Puccini in particular —  is the center of Holly's (Wiest) rivalry with April (Carrie Fisher) for David's (Sam Waterston) affections.
I don't know enough about Allen's other films and how music is used to say that it's a common trend, but in this film, he seems to prefer old standards to new music, something that is reflected in the character he plays. Evidence of this comes in Mickey and Holly's date scene. They start out at a punk club watching 39 Steps perform ("Slip Into the Crowd" is the song). Mickey complains about the music and when he suggests they go see something a little calmer, she bascially accuses him of being a square. He promises her it'll be good music, so she relents. They wind up at a stuffy club listening to Bobby Short perform "I'm In Love Again." As someone who deems taste in music to be an important quality in a potential mate, I adore this scene.
Sadly, the official soundtrack is out of print and didn't include all the songs that appeared in the film, but I've managed to find most of them. Listen as you plan your neurotic Thanksgiving dinner party.
Harry James – You Made Me Love You
Harry James – I've Heard That Song Before
Lloyd Nolan and Maureen O'Sullivan – Bewitched, Bothered and Bewildered
Dick Hyman – Piano Medley: It Could Happen To You/Polkadots And Moombeams/Avalon/Just You, Just Me
Johann Sebastian Bach – Concerto for Two Violins and Orchestra in D minor, BWV 1043: Vivace (this is not the exact version that appears in the film)
Count Basie and His Orchestra – Back to the Apple
Count Basie and His Orchestra – The Trot
The Dave Brubeck Quartet – I Remember You
Giacomo Puccini – Madama Butterfly / Act 1 – … E soffitto e pareti (this is not the exact version that appears in the film)
Yehudi Menuhin – Concerto For Harpsichord In F Minor, 2nd Movement
Derek Smith – You Are Too Beautiful
Roy Elderidge – If I Had You
39 Steps – Slip Into the Crowd
Bobby Short – I'm In Love Again
Derek Smith – Isn't it Romantic?
And just because:
Allo Darlin' – Woody Allen