It's no secret how much I love '80s breakdance movies. I mean, how can you not love them — there are so many and they are all SO FUCKING AMAZING.
Well, I now think I've found a new obsession: '80s skateboarding movies. This is a genre I've never really explored, outside of Gleaming the Cube (1989), starring one Christian Slater. But I think I'm ready for more after viewing this week's Soundtrack Saturday film, Thrashin' (1986), aka Skate Gang.
How I didn't know about this movie when I was growing up is beyond me. I'm guessing that it probably played on cable a million times, but never bothered to stop and watch it because skaters didn't really interest me. Well, actually, they did — I had a huge crush on a few skaters in junior high school. But, I mean, this movie features a young, hunky Josh Brolin in his first starring role (this was also his first film after The Goonies (1985). How the hell could I pass that up? Dumb.
Thrashin' also stars a few actors who appear in other '80s movies I love, such as Pamela Gidley (Cherry 2000, Permanent Record); Robert Rusler (Weird Science, Shag: The Movie) and Sherilyn Fenn (Just One of the Guys, The Wraith). Plus, it features a boatload of actual, for real skateboarders, like Tony Hawk Tony Alva, Christian Hosoi and Steve Caballero, just like how the breakdance movies had REAL breakdancers. You can't go wrong, right?
[kml_flashembed movie="http://www.youtube.com/v/6allGZw0-qU" width="600" height="344" allowfullscreen="true" fvars="fs=1" /]
I will tell you that the first time I watched this film was, um, two days ago (it's on Netflix Instant right now if you want to partake, also), so I don't have a lot of fond memories of this movie from my childhood. All I have is a list of things that made this movie 100% enjoyable for me now, watching it as a 30-something adult. So, here we go.
Things I Love About Thrashin' (in no particular order):
The opening sequence. I love it when '80s movies contain — and especially open with — a scene featuring a teenager waking up in the morning, going through their routine and then heading out to school, work, the beach or wherever, backed by a bouncy pop song. This one is soundtracked by Meat Loaf's "Thrashin'" (which isn't necessarily bouncy, though Brolin's hair certainly is) and has the added bonus of Corey (Brolin) having a rad skate champ dream before he wakes up.
How Corey leaves his house. The front door isn't good enough for this slice of heaven. No, this dude goes out the window and skates off his goddamned roof. THAT is how you do it, people.
California. That's all. Just California. I feel as though I should watch a double feature of this and Breakin' or this and Valley Girl.
The Big Bad Skate Gang is called the Daggers. Fuck yeah!
Robert Rusler's hair. This picture doesn't do justice to the hot mess that is happening here. It's like they tore a bunch of tails off of some stuffed Eeyore dolls, took the bows off and glued them to the back of Rusler's head.
Skaters vs. Breakdancers! "Breakin' is a memory." Hey, breakers, don't let this fucking asshole with stuffed animal hair tell you that breakin' is over. Fuck him.
"Beat it, ya Val jerk." Way to tell that boy with the bouncy hair that he doesn't belong on your turf. Yeah!
Sherilyn Fenn's character. A) Her name is VELVET. How fucking awesome is that? 2) Her hair is about 8 feet tall.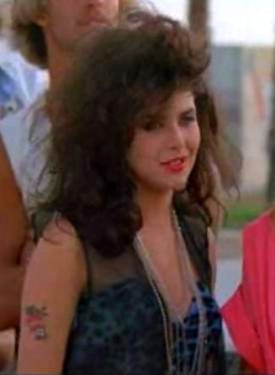 "Should I wear the skull with the dagger? Or the hoop with the dagger?" Choosing earrings is hard, dude. I feel your pain.
Gidley and Rusler couldn't look any further from brother and sister. Great casting job, there, guys!
Gidley's character, Chrissy, wears what looks like a prom dress to a skater club. She doesn't know any better — she's from Indiana!
The Bangles (early, early Bangles) perform at the skater club, but you never actually see them. The band that performs right after them? Early, early Red Hot Chili Peppers.
"Well, what do you thrash?" "Whaddya got?" That, ladies and gentlemen, is the perfect pick-up scenario.
When he's not wearing his skater gear, Brolin spends much of the film with his shirt off or dressed like this. Hubba hubba!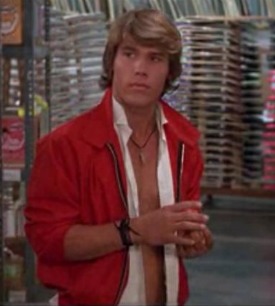 During a skater chase scene, one of the Daggers is taken out by a street sweeper. A FUCKING STREET SWEEPER. Badass skating, asshole.
Chrissy is supposed to be from Indiana, but she sounds like she's from Jersey.
The big skate "joust." Smoke, you guys. If there's darkness and smoke, that means trouble. Also, I want to buy whoever choreographed this shizz a billion beers.
In one scene, Chrissy is hitchhiking and I swear to God that Large Marge picks her up.
No member of the Daggers has taken a shower in, oh, three weeks. Sexy. SO SEXY.
The end. It is so predictable and stupid, but that's what makes it great.
Johnny Depp was the original choice to play Corey. I cannot imagine this. Depp would've been too dark and brooding and his hair wouldn't have been bouncy and shiny enough for this role. Interestingly, Brolin was the first choice to play Thom Hansen on 21 Jump Street, a role that ultimately went to Depp. Again, the right choice was made there.
Of course, if I didn't also love the soundtrack, I wouldn't be writing about this movie for this column, would I? I have to say that I was actually kind of shocked at how great this soundtrack really is. It's surprisingly eclectic and fun, with tracks from Devo, the Bangles (the song featured is from their first EP, which I own, a fact I'm sure doesn't surprise you), disco diva France Joli, Red Hot Chili Peppers, Circle Jerks, Animotion and Fine Young Cannibals. Even the Meat Loaf track is kind of rad. And yes, I'm saying rad now. A lot.
From what I can tell, there wasn't an official soundtrack album released, so I ended up piecing it together with the help of various anonymous Thrashin' fans who already had done the same. I couldn't find four tracks, though one I did find a YouTube clip for. The tracks I don't have at all are:
Jimmy Demers – Arrow Through My Heart
White Sister – Touch the Sky
The Tribe – Dancin' in Jamaica
Here are the rest. Strap on your helmet and knee pads and get thrashin'! Yeah!
Meat Loaf – Thrashin'
Devo – That's Good
Bangles – Want You
Red Hot Chili Peppers – Black Eyed Blonde
France Joli – Don't Think Twice
The Truth – Playground
Fear – Hey
The Screaming Sirens – Maniac
Circle Jerks – Wild in the Streets
Rebel Faction – Burnin' (For You)
Animotion – Staring Down the Demons
Fine Young Cannibals – Couldn't Care More
Jimmy Demmers & Carol Sue Hill – Let the Love Begin
[kml_flashembed movie="http://www.youtube.com/v/41wf-HjddPs" width="600" height="344" allowfullscreen="true" fvars="fs=1" /]