To fans of her four albums of marvelous acoustic pop in the mid-to-late Á¢€â"¢80s, Marti Jones seemed on the cusp of becoming the next (albeit far hipper) Linda Ronstadt. Jones had inherited La RonstadtÁ¢€â"¢s knack for putting a mainstream sheen on the songs of neglected rock tunesmiths; meanwhile, her partnership (professional and otherwise) with producer Don Dixon brought her music a modernist edge even as the couple matched terrific melodies with her bright, if slightly world-weary, alto voice.
Their creative alchemy reached its zenith on 1988Á¢€â"¢s Used Guitars, one of the decadeÁ¢€â"¢s finest recordings, and a celebratory four-night run at the Bottom Line in New York that brought together all the albumÁ¢€â"¢s songwriters. Those shows (and a subsequent appearance on Late Night with David Letterman) were a highlight of Jones and DixonÁ¢€â"¢s never-ending tours of those years, which we discussed last week here at Popdose. But a funny thing happened along JonesÁ¢€â"¢ ascent as the pre-eminent interpreter of modern pop: Used Guitars, like her previous albums, didnÁ¢€â"¢t sell, and neither did its highly touted follow-up, Any Kind of Lie. Within a couple years she had parted ways with two different major labels and found herself effectively out of the industry.
Since then Jones has released precisely two studio albums in two decades, focusing instead on her budding career as a painter; these days youÁ¢€â"¢re far more likely to find the fruits of her creative labor on a gallery wall than in a concert hall. Her paintings reveal the same idiosyncratic spirit that always characterized her musical performances Á¢€" sometimes serious, sometimes whimsical, always authentic. Popdose posted an exclusive "official bootleg" of a Don-and-Marti show last week; next week, Jones will discuss her recent endeavors, as well as the highlights of her musical career, in an exhaustive Popdose interview. Until then, you may view some of her artwork at www.martijonesdixon.com, and join us now as we explore her back (and, in far too many cases, out-of-print) catalog.
Color Me Gone (1984)
Purchase this album (Amazon)
Jones, a product of the surprising musical hotbed that was northeastern Ohio in the 1970s, began her career playing the club circuit in the Akron-Canton area. Friend and fellow Ohioan Liam Sternberg, who was already an established producer and songwriter by 1980, gave Jones her first studio experience singing demos Á¢€" including one for a Sternberg ditty that eventually became one of the decadeÁ¢€â"¢s biggest and most polarizing hits (more about that next week). It was Sternberg who suggested she join up with the three members of Color Me Gone, an established Akron act in need of a lead singer. He then arranged a deal for the band with A&M Records, resulting in this six-song EP of promising, if slight, jangle-pop.
The tuneful lead track Á¢€Å"Lose ControlÁ¢€ set the tone; songwriter/guitarist George Cabaniss (formerly, if briefly, one of the Stiv Bators-led Dead Boys) kept things tuneful and gave Jones plenty of dramatic high notes, qualities also employed to good effect on Á¢€Å"Almost HeavenÁ¢€ and Á¢€Å"July/December.Á¢€ The production (by the high-profile trio of Sternberg, David Anderle and Barry Mraz) and the musicianship are workmanlike, the harmonies somewhat less so. What really leaps off the grooves, of course, is JonesÁ¢€â"¢ voice Á¢€" which explains why, when Jones bailed out on the band following a dust-up with Cabaniss, A&M gave her a solo deal and relegated the rest of the band to obscurity.
Unsophisticated Time (1985)
Purchase this album (Amazon)
JonesÁ¢€â"¢ career path Á¢€" not to mention the course of her personal life Á¢€" was set when A&M arranged for Dixon to produce her first solo outing. (The two had met prior to the Color Me Gone EPÁ¢€â"¢s release, when her fellow band members were shopping for a producer to remix the record; Dixon had told them to leave well enough alone.) Quickly discovering they were simpatico on any number of levels, Jones and Dixon got out of the gate in a hurry with Unsophisticated Time. ItÁ¢€â"¢s a record full of gorgeous melodies, experimental bits, and well-chosen covers (the dBÁ¢€â"¢sÁ¢€â"¢ Á¢€Å"Lonely Is (As Lonely Does),Á¢€ Richard BaroneÁ¢€â"¢s Á¢€Å"Show and TellÁ¢€). Dixon penned four tracks, including a brilliant song of regret that became a staple of the duoÁ¢€â"¢s live act, and which he later reclaimed for himself (twice!) on his odds-and-ends collection Note Pad #38: Á¢€Å"(If I Could) Walk Away.Á¢€
JonesÁ¢€â"¢ rendition of Elvis CostelloÁ¢€â"¢s Á¢€Å"The Element Within HerÁ¢€ was a particular critical favorite, and commenced her series of fine covers of his work. But the best-remembered track off Unsophisticated Time is a tune Dixon brought to Jones from his buddy Bland Simpson of the Red Clay Ramblers. Á¢€Å"Follow You All Over the WorldÁ¢€ is witty, heartfelt, beautifully sung Á¢€" it is, in short, one of The Greatest Love Songs Ever. Á¢€Å"It continues to be the track of mine that everybody remembers Á¢€" I had to quit [one of the social-networking sites] because I was getting a million e-mails from people wanting the guitar tabs for it,Á¢€ she says now. Á¢€Å"ItÁ¢€â"¢s funny that itÁ¢€â"¢s so attached to me, but IÁ¢€â"¢m thrilled about that Á¢€" itÁ¢€â"¢s a great song.Á¢€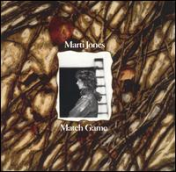 Match Game (1986)
Purchase this album (Amazon)
Eager to parlay the critical acclaim for Unsophisticated Time into an actual hit record, A&M, Dixon and Jones assembled an all-star lineup of songwriters and musicians for the recording of Match Game. The albumÁ¢€â"¢s back cover fairly screamed its creatorsÁ¢€â"¢ commercial ambitions, name-checking those contributors prominently even as the freshly permed Jones offered up her best glam pose for the camera. ThereÁ¢€â"¢s a metaphor in there somewhere, of course, and there are indeed moments on Match Game when Jones seems buried under those ambitions and the collective weight of her supporting cast.
To be sure, there are fine moments as well. The big chorus of Á¢€Å"WeÁ¢€â"¢re Doing AlrightÁ¢€ provides immediate uplift on side one, courtesy of songwriter Reed Nielsen (late of the Nielsen/Pierson Band), while JonesÁ¢€â"¢ countrified cover of CostelloÁ¢€â"¢s elegy Á¢€Å"Just a MemoryÁ¢€ verges on majestic Á¢€" as well it should, considering the personnel on the track (Marshall and Robert Crenshaw, T-Bone Burnett, Paul Carrack, Anne Richmond Boston of the Swimming Pool QÁ¢€â"¢s). Interestingly, while he plays on a couple of other tracks, Marshall Crenshaw didnÁ¢€â"¢t participate in the remaking of his own Á¢€Å"Whenever YouÁ¢€â"¢re On My MindÁ¢€ Á¢€" an adult-contemporary-ish interpretation that overlays nice backing vocals on the chorus but features an overly pristine vocal from Jones in what sounds like a blatant play for a pop hit. It didnÁ¢€â"¢t happen; in fact, Match Game failed to build much on the momentum engendered by her debut album, and wound up contributing fewer tracks to JonesÁ¢€â"¢ concert repertoire than her other records.
Used Guitars (1988)
Purchase this album (Amazon)
Two years later, in the midst of 1988Á¢€â"¢s boomlet of new female voices, Jones returned with her finest album Á¢€" an eclectic achievement that showcased three wonderful songs co-written with Dixon as well as an impeccably chosen set of covers. Of the originals, the free-spirited Á¢€Å"Tourist TownÁ¢€ was perhaps the albumÁ¢€â"¢s signature moment Á¢€" the song she performed on Letterman, and that received the most radio airplay Á¢€" but the horn-laden Á¢€Å"Twisted VinesÁ¢€ is practically as good. Janis Ian and Kye Fleming contributed two superb songs, the lovely Á¢€Å"Keep Me in the DarkÁ¢€ and the torch song Á¢€Å"Ruby,Á¢€ which became a favorite in live performance. John Hiatt, a year removed from his own commercial breakthrough with Bring the Family, also contributed two fine tracks, the uptempo Á¢€Å"The Real OneÁ¢€ and the gorgeous album-closing ballad Á¢€Å"If I Can Love Somebody.Á¢€
Bland SimpsonÁ¢€â"¢s Á¢€Å"Wind in the TreesÁ¢€ features dramatic octave shifts between the verses and bridges that allow Jones to show the power in her upper register. Then thereÁ¢€â"¢s her delicious take on a brilliant song from Graham ParkerÁ¢€â"¢s Real Macaw album, Á¢€Å"You CanÁ¢€â"¢t Take Love for Granted.Á¢€ Jones shifts expertly between a detached, almost laconic tone in the verses, which concern the slights inflicted upon each other by a pair of longtime lovers, and the snarling envy of the bridge as she stands alone and watches them waste their good fortune. Used Guitars was, and remains, essential listening for any fan of singer/songwriter folk-pop; sadly, it got lost in the shuffle of those new female artists, and received what Jones considered a grossly inadequate push from A&M. In fact, she was so disappointed by the labelÁ¢€â"¢s indifference that she asked out of her contract and signed with RCA for her next album.
Any Kind of Lie (1990)
Purchase this album (Amazon)
Empowered by the success of their songwriting efforts on Used Guitars, Jones and Dixon largely followed their own muse on its follow-up. Any Kind of Lie features only two covers, Clive GregsonÁ¢€â"¢s Á¢€Å"Second ChoiceÁ¢€ and Loudon Wainwright IIIÁ¢€â"¢s beautiful Á¢€Å"Old FriendÁ¢€; unfortunately, not enough of the originals here live up to the high standard of Á¢€Å"Tourist TownÁ¢€ or Á¢€Å"Twisted Vines.Á¢€ The opening track, Á¢€Å"Living Inside the Wind,Á¢€ and several others recall the breezy spirit of those earlier songs, but occasionally the arrangements become too sophisticated, the songs too stylistically diverse for the albumÁ¢€â"¢s own good, perhaps in an effort to ensure a hit for her new label. Dixon at times seems to think that more of everything Á¢€" a brighter sound, denser percussion, layered backing vocals Á¢€" will add up to a more radio-friendly production. What gets lost is the emotional connection that Used Guitars and Unsophisticated Time achieved so easily; itÁ¢€â"¢s ironic, yet undeniable, that Jones seemed more at home on those cover-heavy sets than she does here.
Any Kind of Lie didnÁ¢€â"¢t achieve any kind of chart success, and a regime change at RCA cost Jones her key supporter at the label, Bob Buziak. Jones, along with numerous other acts, was summarily dropped, at which point Jones and Dixon decided to begin raising a family. Their daughter, Shane, became JonesÁ¢€â"¢ top priority, and she wouldnÁ¢€â"¢t release another album for six years.
Live at Spirit Square (1996)
Purchase this album (Amazon)
The independent label Sugar Hill announced in early Á¢€â"¢96 that it would be releasing a pair of Jones albums just a few months apart. First came this six-year-old live recording, committed to 24-track during a set at the Spirit Square Center for the Arts in Charlotte during the summer of 1990. As a document of the Any Kind of Lie tour it sounds great, and as a reminder of the wonderful Don-and-Marti shows of the late Á¢€â"¢80s it served as a nice re-introduction to an artist whoÁ¢€â"¢d been away too long. The set focuses, for obvious reasons, on the album she was promoting at the time, and features faithful renditions of songs like Á¢€Å"IÁ¢€â"¢ve Got Second Sight.Á¢€ But it also features a nice selection of tunes from her earlier albums; itÁ¢€â"¢s heavier on Used Guitars than its predecessors, but includes a nice version of Á¢€Å"Inside These ArmsÁ¢€ from Match Game. (Other tracks from Live at Spirit Square were posted last week; grab Á¢€â"¢em while theyÁ¢€â"¢re still there, if you havenÁ¢€â"¢t already.)
My Long-Haired Life (1996)
Purchase this album (Amazon)
Jones gets the explanations for her extended absence over with in the opening seconds of My Long-Haired Life. The title itself (and the cover painting that accompanies it) intimate that pop-star glamour has been traded in for child-rearing efficiency; the babyÁ¢€â"¢s laughter that kicks off her cover of Nick LoweÁ¢€â"¢s Á¢€Å"I Love the Sound of Breaking GlassÁ¢€ tell listeners all they need to know about where JonesÁ¢€â"¢ head is at. Fortunately, her new priorities (and the attendant lowered expectations) seem to focus the emotional impact of My Long-Haired Life, rather than diminish it. Gone are the production gimmicks that weighed down parts of Any Kind of Lie; back is the delightful eclecticism of Jones and DixonÁ¢€â"¢s cover choices, from the soulful (Otis ReddingÁ¢€â"¢s Á¢€Å"Champagne and Wine,Á¢€ a duet with Dixon on Joe TexÁ¢€â"¢s Á¢€Å"You Got What It TakesÁ¢€) to the singer/songwriter-y (CostelloÁ¢€â"¢s Á¢€Å"Sleep of the Just,Á¢€ Aimee MannÁ¢€â"¢s Á¢€Å"Put Me on TopÁ¢€). The four originals include a couple of terrific efforts, Á¢€Å"ItÁ¢€â"¢s Not What I WantÁ¢€ and DixonÁ¢€â"¢s Á¢€Å"LifeÁ¢€â"¢s a Game.Á¢€ All told, My Long-Haired Life marks a blissfully welcome return Á¢€" and a return to form.
My Tidy Doily Dream (2002)
Purchase this album (Amazon)
Á¢€Å"The years go by so easily,Á¢€ Jones sings on Á¢€Å"Celebrity in Exile,Á¢€ the centerpiece of the album that followed another six-year absence from the recording studio. Those years may not have gone quite so easily Á¢€" along with considerable domestic bliss, they brought turmoil as well (DixonÁ¢€â"¢s 2001 heart attack, for one thing). They also brought Jones new songwriting concerns, not to mention new partners Á¢€" Richard Barone on Á¢€Å"Celebrity in Exile,Á¢€ and Kelley Ryan of astroPuppees, who wrote one song apiece with Jones and Dixon. Jones and Ryan collaborated on the album opener Á¢€Å"Always,Á¢€ a gorgeous and plaintive track that sounds unlike anything Jones had recorded to date. (RyanÁ¢€â"¢s girlish backing vocals mark a profound departure in and of themselves.) The track portends the quiet that pervades My Tidy Doily Dream Á¢€" not always a quiet of contentment, but a quiet of maturity and rumination, and sureness of purpose. ItÁ¢€â"¢s a lovely album, if not as stylistically ambitious as her previous work Á¢€" nothing here rises above a midtempo groove, as though Jones is determined not to disturb the wheels of time as they keep turning. (The passage of time, and the juxtaposition of past and present, are persistent themes, most prominently in the elegiac set closer Á¢€Å"Last of the Lukewarm Lovers.Á¢€) One can only hope this isnÁ¢€â"¢t JonesÁ¢€â"¢ last studio album Á¢€" hers is too precious a voice to be silenced Á¢€" but if it is, itÁ¢€â"¢s a softly caressing, heartfelt way to go out.
Lucky Stars: New Lullabies for Old Souls (2008)
Download this album (eMusic)
It began with a request from a friend who was putting together an album of lullabies to sell in hospitals to new parents. It continued with JonesÁ¢€â"¢ desire to record, but lack of interest in putting together a complete album. And it came together when Kelley Ryan and erstwhile Gin Blossom Jesse Valenzuela contributed the nifty tune Á¢€Å"Lucky Stars,Á¢€ a song good enough to build an album around. ThatÁ¢€â"¢s what Jones and Dixon have done here, joining six soothing songs with five delicate musical interludes and making the result available for download. While hardly a major addition to eitherÁ¢€â"¢s catalog, this serves as a sweet little coda for JonesÁ¢€â"¢ career to date Á¢€" one whose last vocal track, Á¢€Å"Love Is An Ocean,Á¢€ is (fittingly) a romantic duet.