What started out as a carefree hobby for three Tufts University undergraduates in 1992 quickly became a vehicle for creating some of the most memorable, endearing pop music of the decade. Delaware natives Tony Goddess (guitar, piano, and vocals) and Shivika Asthana (drums and vocals) had already played together in a band — their high school's marching band, no less — when they teamed up with classmate Keith Gendel (bass and vocals) to form Papas Fritas. In Spanish the name means "fried potatoes," or french fries, but if properly mangled by an English-speaking tongue its phonetic equivalent becomes "Pop has freed us." Like the best comfort food, the band's songs provide instant gratification, and like the best pop music, those songs will transport and transform you.
In 1994 a high school friend of Goddess and Asthana's offered to put out a single for the band if they agreed to promote it. The resulting seven-inch, Friday Night, caught the attention of Minty Fresh, and soon the trio from Somerville, Massachusetts, were hard at work on their first album for the Chicago indie label. (Another seven-inch, Passion Play, preceded the album; it was also released as an EP featuring three songs that can best be described as "experimental.") The members of Papas Fritas recorded two more full-lengths before going their separate ways at the end of 2000.
Last week Goddess, Asthana, and Gendel reunited for their first (mini) tour in almost 11 years, starting with homecoming concerts in Boston and Gloucester, Massachusetts, prior to a festival appearance in Brussels, Belgium, on May 22. And earlier this week the band traveled to France for club gigs in Paris and Marseilles as a warm-up for shows this Saturday and Sunday at the Primavera Sound Festival in Barcelona, Spain. It's safe to assume that the bulk of their set list will be derived from the following four discs.
---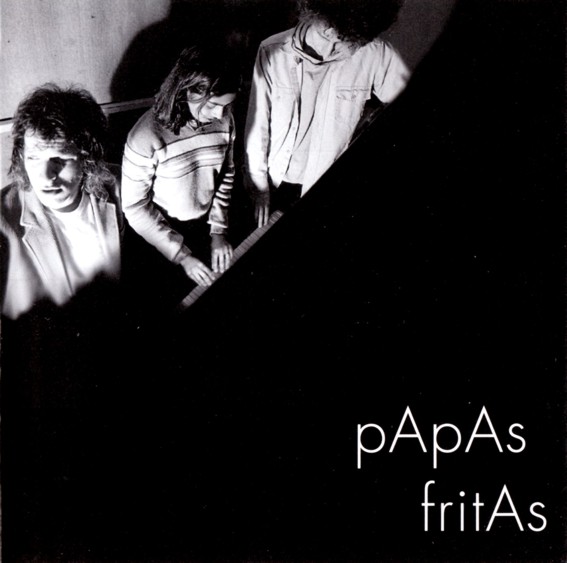 Papas Fritas (1995)
[Amazon / iTunes]
In order to get the sound he wanted for Papas Fritas's low-budget debut, Goddess allegedly confined himself to the band's basement studio for four and a half months, a tortuous process he alludes to in the album's closer, "Afterall": "Something special in the end / Said the dotted line to the fountain pen / Just stay on course, stay in tune and wait in line / In the basement lost track of time." As a half apology to the band's new label, he adds, "I know / It's late / Sometimes shit has to wait." And although Minty Fresh record execs may have disagreed at the time, the self-titled effort was absolutely worth the wait — the band's addictive melodies and warm harmonies sound almost effortless. (Try not to sing along on the chorus of "Holiday" or snap your fingers to the beat of "Lame to Be." You will lose.) As was the case with Ben Folds Five's own self-titled debut, which arrived in stores a few months ahead of Papas Fritas's, the sense of joyful discovery is infectious. Between tracks you can practically hear the band saying, "Ooh, I've always wanted to try this!" or "Remember [insert name of TV theme song/Broadway show tune]? What if we play it like that?"
Goddess has stated in various interviews that his goal was for the trio to sound like the Replacements in concert, throwing caution to the wind each and every night, and Fleetwood Mac in the studio, lovingly obsessing over the smallest of sonic details. His high standards are evident on tracks like "Passion Play," which makes excellent use of a string section and stereo separation, and "TV Movies," whose gorgeous dream-pop melody floats atop Asthana's creamy vocals and Goddess's finger-picked guitar, recalling "Trouble," the atmospheric 1981 solo hit for the Mac's resident studio rat, Lindsey Buckingham.
The rasp in Goddess's voice, presumably a direct result of his 24-7 work on the album, adds an edge to Papas Fritas's best songs, especially "Smash This World" and "Lame to Be," but the delicate falsetto he employs on "My Own Girlfriend" is his shining moment, destined to break the heart of any lonesome teenager, past, present, and future. Papas Fritas's songs sigh with the best of them, but on their debut they also remind you of the simple, slap-happy pleasures of expertly crafted pop music. (Wheat and the Lemonheads are two other Boston-area bands of the past quarter-century whose songs have caused a similar reaction in me. Must be something in that city's dirty water …)
---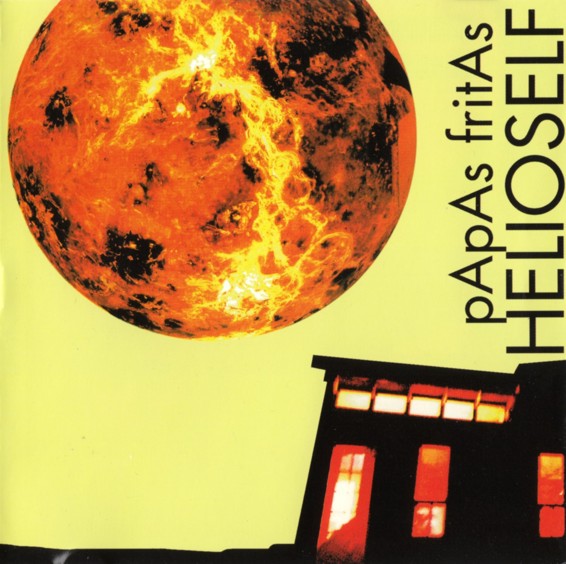 Helioself (1997)
[Amazon / iTunes]
After touring behind their debut in Europe and the States with the Flaming Lips and the Cardigans, respectively, Papas Fritas retreated to the fishing town of Gloucester to record Helioself, a loose concept album along the lines of Sgt. Pepper's Lonely Hearts Club Band. "I had my whole life to write that [first] record," Goddess told Tidal Wave Magazine in 2000. But like countless up-and-coming bands before them, Papas Fritas were expected to write and record the follow-up in just a matter of months. Not surprisingly, they wrote what they knew.
Inspired by their recent travels — or deflated by them, depending on how you look at it — as well as their chosen working environment's close proximity to the sea, the trio wrote "Rolling in the Sand," the wage-slave fantasy "Live by the Water," and a sea shanty entitled "Words to Sing," in which they confess, "I can't remember where we came from / And I can't fathom turning back / I'm so tired of all this rocking / And I have trouble reading maps." (Written two years before Napster introduced the world to illegal MP3 file-sharing, the song's most prescient lines are "We've been away too long / The pirates stole our songs.") Keith Gendel sings lead on "Weight," which also expresses anxiety over commitments far from home ("I just can't wait to be free / This big old weight hanging over me"), and "Small Rooms," a track that both celebrates the then-fresh phenomenon of Internet chat rooms and anticipates the brave new isolated world of "social" media and digital everything: "Children of the Revolution / Yeah I know your world is dying / Kids today don't like it anyway / Shaking to a new solution."
But in case you're starting to wonder where all the good times have gone, Helioself isn't some laundry list of insecurities and travel complaints. For one thing, the aforementioned tracks generally hide their true feelings under bright melodies in order to avoid becoming a buzzkill. For another, Helioself sidesteps a potential sophomore slump by adding irresistible nods to the 1960s Motown sound — the Supremes homage "Sing About Me," featuring a giddy lead vocal by Asthana — and '70s Memphis R&B — the heavy-hearted Al Green-style ballad "Just to See You" — while the group's occasional interlocking vocals show off Goddess's avowed appreciation for Sly & the Family Stone. Plus, the nonsensical "Hey Hey You Say" answers the nagging question "What if Britt Daniel from Spoon and Big Bird from Sesame Street had a baby?" and Asthana shines yet again on "Say Goodbye," providing a less-is-more approach to her lead vocals that makes you wish she could give mandatory tutorials to every single melismatic American Idol hopeful (New Musical Express's Jim Alexander once wrote that she sounds like "Juliana Hatfield's funnier, cuter little sister").
Helioself continues Papas Fritas's winning streak and is much more of a group effort than their debut, but they seem a tad uncomfortable with the idea of building upon a proven formula instead of entering uncharted waters: on the album's closing track, "Starting to Be It," they acknowledge that "We're not there yet" after Goddess states he's "Losing my hearing from listening to last year / Scanning the dial for someone to stay here." No longer college kids, Papas Fritas are left contemplating the next step in the evolution of their sound and their partnership.
---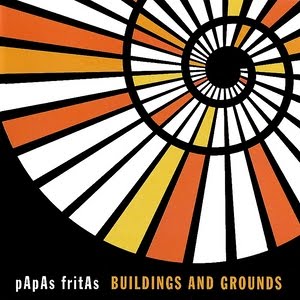 Buildings and Grounds (2000)
[Amazon / iTunes]
The band spent the bulk of '97 on the road promoting Helioself, but upon returning home to Massachusetts they learned that they owed a boatload of back taxes to the IRS, forcing each member to return to the working world until their debts were paid off. This led to a three-year gap between albums, but it also gave the band plenty of time to question whether or not they wanted to pursue music as a full-time career. Inevitably, their individual and collective quarter-life crises found their way into LP number three, Buildings and Grounds.
"I remember thinking that our music is not for people at one in the morning," Goddess recently told The Boston Phoenix. "We should be playing at malls or teen centers." Be that as it may, Buildings and Grounds sees Papas Fritas switching to decaf for the most part while stretching songs comfortably past the general three-minutes-or-less limit they established on their first two albums. In fact the combined influences of French lounge pop (Serge Gainsbourg and Jane Birkin, FranÁ§oise Hardy) and R&B-inflected American soft rock of the '70s and '80s (Fleetwood Mac, Boz Scaggs, even a hint or two of Steve Perry's "Foolish Heart"), a genre the French band Phoenix were also effectively mining in 2000 on their first album, United, are used to create a seductive mid-album suite of songs — "Far From an Answer," "I Believe in Fate," and "It's Over Now" — that, with all due respect to Mr. Goddess, can be played quite comfortably at one or even one-thirty.
If you're a masochist, "Way You Walk" can be played even later in the evening once any lingering feelings of jealousy and obsession have settled in for the night. Perhaps the most lyrically direct song in Papas Fritas's catalog, it's also one of the band's all-time greats, a tense, wickedly groovy number that plays out as a confrontation between a paranoid boyfriend ("He was in my dreams / What else could it mean") and an ambiguously calm yet direct girlfriend ("If I go I won't be lonely, if I stay now you don't own me"). Partly inspired by Dr. Dre's beats, according to Goddess, "Way You Walk" also has a decidedly European swagger, so it's no surprise that Soft Cell's Marc Almond and French singer So recorded a cover in 2006, and it's easy to imagine Ivy, the dream-pop trio that features French singer Dominique Durand on lead vocals, putting their own stamp on it in concert (in 2002 they recorded "Say Goodbye" for their covers album, Guestroom).
Buildings and Grounds is more of a grower than either Papas Fritas or Helioself, but it also has the most cohesive overall sound — or structure, if you will, with a nod to the title — of the band's three albums. Asthana in particular emerges as a force to be reckoned with behind the mike on tracks like "Far From an Answer" and "It's Over Now," even if her voice strains a bit on the high end on "Beside You" and "I'll Be Gone." By the end of the '90s Papas Fritas were no longer content to simply indulge their natural talent for pop hooks, but Buildings and Grounds still has enough "bouncers" to appease the old fans: "Vertical Lives" marks Gendel's high point as a songwriter, and Goddess contributes "What Am I Supposed to Do?" and "Questions," which asks, tellingly, "What can you do when it feels like no one listens? / Where can you turn when you're turning on yourself?"
In the liner notes of Pop Has Freed Us (see below) Jay Ruttenberg writes, "Many numbers seemed to mourn a fading adolescence or romance. Appropriately, both notions could apply to a vanishing band." Sure enough, after completing the promotional tour for Buildings and Grounds Papas Fritas quietly closed up shop.
---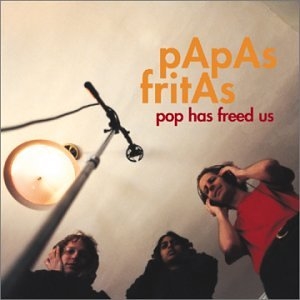 Pop Has Freed Us (2003)
[Amazon / iTunes]
Following the band's amicable breakup, Asthana enrolled in Boston University to earn a master's degree in public health, while Gendel, following in his father's footsteps, headed west to study at the Southern California Institute of Architecture. Goddess, however, continued to make music, cowriting "Amsterdam" in 2003 for Guster, whose founding members, like those of Papas Fritas, attended Tufts University; collaborating with Bleu on two tracks for Alpacas Orgling (2006), an album from the Boston power-pop singer's side project, L.E.O.; contributing a song to the popular Nickelodeon show Yo Gabba Gabba!; and producing and playing in Boston bands such as the Rudds, the Silver Lining, and Jenny Dee & the Deelinquents.
A few months after "Way You Walk" was licensed for a Dentyne Ice commercial, Minty Fresh (apropos, n'est-ce pas?) released a Papas Fritas compilation that put the song in the lead-off spot, the better to capitalize on its newfound status as a prospective earworm. The chewing-gum royalties helped Asthana and Gendel pay off their financial-aid loans and ensured that Goddess wouldn't have to work any more nine-to-fives.
Pop Has Freed Us contains eight tracks from the band's studio albums, but the majority of its cuts are rarities — hence its inclusion in this guide — including covers of Tom Verlaine's "Flash Lightning" and Fleetwood Mac's "Book of Love," the Big Star-esque "Love Just Don't Quit," and "Do the Move" and "Let's Go Down to the Town Oasis," outtakes from Buildings and Grounds that lesser bands would've killed to have as lead singles. It all adds up to a "best of" that's well worth the price.
On a personal note, it's the first Papas Fritas CD I ever bought, though I'd already been clued in to the greatness of "Way You Walk" after hearing it on the University of Georgia's student-run radio station in the spring of '03 while driving past Athens. There was no way I was going to turn the dial or let the signal fade until the DJ announced who sang that song. The following week I moved to Chicago, where I met a girl, fell for said girl, leaned a little too hard on girl as my primary source of friendship, and then was slowly rejected by girl over the course of the summer. The songs on Pop Has Freed Us became a soundtrack for my exaggerated pain, but they also helped me to stand upright once again. "Why wait for rain when the sun's in the sky?" the band asks in "Let's Go Down to the Town Oasis." Why indeed.
In "Explain," the penultimate track on Papas Fritas's first album, they sing, "I know, it's only rock and roll." But at the right moment a song can mean the entire world to a listener, a comforting voice that whispers, reassuringly, "You're not alone." At that moment the song stops being "only rock and roll," a disposable piece of entertainment. "We're trying to, as completely as we can, define a picture for the listener," Goddess told Tucson Weekly in 1997. "But it's supposed to sound so natural that you don't even think about it. It just feels right when you hear it, so you say, 'I've heard this before, I understand it instantly.'" After hearing Pop Has Freed Us I felt I understood, if only slightly, the people who made it, three friends whose love of high-fructose ear candy led them to create their own and share it with whomever wanted to listen. It's good to have them back.
POPDOSE HAS FREED THESE DOWNLOADS …
(The pirates will allow you to steal the following Papas Fritas songs for one week only.)
Lame to Be (from Papas Fritas)
Just to See You (from Helioself)
Far From an Answer (from Buildings and Grounds)
Do the Move (from Pop Has Freed Us)