Á¢€Å"ItÁ¢€â"¢s like riding a bike!Á¢€ Kay Hanley exclaimed last Saturday night, acknowledging the audience's raucous response to her reunion with Letters to Cleo at the Roxy in West Hollywood. Eight years had passed since the bandÁ¢€â"¢s breakup, yet Á¢€" with the benefit of just three days of rehearsals in an L.A. warehouse Á¢€" Hanley and her mates managed to pull together an almost impossibly tight performance as they resurrected their power-pop sound of the Á¢€â"¢90s.
The ease with which they came back together has something to do with the fact that theyÁ¢€â"¢ve never been entirely apart. Hanley and guitarist Michael Eisenstein are married with two children, and have worked together on her three solo releases; for much of the last year, Hanley has joined drummer Stacy Jones in traveling the world together as part of the Hannah Montana/Miley Cyrus Á¢€Å"Best of Both WorldsÁ¢€ tour Á¢€" Hanley as backing vocalist, Jones as musical director.
If the transition from modern-rock ingÁƒ©nue to Hannah Montana backer sounds jarring, it doesnÁ¢€â"¢t to Hanley; the Cyrus tour is just one element in her scheme to fashion a permanent career in the music business, post-Cleo. To that end, Hanley and Eisenstein abandoned their hometown (and CleoÁ¢€â"¢s home base) of Boston early in this decade and relocated to Los Angeles, where both have immersed themselves in a wide range of projects. HanleyÁ¢€â"¢s lengthy resume now includes her vocals on the soundtrack tunes that were the best part of 2001Á¢€â"¢s Josie and the Pussycats film; a partnership with a college friend, singer/songwriter Michelle Lewis, that has resulted in an on-again, off-again band (the Dilettantes) and a similarly occasional songwriting collective (Ladyapples); and a seat aboard the Disney mothership, from which she has written and performed theme songs for the TV series My Friends Tigger and Pooh and the film Care Bears: Oopsy Does It!
Amidst these more profitable activities, Hanley has continued to pursue an acclaimed solo career — most recently with a rockinÁ¢€â"¢ CD titled Weaponize, released last spring, for which she abandoned digital for analog recording. She now calls it Á¢€Å"my favorite thing that IÁ¢€â"¢ve ever doneÁ¢€; listen for yourself.
Kay Hanley – Think Bad Thoughts (download)
Kay Hanley Á¢€" Tell Him No (download)
On Saturday she clearly was reveling in the return to her Cleo roots — perhaps in part because her daughter Zoe was in attendance. The band thundered through songs from all three of their albums, including early faves Á¢€Å"MellieÁ¢€â"¢s Coming OverÁ¢€ and Á¢€Å"Big StarÁ¢€ (download), set opener Á¢€Å"Demon RockÁ¢€ and closer Á¢€Å"Rimshak,Á¢€ radio hits Á¢€Å"AwakeÁ¢€ and Á¢€Å"Here & NowÁ¢€ (download), and even the cover of Á¢€Å"I Want You To Want MeÁ¢€ that appeared on the 10 Things I Hate About You soundtrack. (HanleyÁ¢€â"¢s story of the bandÁ¢€â"¢s participation in that project Á¢€" and particularly the closing-credits rooftop performance Á¢€" will be told in a future column, as will her experience making Josie and the Pussycats. In the meantime, Á¢€Å"I Want YouÁ¢€ appears on a new album of Cleo B-sides and leftovers, When Did We Do That?, which is available now at the bandÁ¢€â"¢s website.)
Popdose caught up with Hanley a few days before the L.A. gig. (Letters to Cleo also have dates scheduled at the Paradise in Boston Dec. 8 and 9, and at New YorkÁ¢€â"¢s Bowery Ballroom Dec. 11.) As befits her multi-tasking lifestyle, she weaved her stories in between a failed attempt to e-mail an MP3, a rant about Prop 8Á¢€â"¢s passage the previous day, and a discussion with Eisenstein about setting up the bandÁ¢€â"¢s rehearsal space.
Kay Hanley (to Eisenstein): See you later, honey! (into phone) There! Sorry. Hopefully theyÁ¢€â"¢ll get it together today. Better them than me! My days of loading gear are done, I hope.
Popdose: Seems like a lot of work for just three dates. Any plans for a bigger tour?
WeÁ¢€â"¢re not ruling anything out. We definitely would love to go out next year and do some shows in Chicago, San Francisco Á¢€¦ Cleveland, maybe. (laughs) I know, it sounds strangeÁ¢€¦
(as David St. Hubbins) Hello, Cleveland!
Yeah, right. But (Cleveland rock radio station) WMMS was the first major station outside Boston to play our band, and some of our first fans were there Á¢€¦ I donÁ¢€â"¢t know. We donÁ¢€â"¢t have anything planned beyond these shows, but weÁ¢€â"¢ve definitely got [playing together] on the brain. A lot will depend on how this [mini-tour] goes Á¢€" if only 4 people show up, weÁ¢€â"¢ll know we should just forget it.
Any thoughts of recording together?
No. Not because we donÁ¢€â"¢t want to, but purely because I donÁ¢€â"¢t think any one of us has the time to do it. When we were putting together the rarities collection to coincide with these shows, I was surprised by the quality of a lot of the stuff that didnÁ¢€â"¢t make the records. But we all have so many other things going on that I doubt we could dedicate the time to make a real solid record Á¢€" and if weÁ¢€â"¢re going to do it at all, we would have to try to make it the best thing weÁ¢€â"¢ve ever done, or else itÁ¢€â"¢s not really worthwhile.
So I guess we shouldnÁ¢€â"¢t be looking forward to a Third Eye Blind/DogÁ¢€â"¢s Eye View/Letters to Cleo package tour next summer?
(laughs) Actually, now that you mention it Á¢€¦ nah, I shouldnÁ¢€â"¢t even talk about it, because itÁ¢€â"¢s never gonna happen Á¢€¦ but Á¢€¦ (Hanley goes off the record to discuss recent talks with certain other Á¢€â"¢90s bands) Á¢€¦ You never know, if I could get my hands on a tour bus again I wouldnÁ¢€â"¢t be against it. We could all show up with our walkers.
Canes, maybe. I believe the walkers are reserved for the Styx/REO Speedwagon tour.
Ouch.
Moving right along Á¢€¦ my daughter thinks IÁ¢€â"¢m cool for once, because IÁ¢€â"¢m talking to MileyÁ¢€â"¢s backup singer.
Yeah, weÁ¢€â"¢ve all got to be cool sometimes (laughs) Á¢€¦ IÁ¢€â"¢m sorry, was there a question there?
No, not really. Please just discuss at willÁ¢€¦
Well, at this point IÁ¢€â"¢ve been with Miley for a year and a bit. I had never done a backing job, but I have to say, itÁ¢€â"¢s a pretty good gig! I love doing harmonies, and working on the background arrangements. You know, on the Hannah stuff the arrangements were all set by the time I got there, but with the new Miley stuff [from her non-Hannah album], I pretty much have carte blanche to do the arrangements I want. Not that I stray too far from whatÁ¢€â"¢s on the albumÁ¢€¦
Anyway, itÁ¢€â"¢s an interesting gig. I show up, I do my work, I leave. ItÁ¢€â"¢s the closest thing to punching a clock that you can get in music industry. The shows are insane, obviously, playing in arenas full of screaming fans every night. But once the showÁ¢€â"¢s over, I can pretty much go do my thing wherever we are, as long as I show up when IÁ¢€â"¢m told.
Obviously, itÁ¢€â"¢s way different from the old Cleo tours. Touring with Cleo was super fun, but there werenÁ¢€â"¢t a lot of (laughs) luxuries or perks. With Miley, weÁ¢€â"¢ve got our own tour bus, and itÁ¢€â"¢s super cush, and I get my own hotel room every night. As a mom, I feel really guilty getting my nights all to myself, clacking away on the computer or watching TV.
The Miley tours are unbelievably well organized, and very civilized. You know, thereÁ¢€â"¢s a tour manager and a road manager, and everything is taken care of by the very best people in their fields. You always know exactly where youÁ¢€â"¢re supposed to be, and when. IÁ¢€â"¢m sure itÁ¢€â"¢s crazier for Miley than it is for the rest of us. But sheÁ¢€â"¢s a great kid. I love working with her Á¢€¦ and for her.
Does Disney cut your paycheck for the Miley tours, or do they come from a separate company?
No, there are all sorts of layers of organization there. But I do a lot of work for Disney Á¢€" like on the Tigger and Pooh theme Á¢€" and working for Disney has never been an issue for me.
[kml_flashembed movie="http://www.youtube.com/v/Se6mqCKaWGg" width="425" height="350" wmode="transparent" /]
ThatÁ¢€â"¢s good, because IÁ¢€â"¢ve heard a lot of horror stories.
Well, on the stuff I do I generally am working directly with a particular executive, and I make my own deals with them for whatever contributions IÁ¢€â"¢m making. Working with Disney is fine. You know, they never pay blockbuster, change-your-life kind of money, but I always know where I am with them, which is nice. ItÁ¢€â"¢s a good gig for somebody like I am these days, just making a career in the industry in L.A.
That must have been a big decision, coming here and opening yourself up to a bunch of different things rather than just being in a band.
Well, first and foremost, I have to say that none of this was planned ahead in any way. ItÁ¢€â"¢s just that I have total ADD, and I canÁ¢€â"¢t stand to do same thing every day. What planted the seeds for me was doing Josie and working with Babyface [who produced the filmÁ¢€â"¢s music]. Seeing what heÁ¢€â"¢s been able to accomplish, I had this realization that you can make a living doing nothing but creating, while also being a businessperson. It was really inspiring.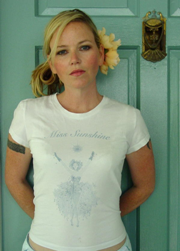 But the move to L.A. was really a function of Michael having to come out. He went on the road with Our Lady Peace, and we already had Zoe and I had gotten pregnant with Henry, our second child. Suddenly I was a single mother, and I was like, Á¢€Å"I did not fucking sign up for this at all.Á¢€ So a friend of MichaelÁ¢€â"¢s told us we had to move to L.A. At first I was like, Á¢€Å"No fucking way, IÁ¢€â"¢m a South Boston girl.Á¢€ But when Michael suggested it again, I guess I was at one of those moments when youÁ¢€â"¢re open to things, and I said, Á¢€Å"If you make it happen, IÁ¢€â"¢ll do it.Á¢€
YouÁ¢€â"¢ve done such diverse projects since youÁ¢€â"¢ve been here. Any recent activity with the Dilettantes?
Michelle and I still work together Á¢€" we have a production company called Art is War. WeÁ¢€â"¢ve been creating and pitching some TV show ideas, and some of them weÁ¢€â"¢ve managed to sell. WeÁ¢€â"¢re currently writing a book that weÁ¢€â"¢re thinking of pitching as an original series.
We keep talking about doing the Dilettantes again, but if itÁ¢€â"¢s not the absolute best thing weÁ¢€â"¢ve ever done, thereÁ¢€â"¢s really no point in doing anything.
ThatÁ¢€â"¢s the second time youÁ¢€â"¢ve said something along those lines.
Yeah, I know. Well, when itÁ¢€â"¢s my own music Á¢€" stuff where my actual ego is involved Á¢€" it has to be the most important thing IÁ¢€â"¢m doing, and itÁ¢€â"¢s got to be great to make it worth doing at all. On the other hand, if IÁ¢€â"¢m composing music for the Care Bears, and IÁ¢€â"¢m working from a script and a producerÁ¢€â"¢s notes, then thereÁ¢€â"¢s no ego involved, and I can kind of just do it for awhile in the morning and then walk away from it.
Not everybody can compartmentalize like that.
Compartmentalizing came very naturally to me once I learned that I could do stuff that wasnÁ¢€â"¢t for me. And actually, itÁ¢€â"¢s a good challenge to work from a script, having to cover certain thematic or plot points with a lyric Á¢€¦ you know, if the music IÁ¢€â"¢m writing needs to add more feeling to a scene. I love working like that. But when IÁ¢€â"¢m doing something for myself, something thatÁ¢€â"¢s going to represent me as a human being, thatÁ¢€â"¢s a whole different ballgame.
So you must have really felt a need to get your Weaponize album done.
Yeah! IÁ¢€â"¢ve had some songs sitting around for a couple years, and I wanted to go back to recording to tape Á¢€" I love the process. So that was my goal and my dream, and I achieved it. ItÁ¢€â"¢s my favorite thing that IÁ¢€â"¢ve ever done.
What was your favorite before this?
IÁ¢€â"¢m not a big fan of my work. IÁ¢€â"¢m not especially fond of my voice, so I tend to make something and then not listen to it anymore. WeÁ¢€â"¢ve gone back and listened to a lot of Cleo stuff while we were getting ready for these shows and preparing the rarities album. It was the first time IÁ¢€â"¢ve heard a lot of that stuff in a long time, and I must say, I like everything now. I think, looking back on it, Go is my favorite Cleo record.
But this is the first record IÁ¢€â"¢ve ever made that I went back to and listened to a lot after I was done with it. I really like what was accomplished on this record. But you know, I have no idea if it sold anything. I didnÁ¢€â"¢t print many copies of it, and I didnÁ¢€â"¢t promote it at all.
The way the business is these days, and with everything else I have going on, thereÁ¢€â"¢s no way I could have gone into it thinking I was going to make any money from the album. It was completely a labor of love, I felt like I had to do it, but I had no desire to promote it or do anything else to support it. I have a small fan base and they bought it, I think.
(laughs) For the longest time, I didnÁ¢€â"¢t even tell my sister IÁ¢€â"¢d made an album! ThatÁ¢€â"¢s how into promoting it I was.
[kml_flashembed movie="http://www.youtube.com/v/XuXw-ekpdsc" width="425" height="350" wmode="transparent" /]
Buy Letters to Cleo and Kay Hanley music from Amazon, or download Weaponize from Hanley's website.