We couldn't talk about Lou Reed without talking of his dark twin, soulmate, and nemesis John Cale. Rogue classicist, inventor of the Velvet Underground, noise terrorist, mad genius — Cale is all of these. But he's also a legendary loose cannon. In the 1980s, Cale's bandmates might be spattered with chicken guts from an onstage voodoo sacrifice, or showered with plaster as he tore out the ceiling of a nightclub. Who in their right mind would want to work with this guy?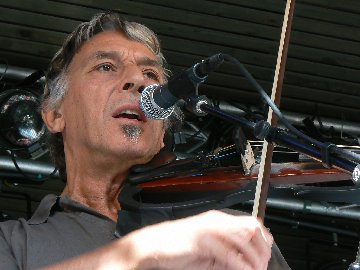 Lots of people, as it turned out. As the primary architect of the VU's sound, Cale has always found his arranging skills in demand. In the 1970s he served stints as house producer for Reprise Records — manning the boards for seminal albums by Nico, the Stooges, the Modern Lovers, and Patti Smith — and as an A&R scout for Island. He has continued a side career as producer for artists ranging from Siouxsie and the Banshees to Alejandro Escovedo.
So Cale knows a lot of people, is what I'm saying. And he's attracted to the dynamic of collaboration, of two creators whipping up something that's greater than the sum of the parts. The portrait that emerges from Cale's fascinating 1999 autobiography What's Welsh For Zen is of a man repeatedly reaching out for connection and invariably finding himself unable to sustain it. With a track record that includes long-term, unstable creative partnerships with Warhol, Lou Reed, Brian Eno, and Nico, three failed marriages, and abortive working relationships with the likes of Terry Riley, Chris Spedding, Larry Sloman, and Bob Neuwirth — all of which wrought significant emotional damage — sometimes Cale must figure he's better off being the straw that stirs the drink, as a sideman, experiencing the alchemy of collaboration without placing himself at the center of the storm.
Nick Drake, "Northern Sky" (from Bryter Layter, 1970)
Cale has always embraced prettiness and noise in equal measure, but his keyboard parts here are perhaps the most flat-out gorgeous thing he's ever recorded, conjuring a magical atmosphere from layers of piano, organ, and the shimmering, bell-like tone of the celeste.
Chelsea, "Long River" (from Chelsea, 1970, out of print)
This New York City quintet had a bluesy sound with a prog edge, but flamed out after just one album. Cale guests on two tracks on Chelsea's only record, and his electric viola leads "Long River" into a psychedelic freakout. And hey, that's Peter Criss, later of Kiss, on drums!
The Replacements, "Sadly Beautiful" (from All Shook Down, 1990)
Rare is the song that more accurately lives up to its title. Cale's viola solo is brief, but perfectly complements one of Westerberg's most vulnerable performances, melding with the country tinge of pedal steel and mandolin.
William S. Burroughs, "Ah Pook the Destroyer" (from Dead City Radio, 1990)
Leave it to producer/provocateur Hal Willner to connect Cale's music with the visionary madness of Burroughs. Cale plays on three tracks on Dead City Radio, which elsewhere pairs the Junkie Sage of Lawrence with the likes of Donald Fagen, Sonic Youth, and the NBC Symphony. This track — the text of which began as part of an unfinished graphic novel! — inspired a trippy short film by Philip Hunt.
[kml_flashembed movie="http://www.youtube.com/v/2C5XuylNFLo" width="600" height="485" allowfullscreen="true" fvars="fs=1" /]
Hector Zazou, "The Long Voyage" (from Songs from the Cold Seas, 1994)
The late Franco-Algerian producer Hector Zazou shared a method with Willner — gathering a large, all-star cast and turning them loose on a unified concept — but in place of Willner's downtown showbiz-kid smart-assedness, Zazou brought a background in ethnomusicology. Cale collaborated with him several times, but was never better than on this pop gem tucked amid the Inuit chants and Sami shaman music of Songs from the Cold Seas, braiding his voice and Suzanne Vega's with a lyric based on a poem by Oscar Wilde. Whew!
John Cale, "The Moon Her Majesty" (from Kerouac: Kicks Joy Darkness, 1997)
Cale's speaking voice — a honeyed, mid-Atlantic burr — has been his secret weapon since his Velvet Underground days, with his reading of "The Gift," and Zazou applied it to the poems of Arthur Rimbaud. We'll close with his contribution to a tribute to the Beat writer Jack Kerouac, assembled and executive-produced by Sonic Youth guitarist Lee Ranaldo; Cale also provides the music, finding a hush and stillness in Kerouac's hyped-up, swaggering poetics.