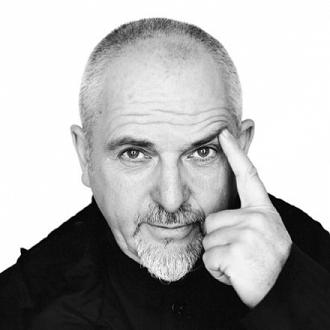 More easily than most rock stars, Peter Gabriel has settled into his inevitable role as an elder statesman. He's an exception, in the youth-obsessed industry of pop, in how freely and fully he has embraced the outward signs of aging — taking the razor to his thinning hair, growing out his gray beard, even allowing himself a prosperous middle-aged paunch. The overall effect gives him the look of a twinkling guru, the Wise Old Man on the mountaintop.
That's no coincidence. Gabriel has every reason to feel secure in himself, his looks, and his legacy. As a label head (Real World Records) and owner of one of the world's most state-of-the-art and in-demand recording studios, Peter Gabriel has enviable industry clout. His collaborative efforts, in recent years, have been less about growing his own audience than about using his clout to draw attention to artists deserving of wider recognition — although sometimes with mixed results…
Joni Mitchell, "My Secret Place" (from Chalk Mark In A Rain Storm, 1988)
Mitchell seizes on a similar huskiness in her voice and Gabriel's, and uses his voice as an extension of her own. She'll begin a line up high, and he'll finish it down low, and sometimes you can't tell where the switch takes place. The result is something wondrous, unlike any duet you've ever heard — a sound like a soul in conversation with itself; or, as Mitchell told Musician magazine at the time, "I wanted it to be like the Song of Solomon, where you can't tell what gender it is. It's the uniting spirit of two people at the beginning of a relationship." And the video, with Peter and Joni in their matching outfits — c'mon, that's adorable.
Youssou N'Dour, "Shaking the Tree" (from The Lion, 1989)
As founder of the Real World record label, Gabriel has thrown his support behind artists on his roster in the most direct way possible — by lending his talents, and his name recognition, to their efforts. "Shaking the Tree," written, produced, and co-sung by Gabriel, was supposed to be the first American radio hit for Senegalese singer N'Dour, an old friend and collaborator. The single cracked the Modern Rock Top Ten, but failed to break N'Dour in the States. After a judicious remix that brought his own vocals to the front, Gabriel re-released "Shaking the Tree" under his own name and scored a European Top 40 hit. Lesson: never underestimate the power of the brand.
[youtube id="z06mQT_vkkw" width="600″ height="350″]
Nusrat Fateh Ali Khan, "The Game" (from Mustt Mustt, 1990)
Mustt Mustt was an all-out effort to expand the audience for Pakistani devotional singer Nusrat Fateh Ali Khan, and producer Michael Brook's attempts to shoehorn Khan's extraordinary voice and freeform structures into Western pop contexts is occasionally awkward; "The Game" is one of the more successful experiments, with Gabriel's percussion and programming forming a framework for Khan's improvisations.
Hector Zazou, "Caoineadh Na DtrÁ­ Muire (Keening of the Three Marys)" (from Lights in the Dark, 1998)
Franco-Algerian ethnomusicologist Zazou masterminded a series of sprawling, ambitious records melding traditional musical forms, cutting-edge sonics, and modernist poetry; h and Gabriel were bound to cross paths at some point. Lights In The Dark is something of an odd man out in his catalogue, drawing entirely from a single source — the ancient hymns of the Irish church — and featuring a relatively small roster of performers; but Zazou finds room for Gabriel's voice, pairing it with that of singer-songwriter Breda Mayock in a Gaelic-language ballad centered on the women wailing at the foot of the Cross.
Angelique Kidjo, "Salala" (from Djin Djin, 2007)
For all Gabriel's eclectic and international musical reach, there's very little of the blues in his own music. He has to loop all the way back and around through to Mother Africa just to get to the place of Mama, turn your lamp down low. Congolese superstar Angelique Kidjo, like Mitchell, uses him as an extension of her own voice — in this case as an interpreter, or a vividly-colored set of subtitles.
Big Blue Ball, "Exit Through You" (from Big Blue Ball, 2008)
One of Gabriel's signature achievements is the annual Real World Recording Week. Each year an eclectic roster of artists from across the globe, and spanning a host of genres, are invited to Gabriel's Real World studios to write, play, and record together. The proceedings are documented in a series of one-off supergroup albums.
[youtube id="eTNdztzIhQA" width="600″ height="350″]
Gabriel's personal involvement in Recording Week is usually limited to a supervisory role — but he takes the lead on several tracks on Big Blue Ball, which is cobbled together from sessions recorded between 1991 and 1995. He's joined on the record by Karl Wallinger, Billy Cobham, Hossam Ramzy, Jah Wobble, Natacha Atlas, Rupert Hine, SinÁ©ad O'Connor, Tim Finn, Vernon Reid, Wendy Melvoin and — most notably on "Exit Through You" — singer-songwriter Joseph Arthur, who shares the lead vocals.
Joy Askew, "I'm Still Looking for a Home" (from Tender City, 2011)
We'll close on this sweet, folky lullaby — closing the circle, in a way. Gabriel's track record is such that he's now recording with a generation of artists who've been influenced by him, and his fingerprints are all over this even without his backing vocals, in the seamless integration of nonwestern rhythms into standard singer-songwriter structures. That expansion of the artist's toolbox, even more than any specific performance, is the deepest, truest legacy of this extraordinary musician.