Hi! This is Ethan.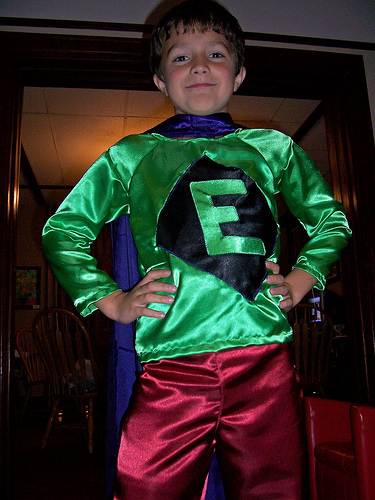 Well, technically, he's Super Ethan in this picture. Which makes sense, 'cause Ethan is my super-awesome nephew.
Ethan turned nine years old last month. Which means that he's approximately six years older than I remember him being yesterday, but that's besides the point. He's nine. I remember being nine. Don't you? I was big into music. I saw the Monkees that year. Weird Al opened. It was awesome. So it's a formative time (for better or for worse). And Ethan needs some awesome music to accompany being nine years old.
Only problem is, the most current thing I've listened to is that song Christopher Cross wrote for 30 Rock. (Which is totally wicked!) So perhaps I'm not the best judge of current music that a nine-year-old would dig. Thankfully, there are a lot of people on the Popdose staff who either listen to current music, or know what nine-year-olds dig (or should dig), or all three. So I asked them to help put together a mixtape to join Ethan in his ninth year. Here's what they came up with. I've listened to all these songs and I can verify that they rock. Heck, I even added in a couple myself. And you'd be proud of me — I held off including Chuck Mangione's special vocal version of "Feels So Good" and the extended remix of "Sweet Freedom." I did it for you, Ethan.
Special thanks to Ted Asregadoo, Michael Fortes, David Medsker, Kelly Stitzel, and Michael Parr for their contributions. Happy belated birthday, Ethan! I love you!
Ethan's Mix (zip, 251.22 MB)
Andrew Thompson — We're In Business from I'm Not Likely to Change (2009)
Ash Reiter — Paper Diamonds from Paper Diamonds (2010)
Bad Veins — Falling Tide from Bad Veins (2009)
Beck — Go It Alone from Guero (2005)
The Bens – XFire from The Bens – EP (2004)
Beulah — Gene Autry from The Coast Is Never Clear (2001)
The Breeders – Cannonball from Last Splash (1993)
Cash Cash — Two Days Old from Take It To the Floor (2008)
Dan Deacon — Snake Mistakes from Spiderman of the Rings (2007)
Down With Webster — Miracle Mile from Time to Win, Vol. 1 (2009)
Flaming Lips — If I Only Had a Brain from Stubbs the Zombie: The Soundtrack (2005)
Franz Ferdinand — Do You Want To from You Could Have It So Much Better (2005)
The Gaslight Anthem — The Spirit of Jazz from American Slang (2010)
General Elektriks – Tu Mintrigues from Cliquety Kliqk (2005)
Gnarls Barkley — Crazy from St. Elsewhere (2006)
Gorillaz – Superfast Jellyfish from Plastic Beach (2010)
Green Day — Peacemaker from 21st Century Breakdown (2009)
The Heavy — How You Like Me Now from The House That Dirt Built (2009)
Hey Champ — Shake from Star (2010)
Kaiser Chiefs — Never Miss a Beat from Off With Their Heads (2008)
Laurie Anderson – From The Air (Dan the Automator Remix) original from Big Science (1982)
Marah – Freedom Park from 20,000 Streets Under the Sky (2004)
Mark Ronson — The Bike Song from Record Collection (2010)
Massive Attack — Safe From Harm from Blue Lines (1991)
Metric — Stadium Love from Fantasies (2009)
The Mooney Suzuki – Alive & Amplified from Alive & Amplified (2004)
Muse — Knights of Cydonia from Black Holes and Revelations (2006)
OK Go — White Knuckles from Of the Blue Colour of the Sky (2010)
Paramore — Crushcrushcrush from Riot! (2007)
Passion Pit — The Reeling from Manners (2010)
Ra Ra Riot — Boy from The Orchard (2010)
Ratatat – Seventeen Years from Ratatat (1999)
Spoon – I Turn My Camera On from Gimme Fiction (2005)
The Ting Tings — Shut Up and Let Me Go from We Started Nothing (2008)
The Ting Tings — That's Not My Name from We Started Nothing (2008)
The Very Best — Warm Heart of Africa (feat. Ezra Koenig) (Alan Wilkis remix)
Tricky — Black Steel from Maxinquaye (1995)
Vampire Weekend — A-Punk from Vampire Weekend (2008)
Walter Meego — Forever from Voyager (2008)
Weezer — (If You're Wondering If I Want You To) I Want You To from Raditude (2009)
White Rabbits — Percussion Gun from It's Frightening (2009)
Wolfmother — New Moon Rising from Cosmic Egg (2009)
Wolfmother –White Feather from Cosmic Egg (2009)
You, You're Awesome – I'm Deaf And You're Boring from You're My Superhero – EP (2009)