BOTTOM LINE: They can't all be Streetcar. Milk Train isn't a flawless play, so neither is this production.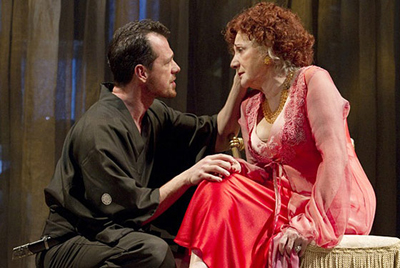 Darren Pettie and Olympia Dukakis in The Milk Train Doesn't Stop Here Anymore (photo by Joan Marcus)
Staging Tennessee Williams' 1963 play The Milk Train Doesn't Stop Here Anymore is an audacious task, and Michael Wilson (whose bio boasts 19 Williams plays) admirably steps up to the challenge for this current production playing off Broadway at the Roundabout. One of Williams' least produced and least revered works, Milk Train is, well, kind of faulty in both form and narrative. This current production fails to pack the emotional resonance one expects from this great playwright, but it's hard to tell who's to blame. This is not to say that the production isn't enjoyable — led by Olympia Dukakis, the cast is more than competent — but I couldn't help feel a nagging emptiness by the time the final curtain fell.
Williams' trademark Southern melodramatic style is in full swing in Milk Train, although the story takes place in Italy and is often rather funny. Flora Goforth (Dukakis) is an American elderly widow on the brink of death herself. In her sweeping ocean-side villa, she dictates her memoirs as her secretary Blackie (Maggie Lacey) records them. Flora is extravagant, eccentric, and filter-less, but she is also terrified of her impending death. As she gets sicker, she also gets deeper into denial. Her mood swings and general disdain for reality make her a challenge to work for, and Blackie, herself recently widowed, is ready to quit…until a chiseled stranger appears at the villa: Christopher Flanders (Darren Pettie) makes himself welcome and the reason for his visit begins to unfold.
Human connection is a central theme in Milk Train, between both friends and lovers. The rawness with which relationships develop in this production is a highlight. Lacey astutely exposes Blackie's willingness to trust Chris. Flora's desire for a companion is uncomfortably believable. And even though Flora is a hellish boss, she manages to elicit a humanizing sympathy within Blackie. It's through these connections that Williams' mysterious web is unraveled.
The rawness of the relationships could be a fine foundation for this story, particularly as performed by this capable cast. However, it's not quite enough to hold the up rest of the production —- at least in the narrative sense. The audience doesn't care about anyone in particular, and that creates an automatic distance from what's happening on stage to those in the house watching the drama. Less is at stake when you're not on anyone's side. What's more, the dramatic development is light on explanation, so even when something seems severe, it's hard to contextualize why it would be.
The production elements are high, if not somewhat disjointed — why do Roundabout shows often make me wonder if the designers ever had a conversation? The production certainly feels first-rate. All quibbles aside, Milk Train is still a mostly satisfying experience. I suppose if you go in with these caveats in mind, you'll glean the good from the story and open yourself to appreciating the talent on stage. Just don't go in expecting Streetcar.
A final aside, to give Williams a little credit: "Flora Goforth" has to be one of the best uses of a character name in American theatre. This vivacious misdirect evokes loads of information about the person behind the moniker in a mere four syllables. And that deserves a shout-out.
The Milk Train Doesn't Stop Here Anymore plays at the Laura Pels Theatre, 111 W. 46th St., through Sun 4/3. Performances are Tue and Thu-Fri 7:30 PM, Wed and Sat 2 and 7:30 PM, and Sun 2 PM. Tickets are regularly $71-$81, but you can save 40 percent with code MTBBOX3 by calling 212-719-1300. For tickets and more information visit roundabouttheatre.org, and for more theatre reviews visit theasy.com.