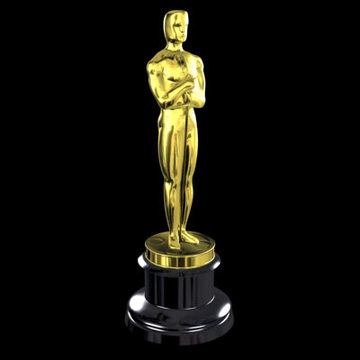 Well, here we are once again in the midst of my favorite season of the year: awards season, that glorious period at the start of a calendar year when almost every entertainment awards ceremony is held.
My favorite awards are those dealing with film (the Golden Globes, the Screen Actors Guild awards, the BAFTAs, the Independent Spirit Awards) as well as those that don't have live telecasts (the Directors Guild, Producers Guild and Screenwriters Guild awards). Per usual, I'm doing my damndest to see as many films nominated for all of these awards and I'm doing pretty well, considering I was housebound for five weeks during the peak period when most of the nominees were released in theaters — the holiday season.
Last year, in honor of my favorite time of year, I decided to do a series of special Soundtrack Saturday posts dedicated to the sometimes baffling, almost always entertaining Best Original Song category. I had a lot of fun writing those posts and I think you, my loyal readers, enjoyed them, too, so I've decided to bring the series back in 2011.
As a reminder, this category, technically called "Best Music, Original Song," was introduced at the seventh annual Academy Awards in 1935 and is presented to the writer(s) of a song specifically written for a film. Unless the song's performer(s) contributed to the music, lyrics, or both, he/she/they don't receive an Oscar if the song wins. Nominees are determined by members of the Academy who are songwriters and composers, with the winner chosen by the entire Academy membership.
Unlike last year, I've chosen to discuss one year each from the 1970s, 1980s, 1990s and 2000s. I think the four years I've decided to cover are four strong and very interesting years for this category and I think you'll agree. I'm sticking to the same definition of "year" that I went with last year, meaning I'm discussing the year the Oscar telecast aired, not the year in which the films were made.
So, let's dig right in with our first year, 1974.
The 46th Academy Awards
Date of telecast: April 2, 1974
Host: John Huston, Diana Ross, Burt Reynolds, David Niven. This was the year of the infamous streaking incident.
(Per Academy rules, all nominated films were released between January 1 and December 31, 1973, in Los Angeles County, California.)
Best Picture: The Sting
Best Actor: Jack Lemmon, Save the Tiger
Best Actress: Glenda Jackson, A Touch of Class
Best Supporting Actor: John Houseman, The Paper Chase
Best Supporting Actress: Tatum O'Neal, Paper Moon
Best Director: George Roy Hill, The Sting
And in our category …
The Oscar went to:
"The Way We Were" (performed by Barbra Streisand; music by Marvin Hamlisch; lyrics by Alan and Marilyn Bergman) from The Way We Were.
[kml_flashembed movie="http://www.youtube.com/v/hef39RzemJE" width="600" height="344" allowfullscreen="true" fvars="fs=1" /]
Other nominees:
"All That Love Went to Waste" (performed by Madeline Bell; music by George Barrie; lyrics by Sammy Cahn) from A Touch of Class.
"Live and Let Die" (performed by Wings; music and lyrics by Paul and Linda McCartney) from Live and Let Die.
[kml_flashembed movie="http://www.youtube.com/v/CoMCdu03STU" width="600" height="344" allowfullscreen="true" fvars="fs=1" /]
"Love" (performed by Nancy Adams; music by George Bruns; lyrics by Floyd Huddleston) from Robin Hood.
[kml_flashembed movie="http://www.youtube.com/v/G3Jf1P9wKIg" width="600" height="344" allowfullscreen="true" fvars="fs=1" /]
"Nice to Be Around" (performed by Paul Williams; music by John Williams; lyrics by Paul Williams) from Cinderella Liberty.
I have two confessions to make about The Way We Were: 1) I used to always get it confused with Love Story and 2) I've never actually seen it all the way through. I know this is one of those movies that I should have seen by now and I've had plenty of opportunities, but the truth is, I always forget that I haven't seen it because I think that I have. I guess I just can't keep my early '70s melodramas straight.
Here's another confession: not only can I not keep straight which movie is about Katie and Hubbell's romance and which is about Jenny and Oliver's romance, I always seem to get "The Way We Were" and "Memory" from Cats confused. WHAT THE HELL IS WRONG WITH ME? I feel as though I need to do some sort of penance after confessing these things to you. But, then, "love means never having to say you're sorry." Wait. I did it again! Goddammit.
In addition to winning the Academy Award, "The Way We Were" also won the Golden Globe for Best Song and is listed at number eight on AFI's list of Top 100 Songs from Film. It spent only one week in 1974 atop the Billboard Hot 100,  being replaced by "Love's Theme" by Love Unlimited Orchestra, though it did make a comeback and topped the chart for two additional weeks. Also, Tom Hanks does a lovely rendition of it in Big (1988). I couldn't find a video clip of that, though, so here's Barbra Streisand singing it while wearing Ali MacGraw's hairstyle.
[kml_flashembed movie="http://www.youtube.com/v/n-KPGh3wysw" width="600" height="344" allowfullscreen="true" fvars="fs=1" /]
I've never seen A Touch of Class, but after watching the trailer, I think I want to. George Segal and Glenda Jackson seem to have good onscreen chemistry and the movie looks like fun. Fun fact: Segal's role was originally offered to CARY GRANT. Seriously. How the hell do you go from Cary Grant to George Segal? I feel like there are few logical casting steps missing here. Grant turned down the role, though, opting to remain retired from filmmaking.  Well, duh. Also, the film was produced by FabergÁ©. Yes, that FabergÁ©.
The song nominated from A Touch of Class is a lovely ballad performed by soul singer Madeline Bell, who made a pretty good living as a session singer. The same year she appeared on the A Touch of Class soundtrack, she released a solo album that was produced, arranged and recorded by none other than John Paul Jones. It's a lovely song, and I really like Bell's vocals, but they were clearly no match for Streisand's.
Now, if any song was going to be a match for a song sung by Streisand it would be a Paul McCartney song. Even better — a Paul McCartney song from a James Bond movie. One of the most successful Bond themes, "Live and Let Die" appeared in the film's opening credits performed by Wings, as well as in a later scene performed by B. J. Arnau, an African-American woman. It was not only nominated for an Oscar — and was the first Bond theme song to receive that honor — but also for a Grammy. It made it to #2 on the Billboard Top 40 chart.
There is some confusion as to who the song has been credited to: in the film's credits and on the official soundtrack album, it's credited to Paul McCartney & Wings, however the single released simply credits Wings. It doesn't really matter, though, does it?
As I'm sure you're aware, Guns N' Roses covered the song and released it as a single from their Use Your Illusion I album. Apparently, though, some folks on the Interwebs think that McCartney is the one covering Axl. I encourage you to visit this video's YouTube page for some highly entertaining dialogue on the subject.
[kml_flashembed movie="http://www.youtube.com/v/JK2hKzZss5Y" width="600" height="344" allowfullscreen="true" fvars="fs=1" /]
That brings us to the obligatory song from an animated film. While we're used to seeing this category get dominated by songs from Disney and other animated films these days, it wasn't as common back in the '70s and you were more likely to just see one song nominated from a film rather than many. Robin Hood was the 21st animated feature film to be released and is based on the Robin Hood legend, only with an all-animal cast, primarily focusing on foxes. I never was much of a fan of this movie, and it's not considered to be one of Disney's best. And "Love" is a nice little ditty, but I don't know if it was worthy of an Oscar nomination.
Finally, we have "Nice to Be Around" (or "You're Nice to Be Around" or whatever the hell it's called) from Cinderella Liberty, another movie I've never seen. This is definitely my least favorite song of the bunch. Paul Williams's vocals are highly obnoxious and I kind of hate the use of harmonica here. Again, not sure this was worthy of an Oscar nomination, but I'm guessing that the two Williams attached to it might have helped it along.
So, that wraps up our discussion of the 1974 Best Original Song nominees. What do you think? Did "The Way We Were" deserve to win, or should Sir Paul and his Wings have flown away with the trophy? Were the right songs nominated at all? If not, what would you like to have seen get the nod from the Academy? Make your thoughts known in the comments!
Tune in next week when we visit one of the most radio-friendly years for Best Original Song!