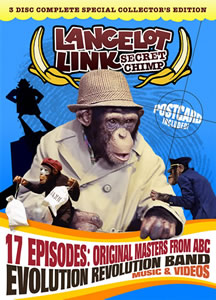 In the fall of 1970, Saturday morning was in a bit of a slump, due to complaints from parents about too much violence on television. This meant that all the superhero shows that had been so popular in previous years were gone.  Sure, you still had your mystery solving dogs, singing teenagers, and cerise felines, but it was time for something fresh to appear on the scene.  Enter Lancelot Link, Secret Chimp, a live-action show featuring a world of talking chimpanzee secret agents. Yeah, let that sink in a bit. The show was the brainchild of Stan Burns and Mike Marmer who, along with producer Allan Sandler,  put together what was arguably one of the oddest (and funniest) original series to hit Saturday morning in quite a while.
Lancelot Link: Secret Chimp featured the title character and fellow agent Mata Hairi, top agents from A.P.E. (The Agency to Prevent Evil) going up against Baron Von Butcher and his nefarious do-badders  from C.H.U.M.P. (the Criminal Headquarters for the Underworld's Master Plan). Their adventures involved the usual secret agent plots, like stolen microfilm (hidden in a false turkey leg) and going undercover to convince a beauty pageant contestant to defect to the U.S. What made this even more entertaining was that the entire show was performed by this talented group of chimpanzees, skiing and riding motorcycles and moving their lips to dubbed-in dialogue. Once you got past that novelty, you still had a really funny show. (Of course it helped that the creators and head writers of the show, Stan Burns and Mike Marmer were alumni from Get Smart and The Carol Burnett Show.) Link and Hairi also were part of a rock group (all right, more of a bubblegum group) called The Evolution Revolution, and one of their songs were performed in each episode along with short blackout gags called "Chimpies".
Film Chest Media Group has released Lancelot Link: Secret Chimp in a wonderful three DVD set.  They're calling this "The Authorized Edition" because these shows were taken from the original masters from ABC, which means they look just as good as when they originally aired (and probably better). The other reason they're calling this Authorized is to differentiate from a much inferior two DVD set that came out a few years ago that suffered from faded prints and missing episodes. This new set includes all 17 episodes and a number of great extras, the highlight being I Created Lancelot Link, a documentary from 1998 featuring show creators Burns and Marmer. They share numerous insights on how the show came together and tidbits about the cast. (Don't miss the story of how one chimp disappeared from the set and became the hit of a nearby Renaissance Faire.) There's also an interview with producer Allan Sandler and musical director Bob Emenegger.
As good as this set is, there are a couple of omissions that keep it from being perfect. The Man from A.P.E., the theatrical short that ignited interest in doing the show in the first place, is not here. (I contacted Film Chest and was told that Columbia Pictures, the studio that owns the short, unfortunately wanted too much money to license it.) It also would have been nice to include an interview with Bernie Kopell (probably best known today for playing Doc on The Love Boat), the voice of the Baron and many other characters on the show.  This is nitpicking, because everything else about the set is great.
In an interesting recent development, a wildlife refuge in California called the Wildlife Waystation contacted producers to report that they had a chimpanzee brought in that supposedly performed on the show. Under further investigation it was discovered that not only was this true, but that this was Tonga, the chimp that performed Lancelot Link himself!  Therefore a portion of the proceeds from the DVD set go to the Wildlife Waystation in order to give Tonga a happy and healthy retirement.
You have to understand that this show holds a special place in my heart. When I was a kid my brothers and I would bowl in a league on Saturday mornings. We would rush home as soon as we got finished in order to catch Lance Link on television. I was such a fan of the show that I owned a Lance Link lunchbox, and still own it to this day. It was just a fun show that made us all laugh. I think it will do the same for you too!
[youtube id="mCwOnq2C2vA" width="600″ height="350″]