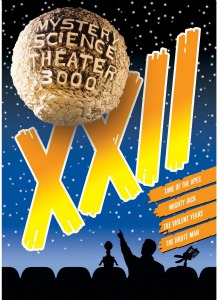 The cult classic television show Mystery Science Theater 3000 features a man and his two robot s trapped in outer space and wisecracking through some of the worst movies they (and you) have ever seen. (Yeah, I know I've used this intro for the last few MST3K reviews I've done, but it's quick and concise and keeps me from having to think of a different way to describe a show that most of you are already familiar with.) Shout! Factory's new boxset Mystery Science Theater 3000, Vol. XXII
is the tenth boxset they've produced and, unlike the last couple of sets that only featured original host Joel Hodgson, this set has an even mix of Hodgson and later host Mike Nelson. This set also includes some episodes that fans have been waiting for.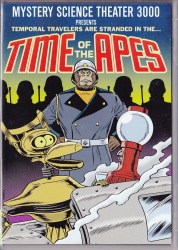 One of those episodes is Season 3's Time of the Apes, which was a cheap Japanese television ripoff of Planet of the Apes, and it's just as bizarre as you'd think. Skits include a reenactment of the Scopes Monkey Trail featuring a cutout of Judge Wapner from The People's Court and a song lambasting Sandy Frank, the American producer who brought this movie to the States. This was one of the first episodes I saw, and it remains a favorite to this day. Extras on this disk are an informative introduction by Japanese monster movie authority August Ragone and the wraps for this episode when it was on The Mystery Science Theater Hour, a syndicated version of the show that split the movie in half hosted by Mike Nelson in full Jack Perkins mode.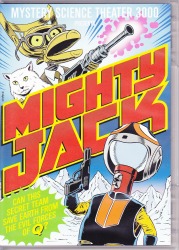 Next is Mighty Jack, also from the third season. This is another movie cobbled together from episodes of a Japanese television show, also produced by the ubiquitous Sandy Frank. It's a sort of secret agent James Bond-ish sort of mess that was either edited really badly by Frank or just never made much sense to begin with. This was another fan favorite episode for many, but I have to admit it's probably one of my least favorite ones of the series. For some reason, the writers seemed to lean more heavily on drug-related humor this time, and I just don't find those kinds of jokes very funny. (Of course, as little sense as this movie made, they may have had to do whatever they could to get through it!) This does however feature a favorite skit of mine, the pirate shanty "Slow the Plot Down," which features the wonderful lyric, "We'll make you a movie that's long and immense / Way-hay, slow the plot down / Just give us a script that makes no friggin' sense / We'll try so hard to slow the plot down!" Extras here include another intro by Ragone and a feature that gives Shout! Factory a well-deserved chance to toot their own horn: "The DVD Menus of MST3K." Every time I've reviewed one of these boxsets I've raved about the imaginative animated menus contained on each disk that use sound bites from the episode and computer animation of the robots to create a skit similar to the ones on the show itself, and this feature shows how much work is involved in putting these menus together.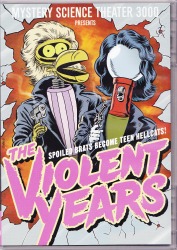 The Violent Years from Season 6 is a story of a gang of girls out to get their kicks by robbing gas stations and brutalizing young men. This was written by Ed Wood but not directed by him, although you'd be hard pressed to tell the difference. Also included is "A Young Man's Fancy," a short about a family's fascination at the wonder of electrical appliances. Extras include interviews with Ed Wood's girlfriend Dolores Fuller and his subsequent wife Kathy Wood, two women who also appeared in The Violent Years. This footage could not be new to this collection (especially since Kathy Wood died in 2006), but it still offers some great insight into Ed Wood and his life.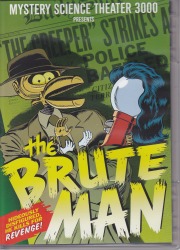 We finish with Season 7's The Brute Man, about a deformed man who is out to kill the people he feels are responsible for his hideous condition. This also has the fun short Chicken of Tomorrow. This also features an introduction for the movie with MST3K writer and performer Mary Jo Pehl and two featurettes. The first is 1997's The Making of Mystery Science Theater 3000, a special produced by the Sci-Fi Channel showing an entertaining, behind-the-scenes look at the show. There is a bit of footage from Hodgson's stint on the show, but it focuses more on the later years. The second is a fascinating biography of The Brute Man star Rondo Hatton. It tells the story of how Hatton contracted acromegaly, a disease of the pituitary gland that grotesquely distorted his facial features and body, and how he found a way to take what advantage he could of the situation by playing a monster in horror movies. It uses pictures, movie footage, and interviews with film historians to relate Hatton's tragic story, and it's extremely well done. If A&E decided to do Biography episodes of B-Movie actors, I don't think they could do a better job than this.
Included as always are those great animated DVD menus and great mini-posters of each of the DVD covers drawn by Steve Vance. All in all, this is another great collection of episodes with some especially good special features this time. As usual, this comes highly recommended by me!