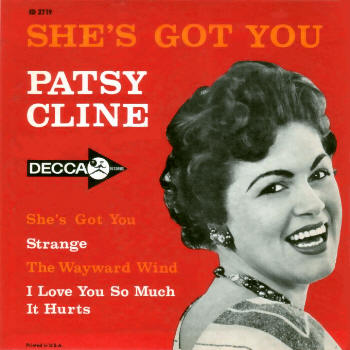 Songs about heartbreak have been around since the beginning of time. I can't prove that, but I am pretty certain that it's true. I mean, what better way to express the fact that someone has stomped all over your heart than by writing a song about your pain and agony? "Joe Lies," right? Right.
While I'm not a musician, nor am I a songwriter, I do know what it feels like to have my heart dragged over a pile of broken glass, so I do appreciate a good break-up song every now and again. And one of my favorites — actually, it's one of my favorite songs, period — is "She's Got You."
A lovely ballad written by Hank Cochran and originally released by Patsy Cline in 1962, "She's Got You" is the quintessential song about post break-up sadness and longing. It's about a woman whose man has moved on and is happy with his new woman and all she's got are mementos — a signed picture, some records, a class ring — and memories of a relationship she just can't seem to get over.
What makes this song so special to me is how deceptively simple it is. The lyrics are straightforward in expressing the sadness — but not anger — this woman is feeling about her lost relationship. However, the slightly upbeat jazz/country melody gives the listener the feeling that by lamenting the loss of her man in this way, she might truly be close to getting over him. Cline's gorgeous, heartbreaking vocal really pulls you in and suddenly you're feeling sad and wistful as well.
Said to have been one of the few songs Cline loved immediately and actually enjoyed recording, "She's Got You" was released in January of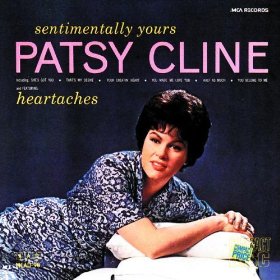 1962 and was the third in a string of hits for Cline, after "I Fall to Pieces" and "Crazy" from the previous year. It shot straight to #1 on the Hot C&W Sides country chart and made it to #14 on the Billboard Hot 100 and also gave Cline her first hit in the UK, reaching #43 on the singles chart there. The success of "She's Got You" helped to cement Cline as a huge star and led to her first appearance on American Bandstand. In August of 1962, Cline's third studio album, Sentimentally Yours
, was released and included "She's Got You." Sadly, this would be Cline's last chart-topping, crossover hit single before her death in 1963.
Of course, no hit song is truly a hit until it's covered a bajillion times. From what I can tell, the first moderately successful cover of "She's Got You" was recorded by British songstress Alma Cogan. While it didn't do well in the UK, Cogan's cover of the song did make the top ten in India.
Possibly the most well-known, and most successful, cover of the song comes from one of Cline's best friends, Loretta Lynn. Released as a single from her 1977 tribute album to Cline, I Remember Patsy, Lynn's take on "She's Got You" made it to #1 on the country charts and is a beautiful version of the song.
In my search for covers of this song, I found many. Some were great, some were OK and some I didn't even bother listening to all the way through. Almost every cover I found featured female vocals except for one; unfortunately, that one cover done by a man was from Jimmy Buffett. I'm sorry.
Obviously, these aren't all the covers of "She's Got You" that are out there — I had to stop somewhere. Most of them stay pretty true to the original, but there are a few inventive takes on the song, such as the dark versions by Alice Wonders and Cat Power, either of which could easily fit on the soundtrack to a David Lynch film. Cid Bealer's version is a little more jazzy and sounds so autotuned that I think Cid is actually a computer. Frally's stripped-down take on the song is lovely and haunting. And then there's Buffet's version — I'm sure you can guess what that sounds like.
Of these, my favorite versions are those by Rosanne Cash, which is what inspired me to write this column, Cat Power, Frally, Dottie West, Sandy Posey and Timi Yuro. Obviously, I love Loretta's version, too.
Alice Wonders – She's Got You
Barbara Sukowa and The X-Patsys – She's Got You
Cat Power – She's Got You
Cid Bealer – She's Got You
CJ Harding – She's Got You
Dottie West – She's Got You
Frally – She's Got You
The Hollyfelds – She's Got You
Jimmy Buffett – She's Got You
LeAnn Rimes – She's Got You
Lee Ann Womack – She's Got You
Mary Duff – She's Got You
Montana Rose – She's Got You
Philomena Quinn – She's Got You
Red Molly – She's Got You
Rosanne Cash – She's Got You
Sandy Posey – She's Got You
Timi Yuro – She's Got You