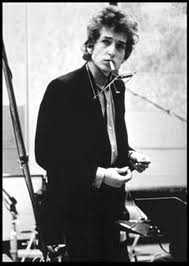 Bob Dylan is 70 years old. That statement is at once momentous, and irrelevant. Irrelevant because Dylan has always seemed to stand apart from any mere concept of time. While he has certainly aged physically, he is as alive in the flesh, and in our memories, as he ever has been.
It is hard to think of a public figure who has been the object of as much speculation as Dylan. Some of it was honestly come by, other parts by digging through his trash cans for clues. When it came time for Todd Haynes to make I'm Not There, he had to cast six different actors to play Dylan because although no one really knows who Dylan is, he is everyone.
Recently, in a rare posting on his official website, he said "Everybody knows by now that there's a gazillion books on me either out or coming out in the near future. So I'm encouraging anybody who's ever met me, heard me or even seen me, to get in on the action and scribble their own book. You never know, somebody might have a great book in them."
So the staff here at Popdose decided to take him up on it. No, it's not quite a book, but it's an extensive, intensive look at the nearly 50 years of music that he has given us. Together we've provided access to 70 songs, one to celebrate each year of Dylan's life. There are downloads, videos and audio from YouTube, and Grooveshark links.
There will surely be comments on this, and we welcome them. We only ask you to keep in mind that no one is saying that these are Dylan's best songs. They are the favorite Dylan songs of a group of writers who love his music. If you ask us tomorrow, you might get a whole different list.
Note: Popdose doesn't usually post multi-page stories, but this post is so big that it would have taken too long to download as one page. So we've gone to the click-through thing for this one. Page numbers are at the bottom of each page.
Ken Shane
Not Dark Yet (from Time Out of Mind)
Dylan has always stuck his finger in the eye of the idea of mortality, but this time out he's beginning to embrace the possibility. There's still a long road ahead, but for the first time he can see the end.
Sweetheart Like You (from Infidels)
While it's not one of Dylan's most profound songs, it came along at a time when people were beginning to wonder if he could still make the magic happen. It was the proof that the great storyteller could still weave a vivid tale when he wanted to, and make it accessible enough for MTV.
Senor (Tales of Yankee Power) (from Street Legal)
A scathing look at American adventurism in Latin America. As haunting and powerful a song as any Dylan has ever written.
[kml_flashembed movie="http://www.youtube.com/v/jBB3i-HsqUI" width="600" height="25" wmode="transparent" /]
Ballad In Plain D (from Another Side of Bob Dylan)
Many of Dylan's early songs were inspired by his muse Suze Rotolo, and this is one of them. Rotolo recalled the era in a wonderful autobiography a couple of years ago. Suze died recently, but for us she'll always be the girl on the cover of Freewheelin', and the inspiration for some of Dylan's greatest songs.
Mr. Tambourine Man (from Bringing It All Back Home)
As far as I'm concerned no one has ever written more beautiful lyrics for a song. It's a phantasmagoria that is at once completely of its time, and timeless. "Yes, to dance beneath the diamond sky with one hand waving free, silhouetted by the sea, circled by the circus sands, with all memory and fate driven deep beneath the waves, let me forget about today until tomorrow."
[kml_flashembed movie="http://www.youtube.com/v/kHvm_VEZ2NI" width="600" height="344" wmode="transparent" /]
Most Likely You Go Your Way (And I'll Go Mine) (from Before the Flood)
No list of Dylan songs would be complete without the inclusion of the Band. I saw this tour in Florida in 1974, and it remains an indelible concert experience. This was the show-opener and finds Dylan and the Band charging out of the gate. Listen to the rage as Dylan practically screams the end of every line. You can almost hear the spit flying. Punk was still a couple of years away, but here's a template.
If You See Her, Say Hello (from Blood On the Tracks)
The are break-up albums, and then there is the break-up album. Mourning the loss of his beloved Sara, Dylan poured it all out into the grooves of Blood On the Tracks, giving us a rare glimpse into his heart.
Don't Think Twice It's Alright (from The Freewheelin' Bob Dylan)
A song that was covered so often that it almost became a cliche. But a few years ago I returned to the original and I was profoundly moved by the experience. It's a grand kiss-off to his lover, but one delivered with great love and appropriate sadness.
Just Like A Woman (from Blonde On Blonde)
Speaking of kiss-offs, has there ever been a more devastating middle finger raised in song? The song has critics who accuse Dylan of chauvinism, but put aside the sexual politics, and feel the power of the lyrics. I have a vivid memory of seeing Dylan perform this with George Harrison, Leon Russell, and Ringo Starr at the Concert For Bangladesh.
[kml_flashembed movie="http://www.youtube.com/v/M5yQ8JJ8R9E" width="600" height="25" wmode="transparent" /]
Boots of Spanish Leather (from The Times They Are A-Changin')
Another one inspired by Suze Rotolo when she got tired of waiting for a commitment from Dylan and sailed off to spend time in Europe. Call me an incurable romantic, but I don't think Dylan ever fully got over her.
---
Rob Smith
When the Night Comes Falling from the Sky (from Bootleg Series Vols. 1-3 )
An arena rockish take on one of Empire Burlesque's colder songs; one you want to hear in the middle of a roadtrip, as you round the mountainside, the long highway stretched out before you.
I and I (from Infidels)
A dreamlike meditation on fame and faith, "in creation where one's nature neither honors nor forgives." One of the spookiest sentiments you're likely to hear.
[kml_flashembed movie="http://www.youtube.com/v/of4Urehundg?fs" width="600" height="325" wmode="transparent" /]
Lonesome Day Blues (from Love and Theft)
"I'm gonna spare the defeated, boys, I'm going to speak to the crowd / I am goin' to teach peace to the conquered / I'm gonna tame the proud." The way he growls tame, you know he means it.
Trying to Get to Heaven (from Time Out of Mind)
He wades in the high muddy water, rides in a buggy, leaves Missouri, goes down the river to New Orleans, shakes the sugar down in Sugartown, and still isn't sure if he'll see the pearly gates. My guess is, he'll have to climb the gates to see what's on the other side.
World Gone Wrong (from World Gone Wrong)
World Gone Wrong is a major Bob Dylan record; people just don't know it yet. I'm not sure Dylan himself knows it yet.
Ninety Miles an Hour (Down a Dead-End Street) (from Down In the Groove)
A gospel version of an old Texas song about unrequited love. Unrequited love, in case you forgot, makes the world go 'round. Releasing that tension makes the world explode.
[kml_flashembed movie="http://www.youtube.com/v/U3KQa7Pf5c0" width="600" height="25" wmode="transparent" /]
Got My Mind Made Up (from Knocked Out Loaded)
Hijack Tom Petty's "Bo Diddley" groove, throw in some nonsense about Libya and oil refineries, sing it like you don't give a shit, and churn out a great song anyway. Cuz you're Bob-fucking-Dylan.
Apple Suckling Tree (from The Basement Tapes)
A goof? A bungle? A laffer? Or maybe the greatest song ever mumbled (aside from "Radio Free Europe")?
Queen Jane Approximately (from Dylan & the Dead)
The only moment on the languid Dylan and the Dead in which everyone sounds like they're listening to each other, and playing the same song. And it's exquisite.
I'll Remember You (from Empire Burlesque)
You've only known her for a brief time—a year, eighteen months, a few days, whatever—but she's been in your head and heart forever. Keep her in your life. Hold onto her with everything you have.
[kml_flashembed movie="http://www.youtube.com/v/QE8qRiG46ks" width="600" height="25" wmode="transparent" /]