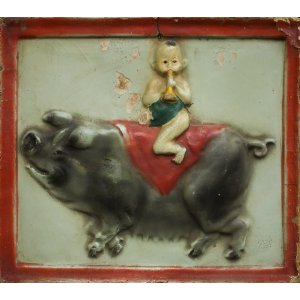 A few months back, word began to spread about a new Daniel Lanois project called Black Dub. I first became aware of the band when Lanois and singer Trixie Whitley appeared on the Ron and Fez show on SiriusXM and played a couple of songs, including an unforgettable acoustic version of the stunningly soulful "Surely." A little bit of research revealed several powerful YouTube videos of the band shot live in Lanois' LA studio. At that point, there was some vague talk of an album, and although it took awhile to get here the self-titled Black Dub album (Jive Records) is here, and it was well worth the wait.
Daniel Lanois needs no introduction to anyone. He is arguably the leading record producer in the world, having worked with icons like Bob Dylan, Willie Nelson, Emmylou Harris, Peter Gabriel, Robbie Robertson, and of course most famously, U2. He is less well known for his solo albums, but efforts like Acadie, Shine, and For the Beauty of Wynona are definitely worth your time. Oh, I guess I did the introduction anyway. Joining Lanois in Black Dub are the renowned drummer Brian Blade, and respected bass player Daryl Johnson.
The real discovery here is the powerful young singer Trixie Whitley. She is the daughter of the late great Chris Whitley, and an amazing talent in her own right. Hers is one of the most thrilling voices to come along in years. Whitley has come a long way from the times that I used to see her as a small child when her dad would bring her along to the gigs.
Make no mistake, when it comes to the sound of this album, there is no doubt who the producer of this music is. Daniel Lanois has brought his singular sound to these 11 tracks, investing each one of them with his visionary concepts. Lanois has steeped the album in the culture of the Jamaican dub music that he loves, and Blade and Johnson play an integral part in building the rock solid foundation that allows Lanois' guitar playing to venture off into new territory. The music is dense and dark, while still managing to preserve the spacious soundscapes that Lanois is noted for. Add Whitley's intense, emotional vocals on top, and you have a nearly perfect storm of sound. This music is old school, played by real musicians in the studio, live, often in one take.
Songs like the opening "Love Lives," "I Believe In You," and the studio version of "Surely" are highlights, but each track holds your interest. Black Dub is easily one of the year's most compelling albums. You can find a lot of the band's videos on YouTube, but I've provided a sampling below.
[kml_flashembed movie="http://www.youtube.com/v/3Pyt2bRxREc" width="600" height="344" allowfullscreen="true" fvars="fs=1" /]
[kml_flashembed movie="http://www.youtube.com/v/KO2vY1brMDU" width="600" height="344" allowfullscreen="true" fvars="fs=1" /]
[kml_flashembed movie="http://www.youtube.com/v/9AJR9ICueM4" width="600" height="344" allowfullscreen="true" fvars="fs=1" /]