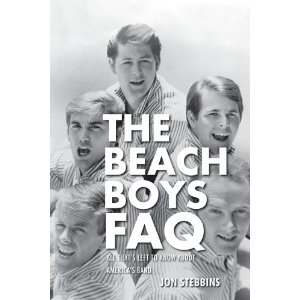 I love to read, but I am a terribly slow reader. I don't know whether it's some undiagnosed ADD, the lure of the Internet, television, and other distractions or something else entirely, but it takes me a long time to finish a book. That's why I don't write much about books.
I have bookcases full of great books that I will never get to read. I love having them though. And while I am really enthusiastic about the latest technology, I'm decidedly old school when it comes to books. I don't own a Kindle, or any other electronic reading device. I love the feel of a book, the cover art, the tactile feel of turning the pages.
No matter how many times I read the Beach Boys story, it never gets old for me. It's an endlessly fascinating tale as far as I'm concerned, so I'm always going to grab any new book that comes along on the subject.
Jon Stebbins has earned his spurs as a Beach Boys historian. He wrote a fine biography of Dennis Wilson called The Real Beach Boy (sadly, not currently in print), and more recently he worked with original Beach Boy guitarist David Marks on his autobiography, The Lost Beach Boy. Stebbins' place in the world of Beach Boys journalism is secure.
This time Stebbins is out to provide a definitive look at the band's history, and to try to correct the many misconceptions about the band along the way. If you think that The Beach Boys FAQ: All That's Left To Know About America's Band is going to amount to some kind of fluff job, think again. He's hard on the band, and its individual members, when it's called for. Some of it is tough to swallow, but the truth often is. Thankfully, more time is spent explaining what went into making the band's great moments great.
The Beach Boys FAQ is not a simple recounting of the oft-told story of the band, accompanied by dry commentary . Stebbins is not shy about bringing his personal viewpoint to the table. For example, he remains an unabashed Dennis Wilson champion, and that is evident throughout. And while he gives plenty of love to Brian Wilson, he is not blind to the great composer's flaws, as so many seem to be these days.
If you've ever wondered which Beach Boy sang the lead vocal on which song, ever wanted a recap of all of the band's major television and film appearances, or you just want to know the specific reasons why Mike Love is despised in many quarters, all of that and much more is within the pages of The Beach Boys FAQ.