Alex Chilton died in New Orleans of an apparent heart attack on Wednesday night. According to his wife Laura, he was out mowing the grass when he collapsed. He was immediately taken to the hospital where he died. Alex was 59 years old, and had been living in the Crescent City since leaving his hometown of Memphis in the early 1980s. In addition to his wife, Alex is survived by his son Timothy.
In the hours since Alex died, I've come to realize that his death is one of those events that is going to cause some people to mourn inconsolably, while others won't care a whit. There is simply no middle ground, because although Alex never achieved mainstream success during his lifetime, his music resonated deeply with the faithful.
I spent a good deal of time last year listening to the music of Big Star. The occasion (and what an occasion it was!) was the Rhino Records release of Keep Your Eye on the Sky, a four-disc compilation that brilliantly captured the career arc of the band that wrote the book on indie rock, and contributed mightily to the annals of power pop as well. In my opinion, the box set was the best music release of any kind in 2009. After writing my review, I moved on to the deluxe reissue of Chris Bell's I Am the Cosmos. So for a number of weeks, I was deeply engrossed in Big Star, and Big Star-related music.
Here's what I said in my review of the Big Star set:
Big Star: Keep an Eye on the Sky is the shit, that thing the fanboys have been waiting more than 30 years for. It's the validation, the vindication. It's the drug, so open your veins, because now when your friends look at you blankly when you mention Big Star, you can sit them down, stick this in, all 98 tracks spread over four discs, hand them the beautiful 100-page booklet that comes with the set, and wait for them to finally acknowledge you as the trendsetter that you've always thought yourself to be.
In my review of the Chris Bell reissue, I spoke about my initiation into the cult of Big Star:
In the summer of 1978, EMI saw the light. Driven by interest in Big Star in the U.K., they released a gatefold double album package containing the first two Big Star albums, #1 Record, and Radio City. It was available only as an import in the U.S., but I scraped together the money and bought it. After all, the buzz, at least among people whose opinions I respected, was nearly deafening when it came to Big Star. I didn't know much about the band, other than the fact that Alex Chilton had once been in a Memphis band called the Box Tops, and I was familiar with their hits "The Letter," "Soul Deep," and "Cry Like A Baby."
I have to admit that I didn't follow Alex's solo career too closely. And when he put Big Star back together, sans Andy Hummel, and the late Chris Bell, in 1993, it was an interesting, if not earth-shaking development for me. This despite the fact that the new configuration included Ken Stringfellow and Jon Auer of the Posies, a band that I like very much. But then along came the reissues, and since then I've tried to make up for lost time. I've become familiar with Alex's solo recordings, which are hit-or-miss by definition, but never less than endearing. In fact, I'm listening to his 1979 album Flies on Sherbert as I write this. It's crazy, funny, and deeply depraved.
This week there are thousands of musicians at South By Southwest in Austin. Nearly every one of them owes an enormous debt to Alex. If he didn't influence them musically, as he did so many, he drew the roadmap for all indie rock artists long before there even was such a thing. I hope this fact won't be lost in all the hoopla surrounding the festival.
Big Star was to be the subject of a panel at SXSW, and the band was scheduled to play a showcase on Saturday night at Antone's. I had been kicking myself for not being able to go to Austin this year, solely because Big Star was going to be there. There is some rumbling now that the show may go on as scheduled, in tribute to Alex. If it does, it will be a tremendously sad, while at the same time incredibly joyous, event. —Ken Shane
Alex Chilton – "Like Flies on Sherbert"
March 17, Evening
My ten-year-old son's music teacher died last night, succumbing to cancer that had remitted for years, before cruelly returning and finally taking her. By the time I was able to talk to him about it (I taught a class tonight and didn't get home until after 9:00), he had processed the news, turning it over with his own peculiar logic, and had made a tenuous peace with her loss. He and I discussed it in our hallway at home; I knelt down to face him eye-to-eye, and when he was finished talking, we hugged. He held on a little longer than he usually does (he is ten, after all, and not far from the period of life when hugging his old man will be deemed uncool; I can already sense it in the quickness with which he usually disengages from an embrace). I swear I could feel his sadness pass through him, and it chipped away a part of my heart.
I went from the hallway to my desk and read the sad news of Alex Chilton's passing. It occurs to me now how many people who play music could use a hug—they've lost the person who taught them how to properly play music, write music, set their fiercest rages and corniest crushes to music. It's a dark night for them, their hero taken down too early.
Chilton, for me, was the guy I discovered in San Francisco in the early '90s, buying the newly reissued Third/Sister Lovers and marveling at its weirdness, and the pure melodic heart beating under the many layers of that weirdness. He was the guy I reconnected with in the Twin Cities, maybe 16 or 17 years ago, while shopping at a discount record store that was going out of business. It was there that I bought the wonderful two-fer, #1 Record/Radio City, as well as the first live album he did with Auer and Stringfellow, under the Big Star moniker. Those were discs I played repeatedly for a good long while, discs I tried to turn my friends on to, discs that were cooler than the coolest thing on the radio at the time.
Chilton was the guy who channeled the best qualities of the Who in "You Can't Have Me," but also the guy who could toss off a "Volare" cover just to fuck with you. He could put together something as furious as "Don't Lie to Me" and as beautiful as "Thirteen," and put them back-to-back on the same album. The defiant "Ballad of El Goodo" shares space in the same oeuvre as the comically sexy "Take It Off," and the wistful "September Gurls."
Ah, "September Gurls." That's the one. "I loved you, well, never mind," he sang, and anyone who ever had his or her heart broken between the ages of 13 and 17 knew damn well what the next line was —"I've been cryin' all the time."
And that's just because "sobbing in my pillow for the last four hours" didn't rhyme. Talk about needing a hug. —Rob Smith
Big Star – "Thirteen" (alternate mix)
I'm not sure I could pinpoint the exact moment I became aware of Alex Chilton. Like most of my generation, I'd likely have to point to The Replacements 1987 ode to the biggest star:
"Children by the million sing for Alex Chilton when he comes 'round
They sing "I'm in love. What's that song? I'm in love with that song."
At that point, he was just a name in a song; important enough to inspire Paul Westerberg to write a power pop masterpiece, but not yet important enough for me to look deeper. His influence was present in my favorite records from R.E.M. to Matthew Sweet, The Posies, and Counting Crows. It was a Counting Crows show at the Beacon Theatre in 1994 that finally sent me in search of Chilton's catalog. During the refrain in "Mr. Jones," singer Adam Duritz switched the lyric to "*I wanna be Alex Chilton, Mr. Jones wishes he was someone just a little more funky,*" and that sealed it. Two of my favorite songwriters had called his name out in song, and I owed it to myself to find out why.
The next day, I ran out and plunked my money down for the Big Star #1 Record/Radio City two-fer and spent the following days and weeks delving into the music that inspired so many, and found myself duly inspired. "The Ballad of El Goodo," "In the Street," and "Thirteen" all spoke to me, but it was "September Gurls" that sealed the deal. If there is a more perfect power pop song, I would be hard-pressed to name it.
When the news of Chilton's passing hit my desk, my first instinct was to hope and pray it was another case of the internet getting it wrong. In recent years he had a sort of renaissance, touring with his new incarnation of Big Star — featuring Jon Auer and Ken Stringfellow of The Posies — and was even scheduled to play a big showcase this weekend at SXSW. He was more vital and present than I could remember. When it sunk in that it wasn't a hoax, I sat down with my copy of #1 Record/Radio City and listened to "The Ballad of El Goodo," and let it inspire me, all over again. —Michael Parr
Big Star – "September Gurls"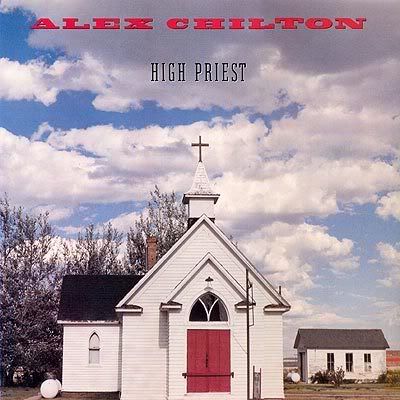 My appreciation of Alex Chilton is yet another case of discovering the music of an artist who would go on to become one of my all time favorites despite being introduced to them in an utterly ass-backwards fashion. I became an obsessive Paul McCartney fan after I became enamored with Give My Regards to Broad Street and Press to Play. I learned about Syd Barrett only after being introduced to Robyn Hitchcock. Hell, even the first a-ha album I bought was Stay on the Roads rather than Hunting High and Low.
So how did I learn to love Alex Chilton? Not because of the incessant raves I was hearing about the genius of Big Star, and certainly not because he was the lead singer of the Box Tops. (I was ridiculously late coming across that bit of information).
No, it was because I won a copy of his 1987 solo album, High Priest, on cassette from a local indie radio station: FM 92, in Chesapeake, VA. It was one of those deals where, if you were the right caller, you were the winner. It was almost certainly just a case of my wanting to win something, because I certainly didn't know the first thing about Alex Chilton. If I've got my timeline right, then I might have heard the Replacements' ode to his genius by that point, but I seriously doubt that it factored into my decision to try and be the ninth caller. I would never suggest to anyone that they start their own personal Alex Chilton Appreciation Society by spinning High Priest. For one thing, it's far from the best spotlight of his songwriting abilities: there are only four Chilton originals, and at least one of those — "Forbidden Love" — finds him unabashedly swiping from other, better songs. (I'm not saying others haven't used the phrase "the dark end of the street" in their lyrics, but given that Chilton covers Dan Penn's "Nobody's Fool" later on the album, I think it's fair to suggest that he was well aware of the lyrical cop). It's also a pretty wacky album, with Chilton offering up an ode to the Dalai Lama ("30,000 monks at his direction / Practicing things like astral projection"), then following it up by finding his inner lounge-lizard and crooning the cheesiest cover of "Volare" you've ever heard. And, frankly, it's easy to imagine people being turned off by this strange little man singing such unabashedly flirtatious songs as "Take It Off" and "Make a Little Love."
Funny how offering up all of these possible reasons to dismiss the record has only served to make me want to spin it over and over again.
As soon as I heard the news of Alex Chilton's passing, the first song that got stuck in my head was, appropriately enough, the Replacements' "Alex Chilton." I soon found "September Gurls" taking its place. Now, however, I've come back home to High Priest and to the one song I can recommend without reservation to anyone as a highlight of the man's career.
"Let Me Get Close to You" was not written by Alex Chilton. It's a semi-obscure Gerry Goffin and Carole King composition from the early 60s that, if it's remembered at all, is known because of the version Skeeter Davis ("The End of the World") did in 1964. But there's something about Alex's version that really brings out the rock critic in me, so bear with me if I get more flowery than usual for a moment.
To listen to Alex Chilton's take on "Let Me Get Close to You" is to hear one of the most painfully honest and heartfelt declarations of longing that has ever been recorded. Yes, his performance is a bit wobbly, but it's that seeming lack of confidence in his voice that makes it so emotionally affecting: it's the voice of an average guy, going out on a limb and expressing his feelings to the one he loves. Yes, you probably could sing it better. But you don't have to, because Alex is singing it for you…
I know I never felt this way before
I can't remember ever wanting anyone more
How can you turn me down when I need you the way that I do?
Come on, baby, let me get close to you
You won't be sorry
I'll do anything that you ask of me
I'll be the kind of man you want me to be
So won't you let me be the someone you tell your troubles to?
Come on, baby, let me get close to you
How long, I'll never know, I've waited to tell you that I love you so
Now that I've finally said it, come on, baby, don't make me regret it
It's not as if I'm asking for the world
All I want is just for you to be my girl
So won't you find it in your heart to make all of my dreams come true?
Come on, baby, let me get close to you
I want to be close to you
Real close to you
"Let Me Get Close to You" was how I first got close to Alex Chilton, and my appreciation of him has only grown stronger over the years as I've absorbed the pop melodies of Big Star and the blue-eyed soul of the Box Tops, but if I have to thank him for one thing, then, ultimately, I've got to thank him for High Priest. It might not have been his best, but it was my first, and it means the most. —Will Harris
Alex Chilton – "Let Me Get Close To You"
I was introduced to Alex Chilton's music by my mom's 45 of "The Letter" as well as the Replacements, and darkwave collective This Mortal Coil, who covered "Holocaust" and "Kanga Roo." But it wasn't until a friend of mine sat me down and played Third/Sister Lovers for me that I was "formally" introduced. That afternoon I bought the Rhino CD reissue. Shortly afterward I bought the other two, but Third/Sister Lovers is my favorite. It's one of "those" albums — a record that balances the joy with melancholic longing. It always sounds good to me and puts me in a better place than I was. Fare thee well, Alex Chilton. Thank you for everything. —Ben Wiser
Big Star – "Kanga Roo"
Alex Chilton is not a stranger to this particular site, but in the widest expanse of pop culture his name is not as immediate as, say, Keith Richards, George Harrison or even Col. Tom Parker. You have heard him sing even if you didn't know it – Big Star was not the monster sales collective it should have been, but you must know The Box Tops' monolithic hit "The Letter," and Chilton's bizarrely gruff vocal on it. His voice was much smoother for Big Star.
Here's the thing to remember: sometimes you are remembered for your influence more than your productivity, and in that sense, Chilton was one of the cornerstones of music as we know it now. The subgenre that is power pop not only owes it's existence to Chilton along with Jody Stephens Andy Hummel, and Chris Bell, but to the doors their band opened. You could peg a great tune, a memorable melody and hooks for miles to your collar and not look ignorant. In the early 1970's, when everything seemed so damned serious, it was possible to create a fun song with some rock 'n roll guts and not look passive or regressive about it.
So there probably won't be a mention of Chilton's death on your local television news broadcast, certainly not the way it was when Michael Jackson died last year, but the impact might be just as great. The legions of bands that rose up from the steps where Big Star walked out are impossible to count, but among their ranks are Cheap Trick, The Replacements with Paul Westerberg, who had the good sense to pay tribute to Chilton while he was alive to hear it, to name just a couple. The shame of this is that a rejiggered version of Big Star was scheduled to perform at South By Southwest down in Austin, Tx. In an age where indie rock and pop is besotted by laptops and loops, a whole generation was about to get schooled by one of the masters. The class was dismissed far too soon. —Dw. Dunphy
The Box Tops – "Soul Deep"
[kml_flashembed movie="http://www.youtube.com/v/JC0Wa3P_dO0" width="600" height="344" allowfullscreen="true" fvars="fs=1" /]
[kml_flashembed movie="http://www.youtube.com/v/wD9mCp8SifM" width="600" height="344" allowfullscreen="true" fvars="fs=1" /]
[kml_flashembed movie="http://www.youtube.com/v/Cn1t6l7UUPc" width="600" height="344" allowfullscreen="true" fvars="fs=1" /]
[kml_flashembed movie="http://www.youtube.com/v/2XKQXuVQbAQ" width="600" height="344" allowfullscreen="true" fvars="fs=1" /]