Richard Thompson — or, more properly, Richard Thompson, Esq., OBE — is arguably the finest white guitarist of his generation. He is also, sometimes, our greatest living songwriter. The former is a full-time position; the latter, nearly so. Thompson's not immune to phoning it in, of course; no songwriter is, and he's far more prolific than most. The new Electric as his 23rd solo album overall, and his fifth in the last ten years — there's bound to be some filler along the way. And Thompson is the quintessential cult artist, with a notoriously devoted fanbase; it would be easy for him to coast on his accomplishments. But even at 64 years old, after 45 years in the music business, beginning with a stint in the pioneering British folk-rock band Fairport Convention, he's still swinging for the fences every time he comes up — and connecting more often than not.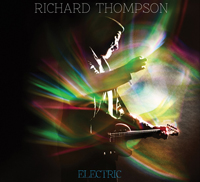 When he's hitting on all cylinders, Thompson manages a depth of affect that complements his vast musical reach; on acoustic or electric, in any of a dozen styles ranging from English folksong and trad jazz to Arab-inflected garage rock, he can cut you to the quick, spitting vitriol, conjuring nostalgia or heartbreak with a perfect couplet or a handful of notes. Electric finds him cutting loose on as strong a set of songs as he's mustered in years, making this an excellent entry point for the curious new listener. (The album's distributor, New West Records, seems to be taking this tack in its promotion, which may account for the album's guitar-god artwork, which is a far cry from the whimsical collage covers of previous Thompson releases but which wouldn't look out of place on say, an Eric Clapton record.)
And there's plenty here for new fans and veteran Thompson-watchers alike — although I suspect the two demographics will focus on different things. Newcomers will likely be taken with Thompson's gift for narrative and the unhinged fire of the guitar solos; longtime fans will appreciate Buddy Miller's production, how he finds new nuance in the dependable song stylings. Gone are the sackbuts and crumhorns and Tom Waits-style funhouse keyboards of Thompson's older records; Electric is arranged for a lean power trio, with occasional backing vocals and fiddle, and the subtle details take on a greater importance.
So the greenhorn will lock onto the way the opener "Stony Ground" fuses bawdy English folksong with grimy rock n' roll, while old hands note the raucous gang vocal, echoing the hooligan violence of the lyric. First-timers will be drawn in by the Alison Krauss harmonies on the shivery acoustic ballad "The Snow Goose," while veterans will appreciate the warm reverb that Miller puts under Thompson's honeyed burr. Rookies will marvel at the effect of "My Enemy," pairing an ethereal lullaby melody with a lyric of poisonous bitterness, with the old pros picking up on how drummer Michael Jerome's understated martial snare seals the deal. Even the virgins can dig Taras Prodaniuk's muscular bass lighting up the lo-fi 60s chug of "Straight and Narrow," but it's the auld whorehorses who will catch the organ riff, pinched from Santana by way of the Zombies, and its ironic connotations re: Thompson's status as the Thinking Man's Guitar Hero.
And "Another Small Thing In Her Favour" is an absolute crusher: a mid-tempo country lope with Electric's best lyric, a devastating portrait of two people who, despite a deep and genuine affection for each other, simply cannot make their marriage work. She's got the kids in the car, ready to leave for good, and he's standing by the road watching her go, loving her all the more, despite himself, for the very kindness and tact with which she's dumping him. It's a complex knot of emotions, made accessible by Thompson's clear-eyed writing, sturdy melody, and gorgeous, lyrical guitar solo.
Many niche artists are content to preach to the converted, and Thompson could certainly do that if he wanted. For the last decade he's had great success independently financing his own recordings and licensing the albums to various distributors, which gives him a bigger piece of the back end and lets him retain full ownership of the songs. His songs are much-covered, and he remains a popular touring draw, does a brisk business in fan-club and boutique-label CDs and DVDs sold only at live shows, and runs a week-long songwriting camp in the Catskills every summer. He's even done the rock n' roll cruise thing. He's got nothing to prove to anyone, anymore; he has the Ivor Novello Award, the honorary doctorate, and the knighthood under his belt, after all, and could easily devote himself to esoterica like the "1000 Years of Popular Music" project, or his recent theater piece Cabaret of Souls. Instead, he's made one of the finest pop albums of his career, remaining stubbornly himself even while winning new fans. And for that we can only be thankful.
For a taste of Electric, download the first single, "Good Things Happen to Bad People," at Thompson's official site.