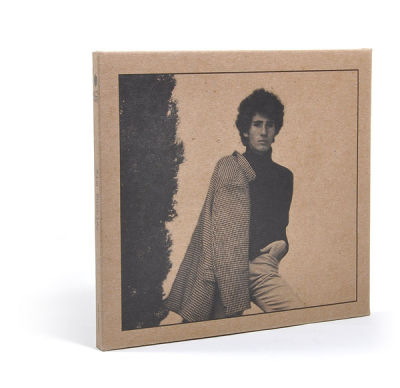 My introduction to the music of Tim Buckley came by way of his second album, Goodbye & Hello, and specifically the title track which was something of a staple on the free-form FM radio of the time. I became a fan, and bought all of Buckley's subsequent albums, but it was only years later that I went back and checked out his self-titled debut. It's not my favorite work of his, but it is certainly an auspicious start.
Tim Buckley grew up in the Á¼ber-conservative Orange County, CA of the '50s and '60s. It wasn't long before he was trying to find a way out, and that way was through music. By the time he was in high school, he had a band called the Bohemians. The band included high school classmates Jim Fielder on bass, and Larry Beckett on drums. In 1965, the band recorded 12 tracks at a studio in Anaheim, which remained unheard.
Whenever they had the chance, the band made the 60 mile drive to LA in order to take in the vibrant music scene that was exploding on Sunset Strip, where bands like the Doors, and the Buffalo Springfield were holding court at clubs like the Whiskey A Go Go, Ciro's, The Galaxy, and the Sea Witch. It was there that they met Mothers of Invention drummer Jimmy Carl Black, who introduced them to the Mothers manager, Herb Cohen. The good news was that Cohen was very impressed, the bad new was that he was only interested in Buckley, and forced him to dump the Bohemians.
It wasn't long before Cohen had secured Buckley a deal with Elektra Records. Shortly before recording began for his first album, Buckley and Beckett made home recordings of nine songs, several of which were later recorded for the album. Those demos also remained unheard, until now.
When it comes to popular music scholarship, no one does it better than Rhino Handmade. It is readily apparent that music comes first there, and that is a breath of fresh air in what's left of the music business today. With Tim Buckley (Deluxe Edition), they have come up with a release that tells the story of an important voice in American music. In addition to those early Bohemian recordings, and the home demos, the album's first disc includes both stereo and mono versions of Tim Buckley's self-titled debut album.
Elektra put together an amazing team to record the album in the summer of 1966. Jac Holzman began by bringing in producer Paul Rothchild and engineer Bruce Botnick to help him with the session. Rothchild and Botnick were, of course, the team behind the Doors. There was guitarist Lee Underwood. Buckley met Underwood in New York, and the two became musical soul mates. Mothers of Invention drummer Billy Mundi was on board, as was Van Dyke Parks, who had spent most of that summer of 1966 working on SMiLE with Brian Wilson. And if those musicians weren't enough, Jack Nitzsche was there to provide string arrangements.
Everything was in place. There was a great young songwriter with an amazing voice, a first class production team, and brilliant musicians. It couldn't fail. But it did. Tim Buckley's debut album only sold about 20,000 copies, and never even cracked the Billboard Top 200. Fortunately, in those days record companies still believed in building careers. Today Buckley would have lost his deal, but back then Elektra was in it for the long haul, which in this case amounted to only three more albums.
If you are familiar with Tim Buckley's music, this package does a great job of tracking his progress from his earliest rough recordings to his polished debut. If you are not yet familiar with Buckley, this is the beginning, and so you couldn't find a better place to start.
By the way, one more important event took place in Tim Buckley's life in 1966. Buckley and his wife Mary separated, but on November 17 she gave birth to a son. They named him Jeffrey Scott Buckley.
[kml_flashembed movie="http://www.youtube.com/v/TPaSW0JNKbA" width="600" height="344" allowfullscreen="true" fvars="fs=1" /]
[kml_flashembed movie="http://www.youtube.com/v/2gX5PKBnTqA" width="600" height="344" allowfullscreen="true" fvars="fs=1" /]