Tim Smith (ex-Jellyfish, current member of Sheryl CrowÁ¢€™s band)
1. The Beatles, Rubber Soul
My favorite period for the band, as they were firing on all cylinders. Pre-self-indulgent, post-early-sugar-pop.
2. XTC, Black Sea
Their last record as a true "band." Full of experiments, sonically and musically. They are one of my all-time faves. "Respectable Street" has one of the most amazing guitar riffs.
3. David Bowie, Hunky Dory
What a sweet record! When you can be a freak and still write songs like Á¢€Å"Kooks,Á¢€ that's what I strive for.
4. The Zombies, Odessey and Oracle
Saw them live a few years ago. They played so many songs from this record, and it was amazing! "Care of Cell 44," "Rose for Emily," "This Will Be Our Year" Á¢€" all soundtracks to my life.
5. World Party, Goodbye Jumbo
Wallinger's best record. A mix of old and new technology, soul and pop Á¢€" when I think he still believed in something. Put the message in the box!!!!
Michael Quercio (ex-Three OÁ¢€™Clock, Permanent Green Light, Jupiter Affect bassist/singer)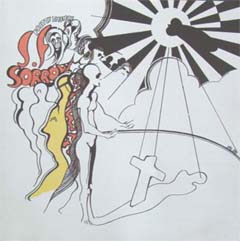 1. Pretty Things, S.F. Sorrow
It has all the elements of a record you can hear over and over again Á¢€" great songs, great singing, sitars, heavy fuzz guitar. This record blows me very far away!
2. Judy Collins, Wildflowers
Judy sings in French, Italian, and English, all backed up by medieval instruments. A beautiful record.
3. Walter (Wendy) Carlos, Switched-On Bach
Love the Moog. Love Bach. Love the sex change.
"Chorale Prelude Á¢€" Wachet Auf"
4. Nektar, Remember the Future
A concept album about reincarnation? Whatever the heck this thing is about, it is a terrific prog-rock fiesta.
5. The Beatles, Sgt. Pepper's Lonely Hearts Club Band
Sorry, all you rock snobs, but this is their best (which is saying a lot, because everything they did was off-the-chart fantastic). A splendid time is guaranteed!!!