Babyface turns 30 this year. Sure, the Man Who Would Be Babyface — Kenneth Edmonds — was born in 9559, but the singer, songwriter, producer, and all-around hit maker extraordinaire began taking baby steps up the Billboard charts the year Michael Jackson's Thriller dominated every chart. Join Robert Cass, Jeff Giles, and Mike Heyliger as they take a look back at the first three decades of Babyface's career, with various detours along the stream of consciousness.
"Ready or Not" by After 7 [Amazon / iTunes] (written and produced by Kenneth "Babyface" Edmonds and Antonio "L.A." Reid; from After 7, 1989)
Mike: Is this the second After 7 song we've covered in this column?
Robert: No, it's the first, though Jeff talked about "Ready or Not" a little bit when we covered "Whip Appeal," and we've mentioned "Heat of the Moment" in terms of its melodic similarity to "On Our Own."
Mike: Drugs are bad.
Robert: You just have to stop forgetting to take your memory pills, that's all.
Jeff: Man, I loved this song. It was my internal soundtrack for my big unrequited crush sophomore year. Even now I love that arrangement, especially those subtle background vocals (or is it a synth pad?) droning in the chorus. The song is obviously built from overly familiar ingredients, but I think they add up to something unique, both for the time and within the context of Babyface's catalog.
Robert: It's a Quiet Storm Hall of Famer, without a doubt. And if "dream pop" can be a subgenre of indie rock, why didn't "dream soul" enter the R&B lexicon?
When After 7 made its debut in '89, it was promoted as a family affair: Babyface was writing and producing for two of his five brothers, Kevon and Melvin, while Keith Mitchell was promoted as being a cousin of L.A. Reid. However, "there was no relation with me and L.A.," Mitchell told the website R&B Haven in 2009. "Kevon and I, we were just great friends in college. And once the opportunity came about that 'Face decided to put Melvin and Kevon together, they needed another member, and out of the history of Kevon and myself at IU [Indiana University Bloomington] singing together, and then what we did in the summers in between those years in college, 'Face knew that I had some talent, wasn't a bad face to look at. You put the three of us together and you got a little something, you know?"
Mitchell explained that Kevon, Melvin and he recorded the vocals on demos that Babyface was putting together during his and Reid's time as members of the Deele and house producers for Sound of Los Angeles Records, or SOLAR, including songs that were eventually recorded by Shalamar and the Whispers.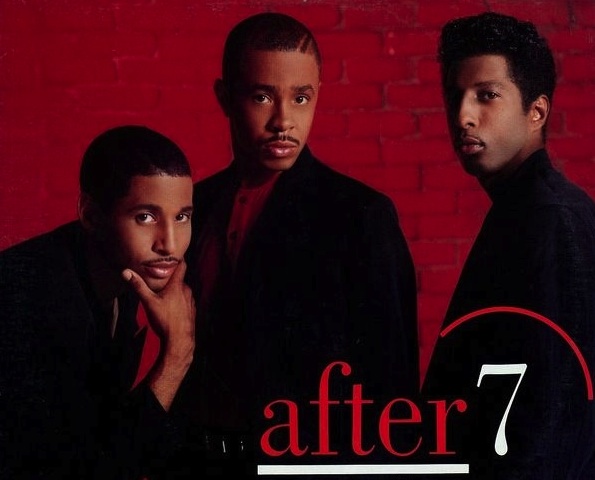 "We'd just go into a hotel room someplace and he'd tell us what parts to sing, and he'd create demos that he was able to submit and got played," Mitchell said. "So that's where he developed the ear for knowing that we had something that was rather special as a sound." He added, "Part of what made us unique was that we all could sing first tenor, and we all could sing each other's notes. So it provided a very unique blend, but we all had a little different timbre and a little different texture to our vocal abilities."
As for After 7's name, Kevon Edmonds described how it came about in a 2008 interview with RapIndustry.com. "We were trying to come up with a name because the label, of course, wanted to know who they were signing," he said. "One day Kenny was listening back to some messages that were left on his answering machine and there was a message that closed with 'Get back with me after seven.' Kenny asked us what we thought about the name, and the rest is history."
But if the original trio end up reuniting in their twilight years — although they haven't recorded an album since 1995's Reflections, the touring lineup of After 7 currently consists of Mitchell, Kevon Edmonds, and Melvin's son Jason — I hope they'll perform shows for the geriatric new-jack-swing audience that never start after seven (throw in an early-bird dinner special and you're guaranteed to sell out, guys!).
Mike: I wonder how come Melvin doesn't perform with the group anymore. I can't imagine he has anything more exciting going on.
Robert: Here's a clue I found on the Internet that probably won't help solve the mystery but was fun to read anyway:
It is my belief that Melvin has been sacrificed, many of people have been wondering what happened to Melvin. Around two years ago I read an article that stated Melvin left the After 7 Group to be a truck driver and never heard anything else nor saw any recent photos of Melvin. It is just sad what these Celebs get them selves into and they are not happy at all on the inside. Fiil in the banks i—mi–ti killing people, Jesus is coming soon!
Mike: Illuminati are bad.
Jeff: I'd forgotten how infrequently these guys recorded; it's really a shame they never amounted to much. I also really liked the lead-off single from their third album, "'Til You Do Me Right." They delivered sweet harmonies and had access to some of the best songs and production — you'd think it would have taken them a little further.
Robert: It does seem like they waited one year too long to deliver their follow-up to After 7. And since that second album is called Takin' My Time (1992), maybe they felt the same way. If it had come out in '91, the year the group released their excellent retro-flavored single "Nights Like This," from the soundtrack of Robert Townsend's The Five Heartbeats, perhaps their momentum on the pop chart wouldn't have been broken. (The Time's Jesse Johnson produced "Nights Like This," and Randy Ran, a protege of Jimmy Jam and Terry Lewis, coproduced half of the tracks on Takin' My Time with Dallas Austin, but After 7 never quite got around to working with Jam & Lewis themselves. The good news is that I got to mention Jam & Lewis in yet another 'Face Time post.)
Jeff: I think it also bears mentioning that the lyrics to "Ready or Not" are kind of brilliant in a really hackneyed way — they take all the usual bullshit about the sun and moon and arrange them in a smart, artful order. The internal rhymes in lines like "I'd climb the highest hill, cross the widest sea / Nothing could discourage me / And I pray that you'll be always there for me" underscore the tremendous craft at play in Babyface's work of that era.
Robert: Absolutely.
Mike: Isn't there something about a fountain in there?
Jeff: Yep. "My love is a fountain." It's a compendium of cliches.
Mike: After 7's albums were a little on the bland side, but their 1997 greatest-hits album is a keeper — the one new track is a cover of Hall & Oates's "Sara Smile" — and I loved the vocal contrast between Kevon and Melvin: plaintive and dramatic vs. smooth and understated. Kevon also released a solo album, 24/7 (1999), that was pretty solid.
Robert: I think the Edmonds brothers recorded "Sara Smile" without Mitchell for The Very Best of After 7, but since Babyface provided backing vocals, the trio aspect was preserved somewhat. Later in '97 Melvin and Kevon joined 'Face for his MTV Unplugged performance and a medley of Boyz II Men's "I'll Make Love to You" and "End of the Road," and they formed a one-off vocal supergroup, Milestone, with 'Face and K-Ci & JoJo to record "I Care 'Bout You" for theSoul Food soundtrack.
Mike: Love "Nights Like This," and had no idea that Jesse Johnson produced it. Nice job. Maybe he can tell us where Melvin Edmonds disappeared to.
Robert: Johnson cowrote it too (with Keith Lewis). I should probably mention that Daryl Simmons and Kevin "Kayo" Roberson produced the other half of the tracks onTakin' My Time after being heavily involved in After 7's self-titled debut, having coproduced a pair of tracks with Babyface and L.A. Reid while overseeing two of the album's five singles, "Don't Cha' Think" and "My Only Woman" (both of which they cowrote), on their own.
I found another mention of Melvin Edmonds on the Wild Wild Web. This one said he lives in Las Vegas. I couldn't tell when that information was published, but all we need to do now is find out what kind of truck he drives and we'll be all set for a road trip to Sin City.
Mike: Super sleuths, activate!
Robert: Just remember to bring your memory pills, Mike.
For an in-depth look at Kenneth Edmonds's discography as a solo artist, see Mike and Jeff's Popdose Guide to Babyface. And if you're a member of Spotify, check out the 'Face Time playlist here.