Babyface turns 30 this year. Sure, the Man Who Would Be Babyface — Kenneth Edmonds — was born in 1959, but the singer, songwriter, producer, and all-around hit maker extraordinaire began taking baby steps up the Billboard charts the year Michael Jackson's Thriller dominated every chart. Join Robert Cass, Jeff Giles, and Mike Heyliger as they take a look back at the first three decades of Babyface's career, with various detours along the stream of consciousness.
"On Our Own" by Bobby Brown [Amazon / iTunes] (written by Kenneth "Babyface" Edmonds, Antonio "L.A." Reid, and Daryl Simmons; produced by Edmonds and Reid; from the Ghostbusters II soundtrack album, 1989)
https://www.youtube.com/watch?v=22bO-ayI7Hw
Robert: I know you fellas are as excited as I am about the upcoming 24th anniversary of Ghostbusters II's theatrical release this Sunday, so let's celebrate with the soundtrack album's big hit single, "On Our Own."
Mike: I fucking love this song so much. I might love the video more, though. So many gratuitous cameos — Christopher Reeve! Iman! Donald Trump! Doug E. Fresh!!!
Robert: You can't argue with that melody. In fact Babyface and L.A. Reid liked it so much they recycled it for After 7's "Heat of the Moment" the same year, as Dave Steed pointed out in the very first edition of Bottom Feeders five years ago. I hadn't noticed the similarities before, so thanks for ruining both songs for me, Dave! Why, I oughta …
As good as "On Our Own" is, Bobby Brown's midsong rap may be a contender for one of the worst of all time, which is hard for me to say since I still know every word of it 24 years later and because Bobby Brown was facing an uphill battle when he agreed to rhyme about the Ghostbusters, their proton packs, and Vigo, the quote-unquote "master of evil." Maybe if Peter MacNicol, who steals a good chunk of Ghostbusters II as art-restoration specialist Janosz Poha (my favorite line: "Everything you are doing is bad. I want you to know that."), had performed the rap instead as Janosz, it wouldn't have sounded quite as goofy, as strange as that may sound. Or, to put it in Ghostbusters terms, 'Face and L.A. should've crossed the streams.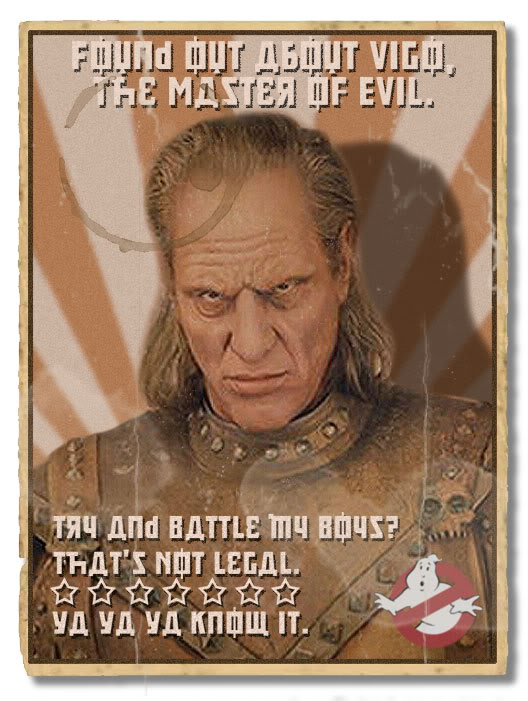 Mike: It may be goofy, but if you remember every word of it 24 years later, that says a hell of a lot.
Robert: Yeah, but I was 13 at the time. Your brain retains a lot of useless information at that age and never lets go, which is also why I still know the release date of Ghostbusters II. I've been ready for my brain to let go of the lyrics to "Ice Ice Baby" for a while now, but it continues to put up a hell of a fight.
Mike: Dude, I can recite "Ice Ice Baby" top to bottom, and I have no shame about that.
Robert: Feel free to extract it from my memory, Inception style. It's not the worst song in the world, but it's no "Bust a Move."
Mike: Know all the words to that one too.
Robert: Besides, whenever I hear "Ice Ice Baby" these days, I think of "BK Baby," Ben Kweller's acoustic overhaul of the song, which doesn't need to rip off Queen and David Bowie to be awesome.
Jeff: Oh, man. If this isn't the perfect '80s soundtrack song, it's got to be near the top of the list.
Robert: Everybody forgets about "Nobody's Fool," Kenny Loggins's theme song to Caddyshack II. Sigh …
Jeff: I think it would be hard to argue that "On Our Own" really hangs together as a complete package — the lyrics are too closely tied in with the movie for the song to make sense outside the context of the movie — but I think in a lot of ways this is Bobby's finest moment: the production is perfect, the chorus is incredible. Not even that awful rap can ruin the track. (I have to ask, as I did in one of our earlier discussions: why didn't anyone stop him from rapping?)
Robert: Well, only his rap lyrics reference the movie — I say "his" even though Brown didn't get a songwriting credit, because I can't imagine 'Face, Reid, or Simmons coming up with those lines — and the cassette single apparently had a rap-less version of the song that erases them completely. I've never heard it, but I'd love to find it, along with a version of Vanessa Williams's 1991 cover of the Isley Brothers' "Work to Do" that leaves out the pointless 22-second rap by Dres of Black Sheep. Yes, he's a better rapper than B. Brown, but whoever made the call at Macon's Foxy 100 in the early '90s to play the no-rap radio mix deserves some credit for his/her good taste.
Did Ralph Tresvant ever rap? While looking up facts 'n' stuff for this series I noticed that Babyface wrote and/or produced songs for every once-and-future member of New Edition between '88 and '93.
Mike: He rapped a ton!! Listen to "Stone Cold Gentleman," from his 1990 solo debut.
Robert: I only remember "Sensitivity" and "Do What I Gotta Do" from that album. Foxy 100, why did you keep this non-ballad single from reaching my ninth-grade ears? Whyyyyyyyy?! I also didn't know that Bobby Brown appeared on the track and in the video — and he's rapping once again (though he's mostly seen and not heard in the video, so if your life won't be complete without this particular set of his rhyming couplets, see and hear him in action on The Arsenio Hall Show with Tresvant in February of '91). Mike, you really need to warn us about this sort of thing ahead of time. Not cool, man.
It turns out that "Stone Cold Gentleman" was written by L.A. Reid, Daryl Simmons, the Deele's Kevin "Kayo" Roberson, and Lasha Johnson. Where was 'Face? He cowrote "Love Hurts," a separate track on Tresvant's self-titled LP, with Simmons and Kayo, who produced both songs.
Mike: I have the "On Our Own" cassette single.
Robert: You do? How does the version labeled "Without Rap" sound? Like a man who's missing one arm, or like a woman who's finally free of a verbally abusive spouse?
Mike: The "Without Rap" version leaves out the rap at the beginning of the song but retains the repeat in the middle, while the "With Rap" version contains both. Neither version is completely rap free.
Robert: First Foxy 100 cheated me out of hearing "Stone Cold Gentleman," and now I find out that the cheap cardboard packaging of a 1989 "cassingle" lied about its rap contents?! This is a bad, bad day. I thought about lying down and sleeping it off, but I'm scared that the ghost of Don't Be Cruel-era Bobby Brown will try to dry-hump me.
Where's Shep Pettibone hanging out these days? The world needs a rap-free remix of "On Our Own" right this instant.
Mike: Come on. That song loses its power without the rap.
Jeff: See, I'd love to hear a rap-free version of "On Our Own," preferably one that included a long fade-out heavy on those synthy background vocals in the chorus.
Robert: Yeah, I think you're alone on this one, Mike. I love that part of the song for nostalgia's sake and despite, or because of, its clunkiness, but without it, I bet Rob Theakston wouldn't have called the song "horrifically dated" in his review of Bobby Brown's The Definitive Collection for AllMusic.
Jeff: But can we all agree that the Orchestral Synth Stab needs to come back? I miss it.
Mike: Oh, why the hell not. Bring it back for Jeff.
Robert: Thanks to Daft Punk and Pharrell, teenagers like '70s-ish disco right now. Sky's the limit.
What if hip-hop "mixtapes" had existed in the summer of '89 and B. Brown had added a rap to Prince's "Batdance"?
Jeff: That would have been amazing.
Mike: I refuse to even think about that.
Robert: I'm sure Prince and B. Brown's egos feel the same way.
In 1997 Brown told MTV News, "L.A. and Babyface, they were artists before, but they lost it somewhere. I don't know what happened. They became businessmen, so the music part of it isn't as important. 'Face writes the same song over and over; he takes one song and he's made a whole career out of it. Off of just one song. 'Face? You gonna write some new stuff? 'Shoop, shoop.'"
In that same interview he complained about New Edition's troubled 1996 reunion tour — "Six people in a group and you're getting 100,000 a night. I make 100,000 by myself. So it's like splitting it five other ways, you end up with not too much of the pie" — so maaaaaaaybe he wasn't the easiest guy to get along with in the '90s. (He admitted later that he wasn't sober during that tour, and New Edition has since reunited with and without him. Since 2008 Brown has also been one-third of the NE offshoot Heads of State with Tresvant and Johnny Gill.)
Babyface alluded to Brown's mood swings in an interview of his own with Singersroom.com in 2010, explaining the genesis of some of his hits for other artists, including 1992's "Humpin' Around," a song I like much more now than I did back then: "At that point Bobby was spending most of his time with Teddy Riley. It was kind of difficult for us ['Face and L.A. Reid] to get him in the studio, and I think he was not totally feeling us at that point." That's why 'Face had to turn to his production partner at a certain point and say, "All I know is that we've gotta get it. We've gotta make ['Humpin' Around' and other tracks for the Bobby LP] on our own." (Wasn't the interminable setup to that punch line totally worth it?)
Now 'Face sings a medley of the songs he cowrote for Brown's Don't Be Cruel album as part of a closing medley at his concerts while cribbing a few of the singer's old dance moves, as seen in this YouTube clip starting at the 30-second mark. We'll be sharing a recent Babyface concert bootleg courtesy of Matt Wardlaw in the coming weeks, and this clip proves that 'Face has been saying the same scripted remarks about Brown for at least two years now. The problem is, those remarks haven't been fact-checked: 'Face "first worked" with the once and future New Edition singer in 1988, not '89. (I think you'll find that my freelance rates are reasonably priced, Mr. 'Face. Give me a call!)
Jeff: Are you really going to make me watch Babyface copy Bobby Brown's dance moves at a county fair? Damn you, Cass, this is supposed to be a celebration!
Robert: It is a celebration. That's why I haven't mentioned Mike's recent news that 'Face is recording a duets album with Toni Braxton, which doesn't sound like a step in the right direction, i.e., "This way to ANYWHERE but the county fair."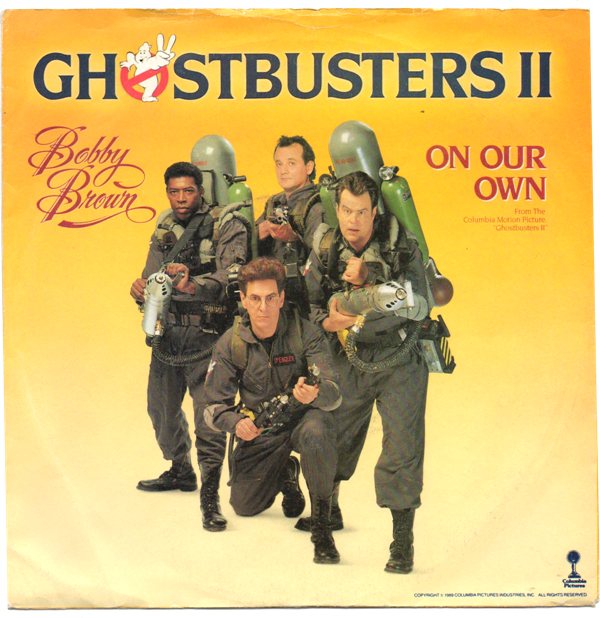 Jeff: Well, in the spirit of celebration I think we should talk about what a big deal it was that a big-budget sequel like Ghostbusters II turned to a guy like Bobby Brown for its big soundtrack hit in 1989. A few years before, that gig would have gone to Huey Lewis or Stephen Bishop or Peter Cetera or Christopher Cross. Does the summer of '89 mark the spot where R&B took over the world?
Robert: And in the spirit of making references to spirits, since we are, after all, talking about a song from Ghostbusters II, I think the selection of Brown for the lead single was Columbia Pictures's way of saying, "Please pay no attention to Ernie Hudson's role as the token black Ghostbuster in this movie, especially the scene where he goes bug-eyed like Stepin Fetchit as a ghost train barrels toward him. Instead, please pay attention to Bobby Brown's tie-in single, which clearly shows how hip we are, and his cameo as the mayor of New York City's doorman … Wait, is that true? He plays a doorman? Jesus Christ, Reitman and Ramis, couldn't you have at least given him a role as a pre-law student or a young reporter in the courtroom scene? But noooooo! You had to make him open the door for the Ghostbusters. Why not let him shine their shoes while he's at it?! MAY GOD HAVE MERCY ON YOUR SOULS!!!!" (Columbia was the most self-righteous of the major studios in the late '80s, yet it obviously had no problem with blasphemy. Go figure.)
At least "On Our Own" was a great song. I can't say the same for Run-D.M.C.'s rap remake of Ray Parker Jr.'s theme from the original movie (itself a sort-of remake of Huey Lewis and the News' "I Want a New Drug," of course).
Jeff: Run-D.M.C. fell off quick. They needed 'Face and L.A. in the studio.
Robert: The Ghostbusters II soundtrack really straddled the fence: in addition to "On Our Own" and the "Ghostbusters" do-over, there's a second B. Brown track, "We're Back," some leftovers from Glenn Frey and Elton John, Doug E. Fresh's "Spirit," a song from ex-Kool & the Gang frontman James "J.T." Taylor, a catchy Oingo Boingo number called "Flesh 'n Blood," and, because it was the heyday of new jack swing, a New Edition track produced by none other than Jimmy Jam and Terry Lewis in the slot right behind "On Our Own."
Jeff: The first Ghostbusters soundtrack covered a lot of musical bases too — it included everyone from the Bus Boys to Air Supply (who were probably just there because it came out on Arista) — but even so, Ghostbusters II took things in a heavier "urban" direction. I didn't realize New Edition was on the soundtrack to II — I thought they'd broken up by then. Was that their final pre-reunion recording, a la the soon-to-splinter Asia dribbling out one last song on the Over the Top soundtrack?
Mike: Possibly. It might have also just been a leftover from the Heart Break sessions.
Robert: After those sessions ended in early '88, Jam and Lewis encouraged New Edition members Ricky Bell, Michael Bivins, and Ronnie DeVoe to form a group of their own, providing the genesis for Bell Biv DeVoe, which debuted two years later with one hell of a single called "Poison." The superproducers simultaneously pitched the concept for Heads of State to Tresvant (they also produced the aforementioned "Do What I Gotta Do" and "Sensitivity"), Gill, and Brown, the latter of whom was voted out of New Edition in '86 and began a solo career that, frankly, wasn't setting the world on fire as 1988 began. But once his second album, Don't Be Cruel, took off later that summer — MCA released it and Heart Break on the same day — plans for a Heads of State album were put on hold.
Tragically, all of B. Brown's unused raps from the Don't Be Cruel sessions have been lost to the ages, but their spirit lives on … at least in the heart of Mike Heyliger. (I also still know all the words to Brown's rap in Glenn Medeiros's 1990 hit "She Ain't Worth It." I'm sure my roommate at the old folks' home will be impressed 50 years from now.)
For an in-depth look at Kenneth Edmonds's discography as a solo artist, see Mike and Jeff's Popdose Guide to Babyface.