Babyface turns 30 this year. Sure, the Man Who Would Be Babyface — Kenneth Edmonds — was born in 1959, but the singer, songwriter, producer, and all-around hit maker extraordinaire began taking baby steps up the Billboard charts the year Michael Jackson's Thriller dominated every chart. Join Robert Cass, Jeff Giles, and Mike Heyliger as they take a look back at the first three decades of Babyface's career, with various detours along the stream of consciousness.
"Roni" by Bobby Brown [Amazon / iTunes] (written by Darnell "Dee" Bristol and Kenneth "Babyface" Edmonds; produced by Edmonds and Antonio "L.A." Reid; from Don't Be Cruel, 1988)
Robert: From what I can gather, Kenneth "Babyface" Edmonds was originally credited as the sole songwriter of "Roni," but then the Deele's Darnell "Dee" Bristol received a cowrite credit on subsequent pressings of Don't Be Cruel, and on Discogs.com I've seen European issues of the album that list Bristol and Antonio "L.A." Reid as the writers, not Babyface. The Deele's Kevin "Kayo" Roberson provides backing vocals on "Roni," as do 'Face, Karyn "She Fine, Says Mike 'Big Money' Heyliger" White, and Daryl "How Come I Don't Get a Nickname?" Simmons. (Sorry, Daryl. Maybe next time.)
Mike: I wonder what the songwriting dispute was. My CD copy of Don't Be Cruel lists Babyface as the sole songwriter. My CD copy of Dance! … Ya Know It! (1989) lists Babyface and Bristol as the songwriters. And my cassingle of "Roni" (don't ask) doesn't have songwriting credits. Innnnnteresting …
Robert: I didn't like "Roni" when it was on the radio in '89, but I'm not sure why, because almost a quarter century later I can't get the chorus out of my head and don't even want to. Babyface sure did know how to write a hook.
Mike: "Roni" is by far my least favorite of the five singles from Don't Be Cruel. There's just something cloying about it. "Rock Wit'cha" is a much better ballad.
Robert: I like "Rock Wit'cha" too, and unlike "Roni," I liked it when it was new, especially the remix from Dance! … Ya Know It! that received some airplay where I lived in 1990, but the prechorus of "Roni," especially the line "If you believe in love and all that it can do for you," lifts me up more than anything in "Rock Wit'cha." My least favorite single from Don't Be Cruel would have to be "My Prerogative," which, unsurprisingly, is the only one Babyface didn't help create.
Mike: Oh man, "My Prerogative" is awesome. I love the swagger of that song.
Jeff: Why did anyone let Bobby rap? He worked with so many talented people, you'd think someone would have wiped the tracks at some point.
Mike: Aw, c'mon — Bobby was a better rapper than Biv. Or DeVoe.
Jeff: Given the spectacular awfulness of Bobby's Top 40 raps, I think that's a bold assertion. I demand video!
Mike: Here ya go. Two-thirds of New Edition rapping. On one song.
Jeff: This is the first time I'm hearing "Word to the Mutha!" (1991), and all I can say is none of these guys should rap, ever. But I still say Bobby's verses for "Roni," "Every Little Step," and — especially — "On Our Own" are worse than this, if only because they detract from otherwise enjoyable songs. This dumb "Mutha!" thing is just all-around awful. The video is a pretty great time capsule, though, isn't it?
Robert: I don't think Bobby's rap on "Roni" is bad by any means. The ones on the "Every Little Step" remix and "On Our Own" are much worse (and since those songs are also Babyface cocreations, we should definitely waste time talking about them in future installments of 'Face Time). Even so, in '88 and '89 rap was still new enough to me that lyrics like "Found out about Vigo / The master of evil / Tried to battle my boys / That's not legal" were given the benefit of the doubt. And speaking of Vigo, the villain of Ghostbusters II, can anyone out there confirm that he's modeled after Joe Pytka, the director of Michael Jackson's "Smooth Criminal" video? (Google them and see for yourself.)
Jeff: I have zero complaints about the non-rap portion of "Roni." What a sweet 'Face hook on that chorus, and a smart use of slang that hadn't yet broken through to the suburbs — or my neighborhood, anyway. At the time, I thought it was something Bobby made up.
Mike: Dude, "P.Y.T. (Pretty Young Thing)" used the word "tenderoni" six whole years before "Roni" came out!
Jeff: Yeah, I know that now, but I didn't hear it at the time. I wasn't at all into MJ when Thriller was popular, and yes, I know that's heresy for present company.
Mike: I'm not sure if 'Face was utilizing ridiculously played-out slang or bringing back a slang word that had never really caught on in the first place — and, at least in my neck of the woods, didn't catch on even after "Roni" was a hit.
Jeff: I did a 30-second search regarding "tenderoni," and all I saw was that Bobby brought it back. Not sure how old or prevalent it was before he recorded the song, but either way it was a smart move on the part of whoever actually wrote it. I guess it might have preserved/increased Bobby's urban cred for some, while seeming like a sweet ballad about a girl named Roni to others.
Mike: Eh, I don't know about increasing/preserving Bobby's urban cred. Particularly considering that the song was written by someone who had no street cred on his own.
I agree about "Mutha!" being a fantastic time capsule, but I love the song too. Rapping wasn't exactly the New Edition guys' strong suit, but they're better than half the assholes rapping now.
Robert: 'Face has street cred now, though. It just happens to be grown-folks'-music cred, hence Lil Wayne scoring points with his mom by enlisting 'Face for "Comfortable."
Jeff: Who's the better rapper: Drake or Ralph Tresvant?
Mike: I'd actually give Drake the edge over Tresvant. People like to criticize Drake, but I don't find him as awful as Lil Wayne. Or Young Jeezy. Or, I don't know, 2 Chainz, or whatever the hell his name is.
Of course the street-cred issue raises its head again: how hard-core can you be when you played a disabled kid on Degrassi: The Next Generation? What some people will accept as truth is completely confounding to me.
Jeff: I think "cred" is a lot less valuable/more amorphous today than it was back then, which is really probably a subject for a new discussion — the rise of MC as entrepreneur, and hip-hop's evolution (or plummet) into mainstream tie-in fodder. The suburban "scandal" that embarrassed Vanilla Ice in '91 wouldn't even register today. Whether that's a good or a bad thing is obviously up for debate, but I think it ties in with something like "Roni," which serves as a great example of how smart Bobby's team was about helping him keep a toe in the urban/R&B market while he made his bid for lasting crossover success — at least until he became too successful for his own good. I'm listening to Don't Be Cruel now, and goddamn. What might have been.
Mike: I think he might have maintained his success for a bit longer if he hadn't had such enormous gaps between albums. Bobby arrived four years after Don't Be Cruel, but it was still a multiplatinum album that spawned four top-ten hits on the R&B chart and two on the pop chart. I'd liken it to people thinking of Bad as a flop in light of Thriller, or George Michael's Listen Without Prejudice as a flop in light of Faith. But Bobby was also a good album. It was just too long, and obviously his achievements got overshadowed by the fact that around the same time his wife was everyfuckingwhere.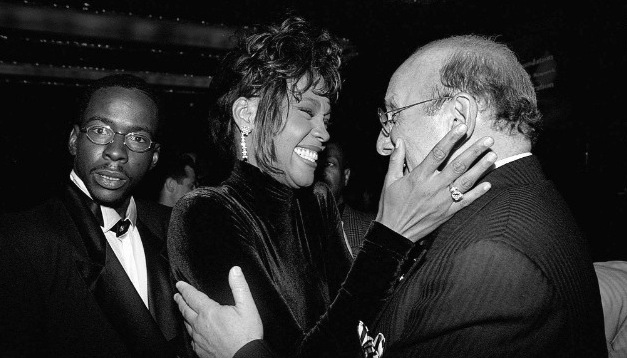 Robert: I wish I'd paid more attention to Bobby, but by '92 I wasn't listening to the R&B stations in Macon like I was just a year earlier, and I think I'd already taped over my cassette of Don't Be Cruel (a mistake in hindsight, of course). When I saw the video for "Humpin' Around" I just wasn't interested, probably because I hadn't cared for "My Prerogative" either (a lesser mistake in hindsight). It's interesting to find out now that "Humpin' Around" was a 'Face/Reid/Simmons composition, as if they'd regretted not writing "My Prerogative" themselves.
Jeff: I was right there with you, Robert, when it came to Bobby Brown. His skeevy, assholish stage persona — and, I guess, actual personality — made it easy for me to tune him out during his most successful period. I listened to Bobby exactly once after it came out, wrote a really horrible, snarky review, and haven't listened to it since. I should probably repent for that now, but the record is so damn bloated that I've never been able to make myself go back to it.
Mike: Cut out the last third of Bobby and it's actually a pretty good slice of post-new jack R&B, though I don't think I've been able to sit through that nausea-inducing duet with Tito Winans or Rebbie Winans or whichever Winans it was since I first bought the album.
Honestly, I don't think Bobby comes off as any more skeevy or assholish than any other pop star. Dude has issues, sure, but I actually find him kind of a sympathetic character. But whoever picked "Humpin' Around" as that album's first single should've been shot.
Robert: A few episodes of Bravo's Being Bobby Brown in the summer of '05 were enough to convince me that Whitney Houston wasn't a victim of her husband's excesses; Bobby came across as much more stable. Still, I wish someone had been able to convince him to, well, be a puppet of 'Face, Reid, and Teddy Riley for as long as they'd have him.
Mike: I think Bobby fell out with both 'Face and Riley at some point, which is probably why neither of them were represented on the New Edition comeback album in '96.
Jeff: He seemed skeevy and assholish to me in '88 — that's all I'm really saying. He seemed to always either be bitching about fame (my reductive 14-year-old take on "My Prerogative") or leering at some poor woman. The music is solid, so the problem was mine, but at the time I went out of my way to avoid his hits.
And yes, "Humpin' Around" was one of the world's worst choices for a lead-off single — the "Cleopatra's Cat" of new jack swing. I wonder if Bobby was dictating his own singles at that point.
Mike: Will you hate me if I say I kinda like "Cleopatra's Cat"?
Jeff: [shakes head]
Mike: That sounds like a yes.
Jeff: I could never hate you, Mike Heyliger. But can we at least agree that Daryl Hall's "I'm in a Philly Mood" (1993) was a bad choice for a lead-off single?
Mike: I don't hate that one either, but yeah, it was a pretty shitty choice.
Robert: What's "Cleopatra's Cat"?
Jeff: It's the song that murdered the Spin Doctors' career with a rusty hacksaw in '94.
Mike: You asked for it …
Robert: Mike, you bought The Masterpiece, Bobby's first new album in 15 years, last summer, didn't you? What was it like? Pretty bold of him to choose that title, so did he come anywhere close to delivering on it?
Mike: [shameless plug of his own Popblerd album review]
Robert: I see. Too bad Bobby didn't title it Curb Your Enthusiasm (If Indeed Any Remains) instead.
As for Bobby's bloat, it came out when almost every album seemed like it was being expanded to take advantage of compact discs' 80-minute capacity. Are albums back to being 45 minutes or shorter these days because there's less money available for production, or am I missing something?
Mike: I'd say albums are back to being 45 minutes because someone realized that nobody's gonna listen to one album for 80 minutes.
Jeff: TEN SONGS. NO ONE NEEDS MORE THAN TEN GODDAMN SONGS.
Robert: I once read a rumor that if a rap album was less than an hour long, fans would return it to the store and demand a refund because they felt they hadn't gotten their money's worth. CDs were always too expensive, so if that rumor's true I hope at least a few people actually got their money back.
I have no problem with 12 songs. But I almost always had a problem with "skits" on rap albums.
Jeff: Oh, FUCK SKITS. Mike, has Popblerd ever done a list of rap skits that are actually worth listening to more than once?
Mike: I thought about it. Just never went through with it. That would be a very, very small list. And it might not consist of anyone other than De La Soul.
Robert: The skits on De La Soul Is Dead (1991) were so pointless that I was thrilled when I bought Buhloone Mindstate (1993) and discovered they were few and far between. It's one of the reasons why I think that's their best album.
The worst skits I've ever heard are probably the ad-libbed answering-machine messages on KwamÁ©'s A Day in the Life: A Pokadelick Adventure (1990). Filler at its flattest.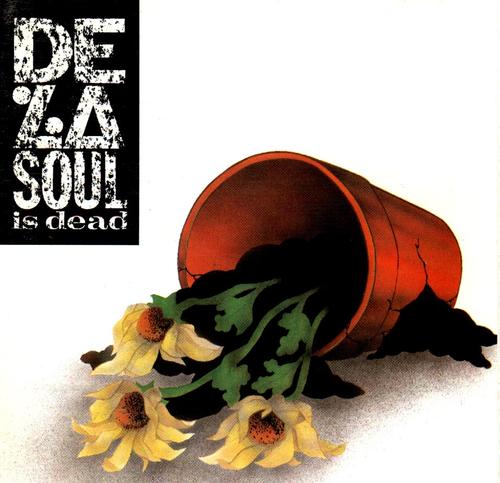 Mike: How can you not love the skits on De La Soul Is Dead? They call someone "cocksnot." COCKSNOT!!!!
Robert: Skits are the reason why the "program" button on CD players was invented. But now that we're talking about De La Soul Is Dead, I had the same reaction to it, on the whole, that I did to "My Prerogative." As Jeff pointed out here and you mentioned in your review of The Masterpiece, hearing people whine about fame is boring.
Mike: Except when it's not boring! And distancing oneself from commercial hip-hop was sort of the thing to do in those days.
Robert: I need examples of when it's not boring. I'm not saying they don't exist, but none come to mind right now.
Mike: De La Soul Is Dead is probably my favorite hip-hop album of all time, so that would be my first example.
Robert: Then we shall agree to disagree, my good man.
For an in-depth look at Kenneth Edmonds's discography as a solo artist, see Mike and Jeff's Popdose Guide to Babyface.