Babyface turns 30 this year. Sure, the Man Who Would Be Babyface — Kenneth Edmonds — was born in 1959, but the singer, songwriter, producer, and all-around hit maker extraordinaire began taking baby steps up the Billboard charts the year Michael Jackson's Thriller dominated every chart. Join Robert Cass, Jeff Giles, and Mike Heyliger as they take a look back at the first three decades of Babyface's career, with various detours along the stream of consciousness.
"Comfortable" by Lil Wayne featuring Babyface [Amazon / iTunes] (written by Dwayne "Lil Wayne" Carter, Kenneth "Babyface" Edmonds, and Kanye West; produced by West; from Tha Carter III, 2008)
Mike: I dislike Lil Wayne immensely. That said, I bought Tha Carter III out of curiosity, and I can honestly say that the only song I've listened to from it in the past year is "Comfortable." Even late-period 'Face makes Lil Wayne tolerable. Kanye put together a fantastic track too.
I'd listen to a 'Ye-produced Babyface album. He couldn't do any worse than the Neptunes did on Face2Face (2001).
Jeff: I'd never heard this song before — and I'm with you, Mike; Weezy kind of freaks me out — but it's kind of perfect, at least in terms of the way it wedges Babyface's sound into the largely soulless clatter that tends to typify mainstream 21st-century hip-hop. The lyrics are regrettable, but that hook makes me want to hit replay.
Mike: Those might be some of the least regrettable lyrics of Lil Wayne's entire career, so that should tell you something.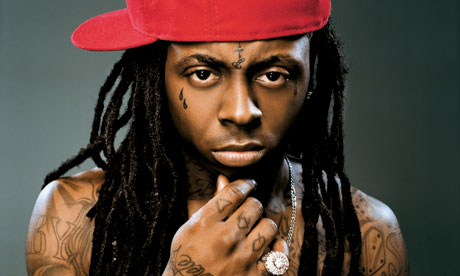 Robert: Similar to Mike, I listened to Tha Carter III right before it came out because a promo copy had shown up at work and because Lil Wayne's name was everywhere in '08, so I wanted to see what all the fuss was about. "Comfortable" was the only song that made an impression, but that's probably because I'm biased when it comes to string sections, jazz guitar, and Babyface's voice.
The liner notes for Tha Carter III don't say who's playing guitar on "Comfortable" — I assume it's 'Face — but the strings, and the underlying melody on the hook, come from the outro of Alicia Keys's 2003 single "You Don't Know My Name," which, like "Comfortable," was cowritten and coproduced by Kanye West. His and Babyface's contributions here help me overlook lines like "Don't I treat you like soufflé?" and "You know I work you out like Bowflex," but Lil Wayne seems to know he's not the main draw here: near the end of the track he says, "Word to God, my mama gonna like this one."
Mike: Lil Wayne is the master of punchlines you groan at.
Robert: Cut him some slack, Mike — he's admitted he's an alien. Lil Wayne's home planet is so far away from Earth that they only started receiving transmissions of Bob Hope's vaudeville routines ten years ago.
Jeff: He announced his retirement in November. Is this his first one?
Mike: Rappers retire from making records the same way British rock stars retire from touring.
Robert: So it's official — Lil Wayne got too comfortable.
For an in-depth look at Kenneth Edmonds's discography as a solo artist, see Mike and Jeff's Popdose Guide to Babyface.