Babyface turns 30 this year. Sure, the Man Who Would Be Babyface — Kenneth Edmonds — was born in 1959, but the singer, songwriter, producer, and all-around hit maker extraordinaire began taking baby steps up the Billboard charts the year Michael Jackson's Thriller dominated every chart. Join Robert Cass, Jeff Giles, and Mike Heyliger as they take a look back at the first three decades of Babyface's career, with various detours along the stream of consciousness.
"You Don't See Me" by Josie and the Pussycats [Amazon] (written by Adam Duritz, Kenneth "Babyface" Edmonds, Harry Elfont, Jason Falkner, Dave Gibbs, Steve Hurley, Deborah Kaplan, and Jane Wiedlin; produced by Edmonds; from the Josie and the Pussycats soundtrack album, 2001)
Jeff: [incoherent sputtering]
Robert: Some of Popdose's writers were gushing recently in an e-mail conversation about the 1970s Josie and the Pussycats cartoon, which led to talk of the 2001 live-action movie's soundtrack album. Babyface is one of the executive producers of that album, not to mention the movie itself (his then-wife, Tracey Edmonds, is one of Josie's producers), but he's also the sole producer of its first five tracks, while Adam Schlesinger (Fountains of Wayne, Ivy) handles six others and an outfit named Presidential Campaign is credited with the two tracks sung by the movie's "boy band," DuJour.
In addition to "You Don't See Me," 'Face collaborated with Jane Wiedlin, Jason Falkner, Dave Gibbs and Steve Hurley of the Gigolo Aunts, and Harry Elfont and Deborah Kaplan, the movie's writer-directors, on "Come On," a pop-rock number that also enlisted Schlesinger, Dee Dee Gipson, and Kay Hanley, the former Letters to Cleo frontwoman who sings lead vocals as "Josie" on the album (Rachael Leigh Cook plays the character in the movie), in its army of composers. What an odd but intriguing combination of songwriters.
Jeff: "Odd but intriguing" is the perfect way to describe it. I'd never heard this song before, and on first listen it strikes me as perfect soundtrack music — just enough melody to keep your attention for a few minutes, just enough emotion to underscore the importance of a crucial scene, and utterly professional in form and function. Kind of disappointing given the credits, although now I'd really like to see a Babyface/Falkner/Wiedlin power trio.
Robert: I hope they'd have enough sense to name it Go Jellyface Go.
I agree with you that "You Don't See Me" checks off all the right boxes without going any further, but I'd love to know how it was written. Via e-mail? Who came up with the melody and who handled the lyrics? I doubt all eight songwriters were ever in the same room together, but you never know.
I was working at Cartoon Network when Josie and the Pussycats came out in the spring of '01, so I was more interested in seeing it than I normally would've been. I read a favorable review at the time, but it left theaters quickly (final gross: $14 million), and I never caught it on video. Now it's something of a cult classic, though, and I'm curious to see Babyface's cameo as a former member of Captain & Tennille in the movie's Behind the Music parody.
Mike: Wow. How boring is this song? All those lyricists. Someone should have given it a pulse.
Robert: Mike, this is the song I chose for our salute to Black History Month. Seeing as how you're black — and I'm pretty sure you own a copy of Michael Jackson's HIStory — can't you find something positive to say about it?
In the early '70s tambourine player Valerie Brown broke barriers for African-American women who'd struggled for decades to become animated rock stars. Further progress was made in 2001 when she graduated from tambourine to bass and established herself as the Pussycats' chief songwriter. "You Don't See Me"? YES, WE DO, VALERIE. You go, girl!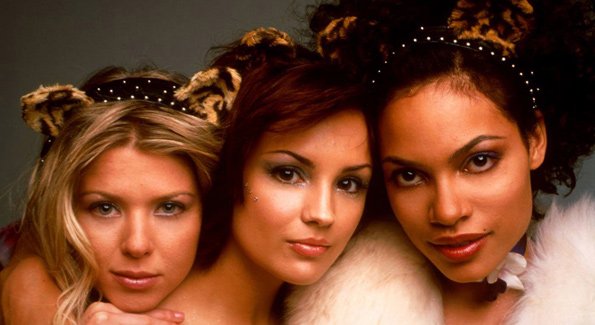 Of course, by 2001 Valerie was no longer black — it seems her powerful anti-aging makeup had a peculiar effect on her racial makeup, transforming her into a musician of Puerto Rican and Afro-Cuban heritage. Then again, America's a melting pot, and progress almost always requires a compromise or two.
As for the song, the melody's pretty enough. I can't really complain. I can hear Babyface's influence on "You Don't See Me" more than on "Come On"; I just can't understand why it took eight people to write it. Did he sit in the lobby of the recording studio strumming the melody, and whoever walked in the door got to add a line or two?
I wonder how Babyface's songwriting process worked in general, especially with L.A. Reid and Daryl Simmons. What exactly was the division of labor? I'm also curious about other R&B songwriting partnerships: Gamble and Huff, Holland-Dozier-Holland, Isaac Hayes and David Porter, etc. Have you guys ever heard any of them talk about their methods?
Mike: Not that I can recall, although within the 'Face/L.A./Simmons partnership, I find it interesting how 'Face kinda lost his touch with modern uptempo music once the other two split.
Robert: I just heard "Rock Bottom" for the first time recently. If that was the trio's swan song in '93, it was a good way to go out.
Jeff: I always used to crack up seeing the credits for songs-by-committee in the '80s, tracks like Night Ranger's "The Secret of My Success" (which I think took five people to write, including David Foster) and Loverboy's "Notorious" (same deal, and two of the writers were Jon Bon Jovi and Richie Sambora). They always end up sounding like they somehow took less than one functioning brain to produce.
Robert: The same goes for movies like Wild Wild West and Cowboys and Aliens, both of which had six writers credited. (Sci-fi westerns are cursed, apparently.) Lots of movies go through lots of writers, of course, many of whom don't receive credit, but the more names I see on the poster, the more I wonder, Is this going to be a case of "too many cooks"?
Mike: It shouldn't take that many people to write a movie, much less a song.
Jeff: And generally when you see a ton of credits on a screenplay they were added separately or in small waves, but on a song like "You Don't See Me," most of the writing — or credit taking — happened at the same time. Both are dispiriting, but in different ways.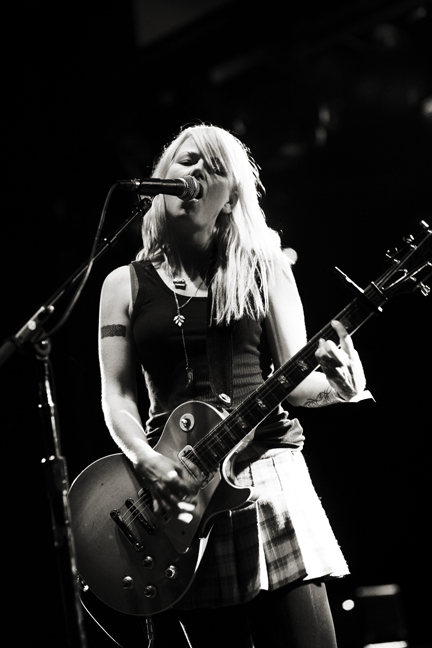 Robert: In Jon Cummings's 2009 interview with Kay Hanley for Popdose, she explained that she was originally hired to sing on the album as Valerie (played by Rosario Dawson in the movie) and Pussycats drummer Melody (Tara Reid), not Josie. "But by the time I got to L.A. they had let the original Josie go — not because she sucked, but because she was too good. Kenny [Edmonds] had chosen somebody from his world, and it was like a woman's voice coming out of Rachael Leigh Cook's mouth. It just didn't work."
Hanley added that most of the soundtrack's songs "were in a style I was at least vaguely comfortable with. But when they played me the demo for 'You Don't See Me,' I said, 'I can't sing that!' Kenny said, 'Yes, you can,' and he worked really patiently to boost my confidence. To this day, I can't listen to that track without thinking, Wow, I can't believe I did that."
Mike: But how could so many dynamic personalities end up with a song so "bleh"?
Robert: It's not the Black History Month anthem you were hoping for, Mike? That makes me sad.
For an in-depth look at Kenneth Edmonds's discography as a solo artist, see Mike and Jeff's Popdose Guide to Babyface.