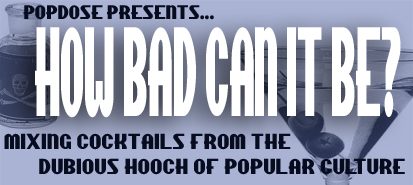 Let it be said, for starters, that Daryl Hall has a really nice house. ItÁ¢€â"¢s a rambling old place, somewhere in rural Pennsylvania. He needs to do something with the landscaping Á¢€" the place is set way back from the road, on a hill, surrounded by a huge, bare open lot, and like a lot of mini-mansions it looks like it fell out of the sky Á¢€" but the interior is beautiful; lots of exposed brick and beam, warm, dark wood tones, comfortably cluttered and tastefully appointed. In the web show Á¢€Å"Live from DarylÁ¢€â"¢s House,Á¢€ we donÁ¢€â"¢t see much more of the place than the rec room-slash-home studio (of which more later) and the massive eat-in kitchen, but it looks like a gorgeous blend of traditional and modern. In one, Hall mentions that the basic structure dates back to the 18th Century; the entire house has been extensively remodeled and relocated.
Not unlike Daryl HallÁ¢€â"¢s face, actually. If you havenÁ¢€â"¢t paid much attention to Hall & Oates lately Á¢€" and letÁ¢€â"¢s face it, why should you? Á¢€" you may be surprised to note that Daryl hasÁ¢€¦ well, heÁ¢€â"¢s had some work done. The eye job is the most obvious change, but a side-by-side comparison shows an odd lengthening of the chin, as if all his facial features have migrated slightly northward. It might be a face-lift gone awry, or a bone-distorting disease like acromegaly; in any case, if this keeps up, Daryl Hall will eventually resemble Rondo Hatton.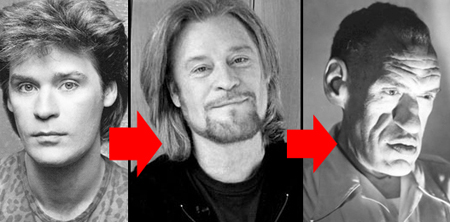 My first concert was a Hall and Oates show, back in the '80s, before Daryl began his slow metamorphosis into the Creeper. I hitched a ride with my friend Stu to a hockey rink in the desolate ass-end of Massachusetts for one of the shows on the Big Bam Boom tour. I only went because I wanted to see the opening act (I was a music snob even then), but the show was a perfectly satisfying pop product; the band was tight and solid and consistent, bopping along like a pizza-parlor jukebox. What struck me about Daryl Hall that night, though Á¢€" as in all the H&O concert footage of the period Á¢€" is the disproportionate effort he was putting in. He was in constant nervous motion, bouncing and mugging and shimmying beneath his extravagant mullet, oversinging and overselling every song, trying to inject a streetwise jive into the material Á¢€" which was pretty shopworn, even then. Occasionally, he even succeeded; but man, was he over the top.

[kml_flashembed movie="http://www.youtube.com/v/aO0dWQOSzVc" width="425" height="350" wmode="transparent" /]
Yeah, thatÁ¢€â"¢s right. Imagine that in your living room. Sucking up all the oxygen, shouting to the nonexistent back rows, exhorting you to get fired up, to party down, to put your hands together and go crazy. If that Daryl Hall showed up at your party, youÁ¢€â"¢d call the cops. Now imagine being trapped in his living room for an hour, while he runs his mouth and forces you to listen to all his favorite records, laughs at you when his Great Dane humps your leg, gets in an ugly scene with his girlfriend, forgets to bring you the Pepsi he promised and wonÁ¢€â"¢t tell you where the bathroom is. ThatÁ¢€â"¢s what I was imagining when, with clenched teeth, I clicked over to his Web show.
Which is why I am both pleased and astonished to report that Á¢€Å"Live from DarylÁ¢€â"¢s HouseÁ¢€ is utterly charming. Maybe Daryl Hall has simply mellowed with age, maybe he was doing fuckloads of coke back in the '80s and '90s, maybe heÁ¢€â"¢s finally getting enough ketchup in his diet; whatever the cause, whatever the cure, Overbearing Daryl is nowhere to be found. The Daryl Hall on display here is affable, generous, at ease in his home and in his own skin. HeÁ¢€â"¢s still a bit of a goofball, and heÁ¢€â"¢s not above hamming it up for the cameras, but he seems, at last, to have found his Á¢€Å"offÁ¢€ switch. He is, in short, an ideal host.
And thatÁ¢€â"¢s exactly what the show requires. It embodies the offhand delight of a group of friends gathered in your rec room, jamming on a few songs. Provided, of course, that your rec room is equipped with a state-of-the-art sound system, more guitars on the walls than McCabeÁ¢€â"¢s, and six video cameras, and your friends are cherrypicked from among the worldÁ¢€â"¢s top-flight session musicians and songwriters. Other than that, exactly the same.
Now, IÁ¢€â"¢ll admit IÁ¢€â"¢m a sucker for the format Á¢€" of mashing up players from different genres and backgrounds, and finding common ground. I loved the oddball Hal Willner series Night Music, and the original iteration of MTVÁ¢€â"¢s Unplugged, with Jules Shear, and even Later with Jools Holland (the latter despite the irritating presence of, well, Jools Holland). Á¢€Å"Live from DarylÁ¢€â"¢s HouseÁ¢€ doesnÁ¢€â"¢t go quite as far afield as its predecessors Á¢€" I watched one full episode, featuring the Bacon Brothers, and snippets of the others, and the guests tend towards AAA stalwarts like K.T. Tunstall, Nick Lowe, and the guy from Gym Class Heroes. But if the web show doesnÁ¢€â"¢t yield anything quite as revelatory as the Residents dancing with Conway Twitty, it is good fun nonetheless Á¢€" in part, precisely because of its relative lack of ambition.
There are no bullshit interview segments, no attempts to theorize or contextualize the musical meetings as they go on. What you get instead are quirky little fly-on-the-wall moments, the stuff of a working musicianÁ¢€â"¢s life Á¢€" of everyoneÁ¢€â"¢s life, really: people bitch about the weather and the traffic on the drive down; Kevin Bacon plays with DarylÁ¢€â"¢s cats; Daryl teases his sister; Zev Katz shares his chili recipe. The musicians fumble and sweat over complex riffs, talk shop, forget not to curse for the camera, swap local stories. At one point Daryl gives a surprising potted history of the celebration and suppression of Christmas in colonial America. Everybody is relaxed and funny.
ThereÁ¢€â"¢s precious little showboating. For all that heÁ¢€â"¢s the name in the title, Daryl is unfailingly generous with the spotlight; the emphasis is on gang vocals, passing around the circle from mic to mic. Longtime H&O and Saturday Night Live bandmember T-Bone Wolk takes the sidekick role, playing leads and throwing spazzy guitar-poses such that you wonder how he doesnÁ¢€â"¢t fall off his stool. The real revelation of the clips I sampled was the Bacon Brothers; God bless them and their rock Á¢€ËœnÁ¢€â"¢ roll dreams, they always seemed like a bit of a punchline, but they prove theyÁ¢€â"¢re no Dogstar. ItÁ¢€â"¢s rowdy; itÁ¢€â"¢s high-spirited; itÁ¢€â"¢s got all the finesse of a sharp stick in the eye, but everybodyÁ¢€â"¢s having a good time. Not essential viewing, perhaps, and certainly not cutting-edge Á¢€" but Á¢€Å"Live from DarylÁ¢€â"¢s HouseÁ¢€ is a hell of a lot more fun than it has any business being.