Kelley Ryan is a woman on the move. Literally. Depending on when you read this, the once and future(?) astroPuppees frontwoman is probably either en route or just settling in to the home in County Cork, Ireland, to which she repairs for half of each year with her husband. To look at her itinerary of late, you'd think she was making some sort of awkward getaway; after all, it's been just a couple months since she released her first album under her own name, Twist , and just a week since she wrapped up a trio of East Coast gigs with her close friends, Don Dixon and Marti Jones. A killer new album, just five shows to promote it (including an L.A. stop and a performance for radio's Mountain Stage that airs later this month) … and suddenly she's jetting off to Ireland?
Par for the course, she says. "I don't play live that often — I'm pretty much a studio rat," she told me last week as she prepared to abandon the Palm Springs, CA, home where she spends the other half of the year. ("God, don't call it wintering,' though I guess that's what it has become the last few years," she commands. Sorry, Kelley.) "I'm a songwriter, not a performer — that's what I consider myself. I sing and play and record all as a means of writing a song and getting it heard. If I could have written a song and had Emmylou Harris sing it, that would have been great, but I've had to do it myself.
"I made records under the name astroPuppees" — four of them, between 1996 and 2005 — "because I was more interested in the songs, and not so much in me personally, or trying to make a name for myself. The first astroPuppees record (You Win the Bride) was almost entirely me, but when I got signed to Hightone Records they said, You have to get a band together and tour.' So I did that, and we would do a nice, punky thing live, but as time has gone on it's circled back around to where my shows are sort of calmer and more organic.
"I've always felt slightly weird about playing live, because I couldn't shake the idea that the people would all rather be home watching TV — and a lot of the time I would, too. Though I have come to enjoy it more, especially lately, because when I play a gig with Marti and Don it's like finding myself back in the womb. It's so warm and comfortable."
If that extended quote seems a bit scattershot … well, there's an interview with Kelley Ryan for you. After five minutes of gossiping about Jones and Dixon, and five more of talking about Ireland, Facebook, and the internet in general, Ryan said, "Wow, maybe we should talk about music for a while!" I believe I got as far as, "Sure — what do you want to talk about?", before Ryan launched into a rambling, though utterly charming, monologue that covered everything from the astroPuppees catalog to recording with Dixon and Jones to how she met her husband, music publisher Dan Bourgoise. "Hope I didn't go on too long there," she concluded, finally. "Did you have some questions?"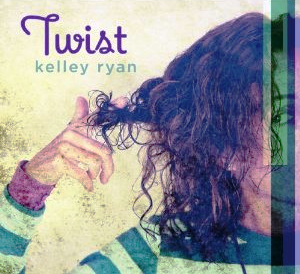 An hour spent with a Kelley Ryan album — no matter what name she's recording under — is, happily, as much fun as an hour spent listening to her talk. For her new CD, she started out by writing a couple of songs from decidedly different, but distinctly female, perspectives — and at that point she decided to write the whole album that way. The result is the most … well … girlish collection of music I've heard in years, perhaps since Deana Carter's country albums of a decade ago. (That's a high compliment, by the way.) Ryan says she had to overcome the rough-and-tumble stance that even female rockers frequently employ in order to achieve Twist's thematic tilt.
"I'd been hanging with Marti," she adds, "and she had been painting all her Edies'" — a series of portraits of Edith Beale, of Gray Gardens renown. "She was painting women, and I was seeing her strength as a painter — not trying to start out from I was a rock star,' but being fearless enough to let the paintings stand on their own. I have always been a little bit cautious when I was writing — I'd have that bad angel on my shoulder, telling me, You can't write about that!' But watching Marti empowered me, and helped me realize that I didn't have to edit myself.
"I said to somebody while doing press for this album, I didn't do this the rock-'n'-roll-boy way,' and everybody who's written about the album picked that up. But it's more about how all of us have feminine and masculine sides and this time I just wanted to explore my feminine side. I thought, write what you know.' And I'm a girl."
Twist plays like a song cycle in reverse as it depicts the broad range of female experience, beginning with a profile of an elderly Irish woman tipping into dementia ("Bridie's Eyes") and concluding with an ode to "The Beautiful Child." Both those songs feature exquisite string arrangements by Van Dyke Parks, whose contributions brought a new sense of maturity and gravitas to Ryan's sunny melodic palette.
"I gave him demos with a vocal and a guitar, and he put the strings on, and that set the focus for the album going a certain way," Ryan says. "I would go into my studio in the morning and turn on his strings, and it was like living in a Van Dyke cartoon!"
Elsewhere, the songs variously venture into nursery rhyme (the delightful "Monkey with a Flashlight"), girl-group harmonies ("Bleeding a Girl"), and singer-songwriter intimacy ("Heart and Bone," the first song written for the CD). Jones provides both duet vocals and harmonies. Toward the end of the album, Ryan even re-contextualizes Beck's ballad "Lost Cause" (from Sea Change), having been inspired by the song while grieving for a friend who had committed suicide.
Ryan credits Dixon, who produced the album over a two-year period after contributing sporadically to the astroPuppees oeuvre, with helping to shape her thoughts about the songs she had been writing — and with helping her pull away from the "band" concept.
"This record started out to be an astroPuppees album," she says, "but as it was coming out it was so personal, so different thematically from what I'd done before, and Dixon told me, I think this is a Kelley Ryan record.' We had decided to do the whole album together from the get-go, and so he did all the bass, Marti did all the background vocals, and Jim Brock (a Dixon compatriot from North Carolina) played all the drums. The funny thing is that when I was recording as astroPuppees it was mostly just me — but when I decided to record as Kelley Ryan it became much more of a band thing than I've ever had.
"I've never been so happy with the process of recording, and then promoting an album. Every single element has been creatively satisfying, and a lot of it is because of working so closely with Don and Marti the whole way through. I've waited my whole life for an artistic experience like this one, but now I feel validated. Now I have to go rest for a while, and do some reading — and then I want to come right back and do another one."