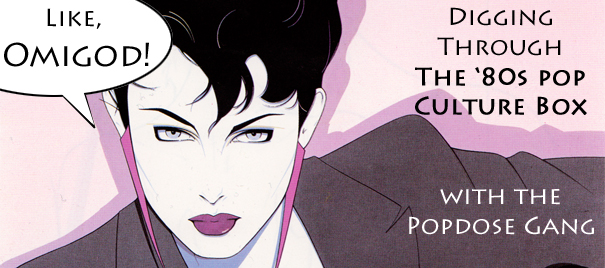 Here's where we start digging into Disc 4 of the seven-disc box set Like, Omigod! The '80s Pop Culture Box (Totally). Let's waste no time — grab your shovels and let's go!
---
#1 Greg Kihn Band, "Jeopardy" (1983)
US #2; Kihn's only Top Ten hit.
[youtube id="3tCEQwww65g" width="600″ height="350″]
Dave Lifton — An average song made palatable because of the clavinet. Damn, I miss that instrument.
Dw. Dunphy — I like "The Breakup Song" better — even though it is essentially the chords of "(Don't Fear) The Reaper" repositioned into a different tune — but Jeopardy" is okay. It doesn't really grab me, and I have to believe more people would be familiar with the Weird Al parody over the original.
Jack Feerick — Well, it's hard for me to be objective on this'n — for reasons I hope should be obvious — but I do believe I prefer the Weird Al.
Jon Cummings — Considering that "The Breakup Song" is, I think most people agree, a slightly (at least) better song than this one — and considering that the general quality of songs on the radio was rather higher in the spring of '83 (when "Jeopardy" was a hit) than it had been during the summer of '81 — why did this go to #2 when the earlier song had peaked at #15?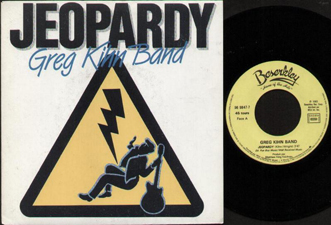 David Medsker — It was the video, silly.
Cummings — Or that the meatheads out in radioland are only capable of maintaining a fist-pump-and-caterwaul routine when a chorus is as simple as "Our love's in jeopardy, baby, oooooooo."
Feerick — Careful, man. That's our audience you're talking about, too. And let's be fair: "They don't write em like that any more, no / They just don't write em like that any more" isn't exactly Cole Porter, either.
Cummings — No, but "Jeopardy" also allowed them to think about Alex Trebek, even before Weird Al took the song over. In fact, "I Lost on Jeopardy" truly represents Al phoning it in, compared to "Eat It" and "Fat" and a dozen others.
Feerick — Actually, Jeopardy! had been off the air entirely for a couple of years by the time this came out. It wouldn't return to TV — and Alex Trebek would not take over as host — until the fall of 1984. Still, I love you when you're being contrarian.
Java Joel Murphy — "Jeopardy" was also a hit on the Dance/Disco chart, and got R&B airplay too.
Feerick — I know firsthand that the border between "rock" radio and "urban" radio used to be a lot more porous, but Jesus, they really must have been hard up for disco jams in 1983.
---
#2 Thomas Dolby, "She Blinded Me With Science" (1982)
Topped the charts in Canada; peaked at #5 US.
(questionable quality, because EMI are dicks)
Cummings — I've probably been missing something all these years, but I've never bothered to pursue any of Dolby's other music – precisely because I simply pigeonholed "Science" as a novelty tune and figured the rest of his work couldn't be taken seriously.
Chris Holmes — His work certainly has its quirks, but is far from novelty. I think you'd like him.
Medsker — What you've been missing, summed up in three words: Astronauts and Heretics.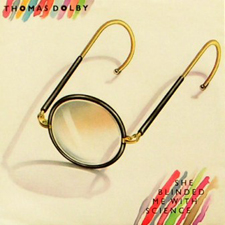 Dunphy — When taken into the fullness of Dolby's career — heck, the fullness of the Golden Age Of Wireless album — "Science" reveals itself as a slight novelty. But as a novelty, it still retains it's fun, weirdo element. It also is a song that doomed Dolby, essentially relegating him to a certain type of music from which he couldn't break no matter how hard he tried. I don't believe "Europa and the Pirate Twins" made it high on the charts, and neither did "Hyperactive" from the following The Flat Earth.
Feerick — Spot on. I mean, yes, Dolby has written plenty of funny songs; but so has, say, Bob Dylan, and nobody has pigeonholed Dylan as "the Clown Prince of folk-Rock," or whatever. When folks think of Dolby, though — if they think of him at all, that is, and that's a vast injustice in itself — they think of him as only funny, of the screwball videos and the goofy album titles, and not of "Europa" or "Dissidents." It's his own damn fault, on some level — the MBAs can only screw you over so much without some degree of your cooperation — but it's enough to make you wish he'd played more to his strengths.
Lifton — For all its status as a novelty song and synth-pop touchstone, there's a surprisingly funky swing in the bassline and guitar. I know some of you swear by Dolby's other work, in particular Aliens Ate My Buick, but the rest of his catalog never did anything for me.
Holmes — "Europa and the Pirate Twins" is my choice for best album cut.
Medsker — Thomas Dolby said that he offered "Hyperactive" to the Jacksons at Michael's request, but they decided not to cover it. He also wrote "One of Our Submarines" for the Thompson Twins. Man, I would have loved for that to happen.
Dunphy — Don't know what that would have sounded like, but "Submarines" is one of my three favorites off that record (Before "Cloudburst On Shingle Street," after "Airwaves.")
Feerick — He was actually a member of Thompson Twins for a while, before they got a record deal. And did some session keyboards with Foreigner, too. And now that I've watched a bunch of videos from Golden Age, I can reveal that when he takes off his glasses he becomes the Eleventh Doctor.
---
#3 Eddy Grant, "Electric Avenue" (1982)
Peaked at #2 in both the US and UK.
[youtube id="vtPk5IUbdH0″ width="600″ height="350″]
Cummings — This sure was a great thing to have on the radio. And still is — I just heard it this morning, in fact. As a high school senior I used to cruise the streets of Blacksburg, VA, with my crew of white n' Asian n nerdys, and we would crack each other up discussing our favorite goofy parts in the pop songs of 1983. In that spirit … HO!
Feerick — Eddy Grant would get a lifetime pass from me just for writing "Black Skinned Blue Eyed Boys," never mind "Police On My Back" — but this is pretty great anyway. As his work with the Equals shows, Eddy has always been about socially-conscious party music, "Electric Avenue" mixes a deep groove with a startlingly raw, angry lyric. But that "take it higher" refrain hints at hope for the future.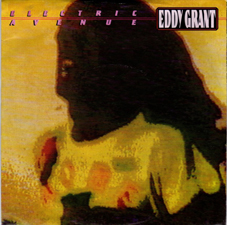 So does the video, as the motorcycle guys, who initially seem like these menacing, badass figures, are revealed in the fullness of time as Good Samaritans. It's a neat little narrative; I like the way it tells a simple story (albeit a surreal one), and then scrambles the chronology. It's a common technique — the clip for "Hungry Like the Wolf" does it, too, albeit in a flashier way — but the end result is a mini-movie that you feel, rather than follow. By keeping it non-linear, the process of meaning becomes a matter of intuition, instead of decoding.
Dunphy — We've talked about Grant's miraculous song on Popdose before…miraculous because the damned thing was such a big hit and it only has one chord. One chord repeated for four-plus minutes. That bit of information ruins the song in that before you realize this is the case, you go with Grant's gruff reggae voice and it pulls you through. Then you are told about the mono-chord thing and that's all you hear from there on out. It's like when someone tells you about the supermodel's freaky lazy eye. You were under her spell up to that point, and then it was all about the eye.
Lifton — Some other songs that you probably didn't realize only had one chord: "Chain of Fools," "Get Up, Stand Up," and "Who Do You Love." "We Will Rock You" (one chord until the guitar comes in) and "Tomorrow Never Knows" (two chords but with the root of the first remaining in the bass) come close, but don't make that list. "Electric Avenue" isn't in the same class as any of those, but it's still fun.
Wiencek — Don't forget "Papa Was a Rollin' Stone."
Boone — Coldplay's "Clocks" has only one note.
Lifton — I'm sorry. What did you say? I fell asleep at the mere mention of Coldpl-zzzzzzzzzz…
Feerick — BONG
---
#4 Eurythmics, "Sweet Dreams (Are Made Of This)" (1983)
The band's breakthrough single, topping the US charts.
[youtube id="qeMFqkcPYcg" width="600″ height="350″]
Dunphy — There wasn't anyone cooler than Annie Lennox at this point. She was dangerous as hell. She could sing, of course, but she walked that line not just through androgyny but between sexy and scary. The problem I had with "Sweet Dreams" is that it emboldened lazy songwriters to take out their Casios and attempt to follow the template. "Sweet Dreams" may be one of the best sons of the Eighties but it also gave rise to a lot of the worst.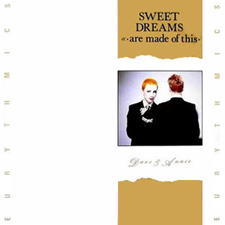 Cummings — I have never been a fan. It's too cold, too robotic for me. From 1983 forward, I've divided Eurythmics' early hits into Column A and Column B. In Column A are "Sweet Dreams," "Here Comes the Rain Again" and "Who's That Girl" — the Ice Queen hits, which leave me utterly unmoved. In Column B are "Love Is a Stranger" and "Right By Your Side," which are somehow warmer and more accommodating. Then came the third and fourth albums, when they warmed up the Ice Queen hits with Stax horns and Re-Re vocals and broke down my defenses.
Lifton — What a total mind-blower this was. With the Eurythmics and Culture Club hitting at about the same time, it was probably the first time those of us who were too young for Bowie and glam experienced androgyny. I see what Jon's saying about it being a little too cold, but I love it just the same.
Feerick — Astonishing. Like nothing I had ever seen or heard before, and frankly it spooked me when I first heard it. Jon's got it right about the coldness, but Dunphy's got it right, too — robotic Annie might have been, but she was a scary robot. The declamatory tone, the relentless thud, the S & M undertones — it gave me the jibblies, and the androgyny and blank expressions of the music video did not reassure me.
What's striking now is how much "Sweet Dreams" does with so little. It's all verse — a handful of words, like a haiku, repeated a bunch of times over a single unchanging riff; a couple of wordless interludes; a bridge that's barely there; sparse instrumentation, a metronomic beat, a few floating harmonies. But it never feels thin, it never feels too long. All the cover versions I've ever heard — they all wear out their welcome after the first 35 seconds — but the Eurythmics, they could play that sucker all night long.
---
#5 Madness, "Our House" (1982)
The band's only US Top ten, peaking at #7.
[youtube id="rXuvdeEC5y8″ width="600″ height="350″]
Lifton — They rule, because they invented ska.
Dunphy — Like Dolby, Madness got sidelined with this one, at least in America. This came off a US collection that cherry-picked from their first three UK albums. About the closest thing tonally to "Our House" on it was "It Must Be Love" and the majority of the album featured their ska-pop sound. I don't know if people were all that ready for it as "One Step Beyond" and the songs from its album remained kind of niche over here.
But taking it as it is, "Our House" is just this gem of a pop tune that could not be replicated. The cockney accents, the jaunty rhythm, the fun of it even though the song, if you actually listen to the lyrics, is very melancholy.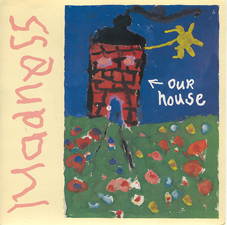 Cummings — An all-purpose hit if there ever was one. It'll probably still be featured on movie soundtracks in 50 more years, evoking the same childhood rambunctiousness.
Feerick — An early example of cross-cultural dissonance, for me. I got that Madness were supposed to be funny — clown noses and bad drag are universal signifiers of Teh Funnie — but the band were so quintessentially English that I developed an unshakable suspicion that there was something about them that I wasn't picking up on, some joke to which I was not privy.
Another band with a lot of influences and a lot of different operational modes, and from what little I've read I get the impression that they were a band divided against itself. But whether doing ska, music-hall burlesque, rock, or soul (and there are elements of all these in "Our House"), it was definitely party music. So why does it — and a lot of British "party music" of the period — leave me feeling vaguely depressed?
Probably because the reason the Brits were partying so hard (and the reason nostalgia was so pervasive, but that's a whole nother essay) was that the future seemed so bleak. As the memorials for Margaret Thatcher recently reminded us, the UK in the 1980s was a scary, screwed-up place, and there's a real temptation, in a situation like that, to succumb to nihilism. Eddy Grant can transcend the awfulness around him, and dream of a better world — albeit one that must be attained by work and struggle; Madness have largely given up, and have retreated into fond reminiscence of the past, rather than facing a terrifying future.
Still, I will again state for the record my contention that Madness frontman Suggs should release a solo album called Suggs To Be Me.