Me and my mates, we think you're great… and some we love and some we hate.
---
#6 til tuesday, "Voices Carry" (1985)
Reached #8 in the Hot 100.
Jack Feerick — A tough one, for me. til Tuesday (all lowercase is dumb) were one of my first shows — longtime readers of Digging For Gold will recall that I saw them sort of by accident — and those three albums have some of my favorite songwriting of the 80s. But "Voices Carry" is just about my least-favorite track from the first record.
Jon Cummings — My understanding is that the band's experience with this song was something of a train wreck, right from the start: the record company forced Mann to change the perspective in the lyric, they weren't happy with the production, et cetera. Of course, I'm sure the money alleviated some of those concerns.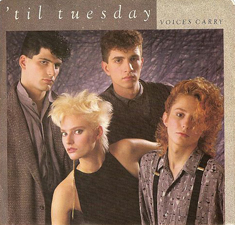 But til Tuesday (and Mann, more generally) is Exhibit A for the old adage "never underestimate the stupidity of the people," because as they (and she) got better and better, the financial returns got worse and worse. I can't think of many '80s songs better than "Coming Up Close," but it stiffed. Then the entire Everything's Different Now album, which we bat around occasionally here on Popdose, was an absolute classic that went absolutely nowhere commercially.
Still, my clearest memory of Aimee during the til Tuesday era was the way the onstage backlight bounced off her ridiculously blonde hair when they opened for Hall & Oates in '85.
Feerick — Which is where I first saw them. But til Tuesday were already a big local draw even before they signed with Epic, and a demo version of "Love in a Vacuum" got significant airplay in Boston. So we were primed for more of this: crisp, funky bass, angular postpunk guitar, and a quirky pop sensibility. When "Voices Carry" arrived, it was like, Who are these guys? What is this gloomy, self-serious plod? All these great songs on the record, three or four of which leap out as potential singles, and they choose this?
There would be follow-up singles that better showed off their strengths — "Looking Over My Shoulder" still kills, showcasing guitarist Robert Holmes' taste, imagination, and tone — but it was too little, too late; til Tuesday had been branded with their defining song, one that (as Jon notes) they reportedly came to loathe.
Dw. Dunphy — There was something very attractive and sinister about this song, which I'm betting comes down to the synths in their whinging, Numanesque way. Aimee Mann shows her ability to make a song out of a subject that doesn't lend itself neatly to the form, yet sounds very little like the Mann we would come to know later on. Still, as an opening salvo for a future singer/songwriter, you couldn't do much better than this kicking off the discography.
Lifton — Maybe it's not as good as most of what's on Everything's Different Now (to say nothing of Whatever) but, as Dunphy points out, you gotta start somewhere. And even this early in her career she was showing a knack for effectively chronicling dysfunctional relationships.
---
#7 Oingo Boingo, "Weird Science" (1985)
Barely cracked the Top 50 — reaching #45 US — but still the band's biggest seller.
Feerick — And again: With all the great songs these guys cut during the decade, this is the one that gets a spot in the anthology? Fuck you, vagaries of fate and magic of the marketplace.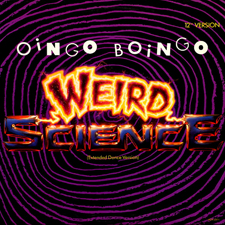 Dunphy — Not the best Boingo song, not even on the album it is from, but it is an entertaining blend of pop/new wave with Danny Elfman's usual arcane, macabre tinge. However, I will advise those who would to try out the Dead Man's Party disc, especially the "shoulda been a hit" track "Stay" and the house-party soul shaking "Help Me."
Cummings — Never a Boingo fan, I'm just happy Elfman eventually found a day job.
Lifton — Eh, whatever. Did any Kelly LeBrock movie ever have a good theme song?
Feerick — Oh Christ. At least we didn't have to suffer through "Lady in Red," yeah? Small mercies.
---
#8 Dead Or Alive, "You Spin Me Round (Like a Record)" (1985)
Topped the charts in the UK and Canada; #11 US Hot 100, #4 Dance.
Feerick — Odd, for a dance record, in that it has no appreciable bottom end. It's thin and clattery in an off-putting way.
Pete Burns is in fine voice, though, moving from disco-boy croons and punky snarls to a fine approximation of a diva wail, all with a bracing dirtbag energy. Like a lot of Brit-dance, there's a nasty, grimy undercurrent to this. It's that same sense of desperation at play again, making all the party music sound either depressing or sinister. When Pete Burns tells you that "you look like you're lots of fun," it's enough to make you shudder; he's depraved on account of he's deprived.
And holy Mother of God! Brooding goth-rock prettyboy Wayne Hussey, longtime member of The Sisters of Mercy and later frontman of The Mission, has a co-writing credit on this, and was, I gather, a full member of Dead or Alive for a time. And Pete Burns was in a band with Julian Cope. I didn't see any of that coming.
Cummings — I was a pretty big fan of this when it was out, but the DoA tracks that really do it for me are "Brand New Lover" (has there ever been a better, or more ridiculous, expression of stereotypical gay promiscuity? Forget that, thanks to AIDS, the lyric was already an anachronism by '87 — that song must have set a lot of gay-bashers' hair on fire) and "Something in My House." Both of those songs were all over KROQ when my college girlfriend and I spent spring break '87 in L.A., staying at a Travelodge near Santa Monica Pier (the hotel is still there, bless its sleazy heart). Anyway, as for "You Spin Me Round," why o why did Flo Rida have to turn it into strip-club hip-hop?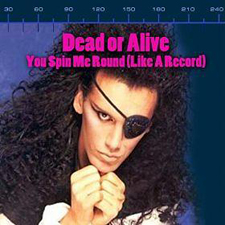 Feerick — STRIP HOP.
Dunphy — I haven't much to say about this. The song has always annoyed me, from the overly enunciated singing, to the effective earworm of a hook that, even though I don't like the song much, will suck psychic energies off my already-taxed noggin for days afterward. Perhaps the most I can offer our readers is the lesson that you need to see the lead singer as he is today and just say no to plastic surgery. Please. Cat-face should be a crime.
Feerick — Well, the problems run deeper than that. Poor Pete is an absolute freakshow these days, yeah, but he's battled depression and body dysmorphia for years — long before he had the royalty money to blow on horrifying and unnecessary facial reconstructions.
The takeaway that I get from this is that sometimes the worst that can happen to a person is to suddenly get all the fame and fortune they need to indulge their desires, while being cut off from anyone who'll dare to tell them that those desires are unhealthy. The archetypal story is Sid Vicious. He wasn't a junkie before, when he was just young and bored — it wasn't until he became a Sex Pistol, when he was young and bored and had money in his pocket and a network of enablers to feed him drugs and make excuses for him. With Sid it was smack, with Pete it was the scalpel, when what both of them really needed was integrity and boundaries.
But money changes everything, and one day you wake up and you have no friends, only employees, and nobody's going to tell you that you're wrong. At least Pete got out with his life. Or just about. So far.
Lifton — I hate this.
---
#9 Jan Hammer, "Miami Vice" Theme (1985)
Topped the Hot 100, #10 R&B, #16 Adult Contemporary, #23 Dance… it was pretty inescapable, OK?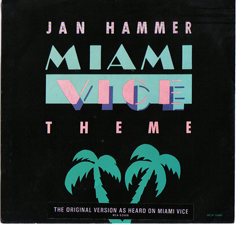 Feerick — I never watched the show, so to me this doesn't even sound like music as much as like the idea of music. Is there some alternate version of this with, I dunno, a melody? Best thing I can say about it is that I admire the Art Deco typeface on the sleeve.
Dunphy — This has aged poorly. Really, really poorly.
Cummings — White unconstructed jackets, 3-day stubble, the revival of Glen Frey's career, this single … is there much about the pop-culture swirl around "Miami Vice" that we don't now regret?
Lifton — I hate this.
Feerick — As reliable as the rain in springtime.
---
#10 The Dream Academy, "Life In A Northern Town" (1985)
The band's only US Top ten, reaching #7 on the Hot 100.
Dunphy — This, on the other hand, has not aged badly at all, and maybe that is because it has never left the spotlight for a sufficient amount of time to have people forget it. Muzak probably instituted it from day one, and I defy you to go to a shopping mall anywhere in America and not hear this pumped over at least once during your shopping trek. I know that sounds like a pat on the back with a knife, but it's not. Like some of the best songs of the 1980s, I always feel pretty generous about this tune when it gets played. That "hey-oh mah mah mah" chorus hook, sounding more like a Maori chant than a bit of pop radio bait, never fails.
Feerick — Now this, I like. I read that it was written as an oblique tribute to Nick Drake, which makes sense, I guess. "Life In A Northern Town" doesn't refer to Drake, and doesn't really sound like him, but it's got kind of a similar melancholy effect. In a way, the inspecificity of it is part of the tribute. Drake usually gave the air of meaning a whole lot more than he was saying.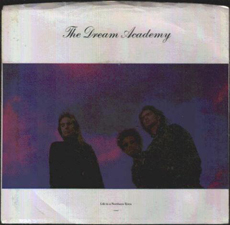 Funny story: I was working with a major Floydophile when this came out, who would regularly bemoan the state of contemporary radio. When I pointed out that David Gilmour produced this, he paused for a moment, then said it was obvious in retrospect; the vocal harmonies in the chorus, he claimed, used the same sorts of chord voicings that Gilmour did on guitar. Mmm-hmm.
Lifton — Even though the lyrics don't do anything for me, it's hard to deny how incredibly pretty it is. I didn't know Gilmour produced this — and Jack's former co-worker is talking out of his ass — but he did a great job with it.
Feerick — Oh, it was bullshit, of course, but still, I thought it was an impressive bit of improvisational face-saving. Of course, if I'd told him that Gilmour had also discovered Kate Bush, he probably would have shat himself.
Cummings — This song is four minutes of pretentious, pseudo-intellectual, faux-nostalgic crap … which I happen to love. Catnip for Anglophiles and Beatlemaniacs. Though I do believe this song made the quickest trip in history from Modern Rock to Lite AC radio.
Feerick — Nothing wrong with that. It's just a pity that, despite their promise and their handful of good songs, the Dream Academy had some promise could never make the magic happen consistently. They had a rhythmic blind spot; the only permanent members were guitar, woodwinds, and keys, and they never really figured out how to work with a rhythm section. "Life In A Northern Town" worked around the problem, avoiding bass and trap-kit entirely. But it wasn't a long-term strategy, and they ended up relying on loops — by the time of 1990's A Different Kind of Weather, they sounded like a poor trip-hop act. And then they were done. Shame, that.
Anyway, check out this … odd… high literal… slightly goofy alternate video for the song…
Yeah, I have no idea why MTV didn't go with that one.