Well, it's been a quiet week in Omigodsville, out there on the edge of Popdose. It's been hot. Seasonable. But you can feel the end of summer drawing in, and the phone calls have started, with the kids comparing notes, seeing who's got who for homeroom. But the Big Four still find time to sit at the back of the cafÁ© and talk about Eighties pop, hitting the midpoint of that last disc…
---
#6 INXS, "What You Need" (1985)
The band's first US Top Ten, reaching #5.
http://www.youtube.com/watch?v=vSME53nL8tg
Dw. Dunphy — I picked up on INXS with the single "Listen Like Thieves" but didn't totally get into them until "Never Tear Us Apart." Regardless, "What You Need" and the rest of their stuff was an antidote to the oversynthed pop and rock that had, by this point, tipped beyond the tipping point and spilled all over.
Jack Feerick — Quality. INXS are kind of disregarded, now — "taken for granted" would be a better term, I guess — which seems odd, because they were so good, for so long, putting out a long string of very solid singles. That very dependability, though, came to be seen as a strike against them. There definitely was a formula at work with INXS — the subdued funk, the crosstalk of guitars, the synth bleats and the Filthy McNasty sax — but as formulas go, it's damn tasty. They kept on delivering the goods, live and on record. And that's a good thing.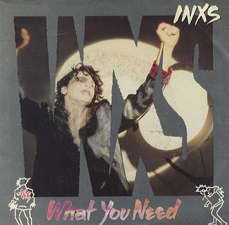 Consistency is no sin. Professionalism is an underrated virtue. But I must admit that Listen Like Thieves is the last INXS album that I bought new, and that if anything I actually prefer its predecessor The Swing—which seems to me to be the last INXS record where they were really stretching themselves.
Jon Cummings — Funny, the things you remember: I distinctly remember that I heard this song for the first time over a drug-store sound system in Roanoke, VA, at Christmastime '85, just when it was released as the second single off Thieves. (What fool thought "This Time" was a better lead single?) And I distinctly remember thinking, "They got it. This is the sound." And it was — the sound that would take them to the top of the charts, and that they would perfect even more with the entire Kick album, which I still think is one of the 5 best rock albums of the '80s. I agree with Jack that The Swing was, in many ways, a more interesting and more daring album — but I heard "Original Sin" as perhaps too much of a stretch toward Riffs In Search Of A Melody. It wasn't quite soup yet. "What You Need" was the soup.
I was really happy to be in the audience at a gig in Radford, VA, two years later on the very night that INXS learned Billboard had lifted "Need You Tonight" to #1. Man, they were happy, and man, was that a show.
Feerick — Oh, yeah. I saw them twice on the tour for Listen Like Thieves — first in a 3,000-seat theater, later in a 20,000-seat arena, which gives you some idea of how they were blowing up — and they were absolutely staggering. Left it all on the stage, every night.
Dave Lifton — I was never really an INXS fan. I had Kick, but I really bought it because I didn't have anything from a band beginning with "I" — the last letter I needed…
Feerick — God, you are such a nerd.
Lifton —… and I liked a few of the singles. Jon has it right — this worked and they milked it as long as they could. Maybe that was the problem for me; too much formula and smarts, but not enough depth.
---
#7 Run-DMC, "Walk This Way" (1986)
US #4, UK #8 — charting higher than Aerosmith's original.
Feerick — If I could walk that way, I wouldn't need the talcum powder.
Lifton — So much has been written about this over the years that I don't have anything to add, except that I like it a lot, but prefer the guitar solo on the original.
Dunphy — This is fun at weddings, but honestly…it's a novelty track at this point. If I'm in the mind to listen, I'll listen to Aerosmith's original or Run-DMC's "King Of Rock" or "It's Tricky".
Cummings — It's not a novelty track, Dw. Or at least it's not just a novelty track, any more than it ever was. It was designed, in the first place, to be an example — of the fact that rap was not merely rhythm and rhyme stripped of melody, and that Run-DMC and their followers were going to bum-rush the mainstream at some point, so why not just get the hell out of the way?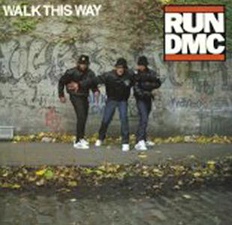 I saw some latter-day VH1 interview with DMC in which he said he and Run had responded negatively at first to the idea of recording the song. I have a hard time buying that. The DJs (including Jay) who by then had already spent years scouring R&B and rock history for samples surely knew all about the riff to "Walk This Way," since the original was blasting from NYC car stereos throughout hip-hop's birth pangs during the late '70s. I figure Run-DMC were just lucky they thought of this before LL Cool J did. It is remembered as perhaps the seminal moment in hip-hop's journey to mass acceptance. Whether or not it truly deserves that distinction, it sure sounded great, and still does.
Dunphy — I'm not really denigrating "Walk This Way" so much as I think it doesn't feel essential anymore, if we ever honestly could make that claim. The parts that made the whole are more interesting to me now than what they concocted. Call it cynicism, because I'll readily admit it, that in its day the track felt like this amazing confluence of two important pop music styles coming together, but now it feels like a slightly less preachy "Ebony and Ivory" culture clash. It is still fun…but again, I'd rather go to the sources'  other material than revisit this with intent.
Now, if it just happens to pop up on the radio (which never happens now), of course I'd listen.
Cummings — Actually, THAT argument I agree with – the most crucial function of "Walk This Way," then as now, was/is its value as a cultural signifier. It didn't move the needle on Run-DMC's artistic advancement — though the rest of "Raising Hell" certainly did — as much as it sowed the common ground that rock shares with hip-hop (and reminded us that "Walk This Way" was pretty much a rap song in the first place).
Feerick — Yeah, but who do you think benefited more from the Run-DMC / Aerosmith collaboration? At the time much was made of "Walk This Way" introducing white rock audiences to hip-hop. But Aerosmith was widely considered to be washed up at this time, and this was their calling card to new audiences both black and white, leading to a late-career renaissance. And now, thirty years later, Aerosmnith are still around, and Run-DMC are gone.
That's America, man. Everything is rigged to benefit Whitey, in the end.
---
#8 Timex Social Club, "Rumors" (1986)
#8 on the US Hot 100; topped the R&B and Club charts. #1 Canada, #13 UK.
http://www.youtube.com/watch?v=KVtcp8XHhOo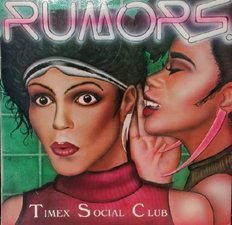 Lifton — Boring. Move on.
Feerick — Completely passed me by at the time — black and white radio were already starting to diverge at this point. Listening to it now I'm hearing elements of early New Jack and the whole Jimmy Jam / Terry Lewis oeuvre. But the misogyny is both dishonest and jarring. Blaming the ol' back street slide wholly on "jealous women" is bull. Guys talk just as much smack and gossip as girls, when they think nobody's looking.
Cummings — Yes, the misogyny (and general nastiness). But also the beat. Along with the Minneapolis crew and their late-'80s clients (Janet, Alexander O'Neal, etc.), and perhaps New Edition's harder moments, "Rumors" is certainly one of the founding documents of New Jack and (more generally) the R&B of the early '90s — before melisma and/or hip-hop hardness drained all the tunefulness out of it. I thought the song was aces at the time, though my enthusiasm has waned a bit.
Dunphy — I liked Bobby Jimmy and the Critters' parody "Roaches" much better.
http://www.youtube.com/watch?v=H17Rwzfk7LI
---
#9 Crowded House, "Don't Dream It's Over" (1986)
US #2, UK #27; top of the charts in Canada and, unsurprisingly, New Zealand.
Dunphy — The world is a better place with this song than without.
Cummings — We already placed this at #20 on our Popdose 100 fave songs of the rock era … and I think it should have been quite a bit higher on that list … so how much more is there to say about it? That the American public of late '86 was to be congratulated for (for once) recognizing unbelievable quality when they heard it, and letting a song like this take over the radio dial for a few months? That the same public is to be castigated for allowing Crowded House's commercial fortunes to dwindle and fester thereafter, even though the quality remained pretty much as high throughout the band's career?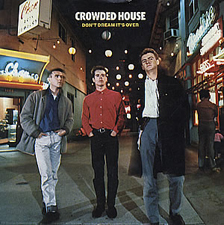 As someone who actually invests emotionally in the successes and failures of my favorite musical acts, I've spent much of the three decades of this song's existence looking in its sparkling melody, its subtle-yet-instantly-familiar arrangement, its transcendent lyrics for clues as to why its hold on the public didn't carry over to the rest of the band's career. I always come back to my favorite line, "Try to catch the deluge in a paper cup," because I think it captures both Neil's brilliance and the public's inability to handle so much grace with their feeble minds — particularly during an era when grace was such a rarity on the radio.
I'll shut up now.
Feerick — Bitter, party of one…
Dunphy — I've always attributed the inability of Crowded House to stick with the public with the times in which they came up. Finn & Co. are in many ways a throwback. They made music that sounded like candy but had some real thought in the statements, they weren't flashy people, and in the crossfire of dance pop, hair metal and the burgeoning hip hop movement, they were absolutely plain-looking (this is, after all, the video era in medias res). That it should come down to a lack of sparkle and expensive suits being what held back Crowded House from being regarded sounds like a blank statement, but I think it's an accurate one.
Cummings — Dude, didn't you ever see Crowded House play live during the tours for their first few albums? They had some nice, sparkly, goofy suits! With chalk drawings and / or patterned stitching on the lapels, even.
Let's face facts: When Temple of Low Men came out in '88, it was a wonderful, wonderful album — miles beyond the first one artistically, and full of songs that are beloved by fans to this day — but it didn't have a hit single "perky" enough (in the phrasing of that rat-bastard Robert Christgau) to compete for radio time with the likes of Escape Club and Johnny Hates Jazz (to name just two reasons why Americans should feel deeply, deeply ashamed). And in the absence of airplay at either pop or modern-rock radio, the temple collapsed. Then, when Woodface came out, the mistake was made to issue the polarizing "Chocolate Cake" as the first single, and so that album stiffed even worse. By the time Together Alone came out, the die was cast, and even "Locked Out" couldn't get any traction at pop radio.
Feerick — Rather than make myself crazy over what could have been, what should have been, if critics like us ran the world, I long ago decided to try to appreciate things for what they are. And what thius is is astonishingly lovely.
Just having a perfect song is not enough: "Don't Dream It's Over" delivers perfect sound, as well. I obsessed over the tone of that opening guitar riff for months—the voicing of the chords, the snap of the strum, the slap echo. The way the keyboard headfakes towards "A Whiter Shade of Pale" for a moment. Such a beautifully sparse recording.
I find myself wishing it was maybe a little more sparse — it could stand to lose a couple of those slide swoops and whammy-bar squiggles — but for long stretches of its run time this is utterly flawless.
Lifton — The first and probably only lesson in how to write a soul song and have it not sound like a ripoff of a soul song. The chopped guitar and organ solo are pure Stax, the harmonies are Motown. God, now I'm imagining Luther Vandross doing this, and it's beautiful. But the chord progression comes from Liverpool – right down to going to the E minor instead of the G to start the last chorus – and the lyrical vision can only be Neil Finn.
---
#10 Simply Red, "Holding Back the Years" (1985)
The band's highest-charting single, reaching #1 US and #2 in the UK.
Dunphy — God, this song takes me back. This is like the soundtrack to my every worst relationship, but in the best possible sense. It's like that moment before you get it that she's over it, and you, but you haven't quite relinquished the past to the past. It is tasteful to almost a fault… almost.
Feerick — Another object lesson in the importance of arrangement. There's a demo of this as performed by Mick Hucknall's old band the Frantic Elevators, and it's revelatory how awful it is. The tune and the vocal are all in place, but the two-chord groove — performed by guitar, bass, and drums — become monotonous in a way that the Simply Red version never does. The band arrangement finds variation in repetition, and it never feels a moment too long. As fine a slice of melancholy white soul as I'm ever likely to hear—the brooding strings, the lonely trumpet. Glorious.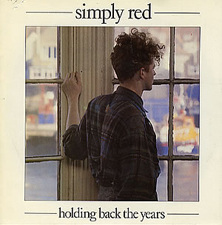 Cummings — I just listened to that demo for the first time, and I actually dig the arrangement. It's got the sound of a mid-'60s British Invasion combo — the Mindbenders, maybe. The trouble is, it's an awesome arrangement for some other melody and set of lyrics, just not for this one. It seems clear that Mick just didn't know who he was when he wrote the song and recorded the demo — or at least didn't know how to be himself in the context of 1982 pop.
It's a good thing he figured it out. "Holding Back the Years" works best, I think, when you're really paying attention and letting its emotions and its arrangement envelop you, as Jack said.
I have to say, however — based on my experience during the summer of '86, when I was working a drab job in a real estate office and "HBtY" was piped in over the Muzak once a day—- that the song is capable of being a really turgid, vacant downer when you just catch a snippet at low volume. Same's true of George Michael's "A Different Corner" — which, though I've always liked it because I like practically everything George did, is kinda turgid and vacant at full volume as well.
Dunphy — I also think it is that soulfulness that is missing from later Simply Red efforts. While I like "Stars" for what it was, what it sounded like to me was contemporaneous to all that was going on in the adult contemporary market at that moment. "Holding Back The Years" may have been just as smooth and polished, but it also represented a connection to soul music's past (and even had a foot in with jazz). Meanwhile, with the rise of soul / pop white guy hybrids like Johnny Hates Jazz and Breathe ("Hands To Heaven") the homogenization lead the sound in a more commercial direction. Rather than leading, "Stars" was following behind.
And as I mentioned, I liked "Stars" but it has nothing on the emotion wrung out of "Holding Back The Years."
Lifton — It's so good and yet I wish there was more to it, like a bridge that takes it somewhere. Even at only 4:12, it seems to go on about 30 seconds too long.