For almost 80 years, Kirkus Reviews has served as the industry bible for bookstore buyers, librarians, and ordinary readers alike. Now Popdose joins the Kirkus Book Bloggers Network to explore the best — and sometimes the worst — in pop-culture and celebrity books.
This week! You wanted the best, and you got, well, this…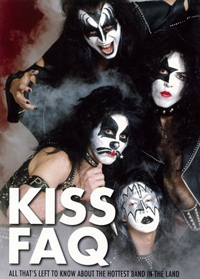 In the year or so that I've been writing this blog solo, I have taken delivery on hundreds of books—more than I could ever read, let alone review. Some of them I've had to ask for, but a surprising percentage are simply sent out blind by hopeful publishers. I redistribute some of this bounty as I can to friends, and a lot of it I donate to my public library, but much of it I simply leave at the curb for recycling. (In all likelihood, mine is the best-read garbageman in the county.)
Lots of the show-business books I get are packaged as series; written by numerous hands and covering a variety of topics, but sharing a distinctive format and trade dress. To date, I've been loath to revisit subsequent volumes in any series I've already covered. Not that if you've read one, you've read them all — Dave Thompson's analysis of The Rocky Horror Picture Show for the Music on Film imprint is rather a different sort of book than Ray Morton's earlier entry on A Hard Day's Night, for example — but the same branding that constitutes such a strong conceptual hook for the books cannot help but inform the review, and quite bluntly I don't feel that I'm entirely earning my paycheck if I'm just repeating myself.
I will break my own rule for Dale Sherman's new KISS FAQ (Hal Leonard/Backbeat Books), though, because it is far and away the most entertaining book to come across my desk in recent weeks.
Hardly surprising, this. From the days of the band's inception in 1972 — when founders Paul Stanley and Gene Simmons drafted in drummer Peter Criss and guitarist Ace Frehley to create the Hottest Band in the Land — entertainment has been Job One for KISS, with artistic expression running a distant second. From the beginning, KISS has relentlessly pursued their vision of a larger-than-life, over-the-top, non-stop rock n' roll thrill machine, straight out of a young boy's heavy metal fantasies, and incorporating slew of adolescent male touchstones: comic book imagery, science fiction, code names and mysterious pasts, the hard gloss of a Playboy shoot over a tacky circus-sideshow heart. (Simmons mentions seeing an ad for a Black Sabbath record touting that band as being "Louder than Led Zeppelin" — not better, mind you, just louder — that helped inspire the more-is-more approach.) And somehow, it all worked.
Read the rest of this article at Kirkus Reviews!