For every band that hits nationally, there are a dozen also-rans that never have more than a regional success. The leveling effect of the Web may have altered that paradigm somewhat, but the rule of thumb still holds — and in the pre-Internet 1980s and 90s, it was practically the law. The relative meaning of "regional success," though, was rather different. Before widespread retail and media consolidation, bands could rack up good album sales in Mom and Pop record stores and score plenty of airplay on local radio — and still never register on a national level. It was possible to be commercial without being corporate.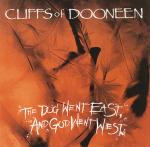 It was like that in Boston, especially — a city that's got all the ingredients of a great rock n' roll town: a lot of colleges and universities (including the Berklee College of Music), which provide from among their studentry both ample band fodder and an appreciative audience; a thriving alternative media scene, in this case the Phoenix newsweekly and its radio division WFNX, throwing their support behind local music; and a million-and-one crummy little dive bars booking music nearly every night of the week.
Cliffs of Dooneen reached a certain peak of regional success, and their first full-length record, The Dog Went East and God Went West (released twenty years ago this week on the eclectic indie Critique label) ably demonstrates what took them so far — but only so far.
When Irish expat Martin Crotty formed Cliffs of Dooneen — and the band's foundation myth was endlessly repeated in the local media, once they became the poster boys for the "Musicians Wanted" classifieds in the back of the Phoenix — he envisioned a smart, quirky hard-rock band in the mode of INXS or the Spiders From Mars. But as soon as singer Eric Sean Murphy opened his mouth, you can hear why the band soon earned the derisive nickname "Cliffs of Bono."
Innovation breeds imitation, of course, and the Cliffs were far from the only band trying to be U3 in those heady days. The effect is actually pretty well-integrated on "Through an Open Window," which has some of U2's epic grandeur to it. But Murphy's Hewsonisms too often crossed the line into inadvertent hilarity; on a song like "Cats" (download), it actually worked to the band's detriment. Listen to the riff, the beat; it's a genuine glam stomper right there, the likes of which hadn't been heard on the radio in fifteen years or more. It cries out for the Bowie / Bolan treatment — the vocals should be a little arch, a little snotty, above all playful. Murphy, though, is all heavy labor and manly growls, huffing and puffing that stupid mouth-organ of his when he's not sucking all the fun out of the room. It's a great song — one that cries out to be covered by somebody with a better understanding of the glam aesthetic, like the Ark — but a terrible performance.
There are some moments of real beauty on the record, though: Crotty himself takes lead vocals on the neo-traditional "Blackwater" (download), and it's a triumph of atmosphere. Whatever else the band owes to U2, Crotty is a master of filling and harnessing the space in the power-trio-plus-singer format; he is a model of taste and tone on either acoustic or electric. Bassist Ira Nulton and drummer Lex Lianos lay down a solid, flexible groove throughout, led by Lianos's booming snare. And the raging "Wheel Of Stone" (download) is an authentic minor classic, playing at last to Murphy's strengths with a tune that matches him for passion and power. (Most importantly, it keeps him away from his harmonica.)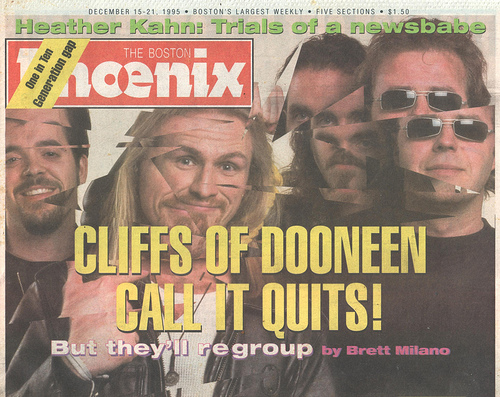 Fondly-remembered by some, a punchline to others, Cliffs of Dooneen provide, if nothing else, an object lesson in not hewing too closely to a single influence. And they provide it in the manner of their ending, as well as in their beginning. A couple of years after The Dog Went East, in the wake of Achtung Baby and U2's ZooTV tour, the Cliffs of Dooneen changed their name to — I kid you not — Superfly, and pursued a (surprise!) darker, dancier sound; pursued it straight into oblivion, in fact. Innovation breeds imitation; but imitation will only get you so far.