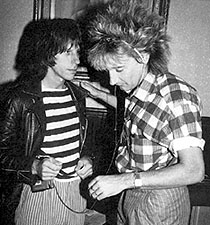 One of the initial comments I received the on first Á¢€Å"Redeeming RodÁ¢€ guessed the subject matter of this post, so I guess I can take relief in the existence of actual humans who have not been so tainted by RodÁ¢€â"¢s crap-era albums that they can point out the occasions when he's done quality work.
It seems that Rod has done most of that work (over the past quarter century, anyway) when working with a decent collaborator; one who not only knows his strengths, but refuses to let him get away with not using them. One such person is Jeff Beck, who employed Mr. Stewart as the lead singer of The Jeff Beck Group for a brief period of time in the late '60s and early '70s. In 1985, Jeff re-teamed with Rod for a cover of the Curtis Mayfield classic "People Get Ready." The slick, generically mid-'80s production aside (the blame for which must be given to producer Nile Rodgers, from whom I would have expected better things), this is a very good performance, especially on Rod's part. In fact, while the dominant part of Beck's playing is merely a slight variation on the song's main "riff," Rod plays with his "instrument" in a lovely, understated way which is almost totally absent nowadays.
For example, check out Rod's use of chordal singing on the second verse ("coast to coast," and "there's room for all"), and especially throughout the third verse and onward, where he abandons the normal note of the associated chord — what would be sung if the song were sung "straight" — and instead transposes. It's pretty standard practice in the improv-heavy world of jazz vocalization (and, it should be noted, Jeff Beck has gone through his jazzy periods), but only pop vocalists with great pitch tend to do it with any regularity. Elton John's one of them. Rod's another, though as can be expected, he doesn't tend to do it much anymore — and when he does, he does it because he can, not because heÁ¢€â"¢s into the song (or his performance).
Well, here he's into it. I talked about his lazy "whisper-scream" technique in my prologue to this series. Some people have criticized Rod's singing here as mainly a continuation of this style: the lazy, sleazy, '80s Rod. I don't agree. His two back-to back yells between 3:26 and 3:30, as well as one more at 4:06, are not Rod being loud to express emotion — this is the sound of him actually emoting to express emotion. And this makes the song much better: the song's coda is as good, if not better, than everything before it, as Rod's voice literally pushes Beck into his best playing in the song (and arguably his best playing on the whole dreary Flash album).
Later in this series, we'll see at least one example of Rod later taking his game up to a higher level by working with another legendary (though sometimes underrated) guitar legend, namely The Band's Robbie Robertson. But for next time, I'm sticking with another reworking of a soul classic, as Rod gets ready to cover himself, covering Sam.