AN OPEN LETTER TO THE HONORABLE STEPHANIE RAWLINGS-BLAKE, MAYOR OF BALTIMORE, MD.
Dear Mayor Rawlings-Blake:
I don't need to tell you about the wealth of local treasures your city has to offer. True, it's got some problems. For one, lots of people who watched The Wire probably think it's nothing more than a drug-riddled war zone. As for me personally, I've twice gotten hopelessly lost in some really grody parts of town (the last time, I even required assistance from the local constabulary to get me back on track). I'm also still a little miffed that Haussner's closed, though it's been 14 years now, and I should probably just get over it.
But your city is home to one of my favorite ballparks, as well as the defending Super Bowl champions (for whom I rooted once my team's season mercifully ended), an amazing aquarium, some of the best crab cakes I've ever eaten, and one of the great pub crawl locales on the East coast. And I'm not even mentioning the adorable, chatty bartender at one of your watering holes, a lovely young lady who spent several hours keeping my friend and me from getting thirsty, last time we were out your way. I have another lifelong friend who lives in Little Italy and who sings the praises of the many community activities that keep her and her family occupied year-round.
Seriously, that's a really cool place you have there.
Madam Mayor, I write this missive to ask your consideration in a matter of cultural importance—making Milkshake's "Baltimore" the official song of your city. You are doubtless aware of Milkshake, the fine kindie rock band that plays kid-friendly events around town, and represents Charm City at similar events all over the country (they recently returned from a short tour of California, because even Cali kiddies need their Milkshake too). They've just released their fifth studio album, Got a Minute?, which is chock full of 34 mostly great, very short songs, including a dozen written and recorded for PBS Kids back in 2006. I highly recommend it. Let me tell you why.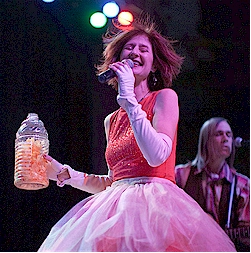 You know how small children do that little up-and-down pogo dance when they hear music that gets them all gleeful and excited and such? That's how I feel when I hear Got a Minute?'s title track, and I'm well outside their target demographic. It's the punky vibe of the thing that hits me where I live; that's something Milkshake does really well. But the band is extremely versatile—they veer from that to the country song "Lookin' Out the Window of My Car" in no time flat. There's actually a good bit of pickin' on the record—"Workin' Kid Blues" and "Snowy" (a song about a dog—don'tcha just love songs about dogs?) are other highlights that have that kind of twang.
But I'm also a sucker for a good soul ballad, and "Fish" is one such ballad, even as it begins with the kind of "Every Rose Has Its Thorn"-style acoustic guitar strumming that immediately makes me feel around for a lighter that I know I do not have on my person, to hold aloft, as if I were at a Poison concert in 1988. Another splendid track on the record is "Girls Wanna Dance," a song of dance floor empowerment, even as it gently needles the "cool" boys content with being wallflowers in such settings. Madam Mayor, I dare you to listen to this and not feel the overwhelming urge to commence getting down.
What I love about this band, aside from the fine musicianship, is how they get into the heads of the kids in their audience, how they represent the child's perspective in an authentic way, without patronizing them. Kids understand a lot more than they're generally credited with (as the mother of a young daughter, I'm sure you agree), and they definitely know when they're being talked down to. There's none of that with Milkshake.
But, as with the best kindie music, the band understands that there are usually adults in the room, too, and they never forget that. There are even some songs on Got a Minute? that would work brilliantly on adult-oriented playlists. "Seabreeze" is a beautiful instrumental; I almost wonder why it's on this record, except perhaps to serve as "calm down, honey" music for when the kids get winded from all the dancing. "Home" follows it, and is a wonderful little heart-tugger, an acoustic ballad that has every right to be on adult contemporary radio right now, at least as much right as anything else currently on those airwaves.
But back to "Baltimore." It's got it all—chunky guitars, loud drums, and name-checks of several local icons (Fell's Point, Edgar Allen Poe, etc.). There's energy and enthusiasm and fun, and the chorus could've been written by your Chamber of Commerce:
Baltimore, Baltimore
It's home sweet home to me
Baltimore, Baltimore
It's where I wanna be
I can't stay away too long
Get me back to where I belong—Baltimore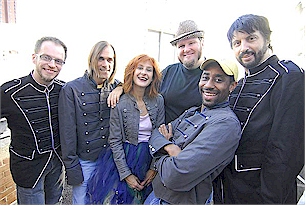 Irresistible, huh? Yeah, it's told from the perspective of a 10-year-old, and that might be problematic, but who among your constituents would mind having some innocence projected on the city? It's charming, and they don't call Baltimore "Charm City" for nothing, right? Imagine it playing before City Council meetings, or at your next inaugural. And if it's not at this moment blaring between innings at Camden Yards, it should be (you can do something about that, can't you? Some proclamation or another?).
And so, Madam Mayor, even though I am not a resident, I am a fan, both of your city and of a little kindie band that calls your city home. I humbly submit "Baltimore" for your consideration and ask that you give it your imprimatur and distinction as your city's official song.  Thanks for listening.
All the best,
Rob Smith
Popdose