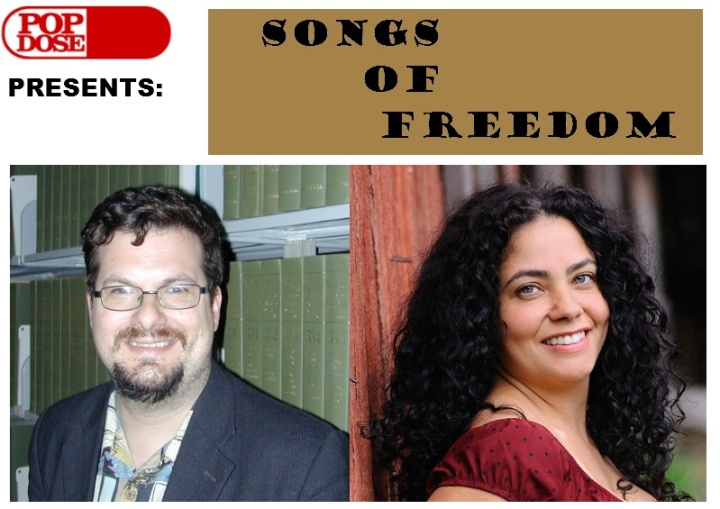 Welcome to the first episode of "Songs of Freedom", hosted by Popdose music contributor Matthew Bolin and Lyana Fernandez.
In this introductory episode, Matthew and Lyana talk about the genesis of the podcast, and explore how the internet has changed both art in general and specifically the consumption and general need for protest and political songs. They also go over the difference between commentary and criticism, and how access to technology has helped blur the lines between the two. As an example, M.I.A.'s most recent album is discussed, regarding how numerous reviews of it decided to focus of aspects of her personal behavior (i.e. "Trufflegate") or personal politics, rather than the actual album content.
Later, Matthew and Lyana talk about the last few decades of English versus American political music, emphasizing the different ways the UK assimilates foreign music sources into their art (or product) versus the US. This section of the podcast also contains a discussion of P.J. Harvey's newest album, the Mercury Prize-winning Let England Shake, with special focus given to the lyrical content, and Harvey's apparent choice to neither fall on the side of overt protest songwriting (like Billy Bragg), or the political as personal or social commentary (like Morrissey or Jarvis Cocker). This leads to further examination of the internet's role in shaping the ability to create music with a message, and how things such as an instant feedback loop have changed our ability to allow for reflection, and for songs with social messages to grow organically and be preserved in the public consciousness.
The episode also takes some time to remember R.E.M., perhaps its most political record (Document, which turns 25 next year), and consider how their standing might have been different if their most overtly political work had come out after internet use was widespread.
Finally, we look forward to the second episode, which will cover (among other things) the Occupy Wall Street movement, the "cost" of being a political singer, and Radiohead as a (non-)political band.
————————————————————————————–
Songs of Freedom — EPISODE ONE (1:14:34, 68.3 MB)
————————————————————————————–

Playlist–Here you will find a good number of the artists and/or songs that are discussed in each episode:
Billy Bragg – Waiting for the Great Leap Forward from Workers Playtime (1988)
The Clash – London Calling from London Calling (1979)
The Clash – London's Burning from The Clash (1977)
The Kinks – Picture Book from The Kinks Are the Village Green Preservation Society (1968)
M.I.A. – Born Free from MAYA (2010)
Morrissey – We'll Let You Know from Your Arsenal (1992)
R.E.M. – The One I Love from Document (1987)
Sinead O'Connor – Black Boys on Mopeds from I Do Not Want What I Haven't Got (1990)
P.J. Harvey – Let England Shake from Let England Shake (2011)
Pulp – Common People from Different Class (1995)
David Shane Smith – City of the Future from Cloud Pleaser (2009)
The Specials – Ghost Town non album single (1981) appears on The Singles Collection (1991)
————————————————————————————–
Matthew Bolin can be contacted on Twitter @Hadrians_Dad. Lyana Fernandez can be contacted @lolitapop9. Comments as well as topic/song suggestions are welcomed.