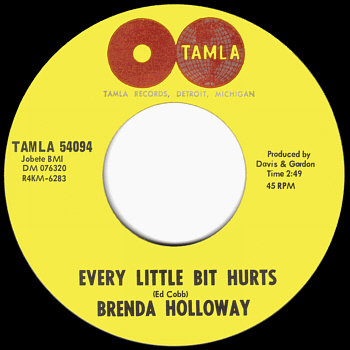 Among the many things that Motown was known for was their impressive roster of female vocalists. The list included people like Martha Reeves, Gladys Knight, Mary Wells, Kim Weston, Tammi Terrell, and of course, Diana Ross. One name that rarely gets mentioned in this august company is Brenda Holloway.
Perhaps it is the fact that Holloway was not a Detroit native, or that she retired at the peak of her career that caused her to be somewhat lost to history. She was born and raised in Atascadero, CA, and was the first west coast artist to be signed by Motown. She began recording in the early '60s, making her debut with the single "Hey Fool" in 1962. Two years later she recorded the original version of the song that she would become best known for, but that wasn't the version that became a hit.
Holloway was discovered by Berry Gordy, Jr., who signed her to Motown's Tamla imprint. The first priority for Gordy was to have Holloway re-record "Every Little Bit Hurts". Holloway was not particularly happy about that decision, since she was an aspiring songwriter herself and the song was written by Ed Cobb.
Gordy made the right call though, as he often did. "Every Little Bit Hurts" was released in 1964 and rose to #13 on the Billboard Hot 100 chart. The hit spawned a number of cover versions, including recordings by the Small Faces, the Spencer Davis Group, Gladys Knight & the Pips, and Petula Clark.
Holloway wasn't done though. She hit the top 40 again with the Smokey Robinson written and produced "When I'm Gone" in 1965. The song had an unusual history. It had been recorded earlier by Mary Wells, but Wells' Motown contract expired before the single could be released, so it was Holloway's version that ended up finding success. Holloway had a smaller hit that same year with "Operator," another song that had originally been recorded by Wells.
Holloway was a fixture on television shows like Shindig!, and she was asked to open for the Beatles on their 1965 American tour. As a result she performed at the legendary Shea Stadium show on that tour. She wasn't comfortable at Motown though. She was from the west coast, she was one of the few female artists writing her own songs, and she embraced a grittier performing style than her label-mates. In 1966 she started writing songs for her second album, to be titled Hurtin' & Cryin', but the album was never released. Instead there were several singles. The second of those was a song that Holloway wrote called "You Made Me So Very Happy."
The original Holloway version of "You Made Me So Very Happy" charted in 1967, peaking at #39. Of course it was the Blood, Sweat & Tears cover of the song that became an enormous hit, reaching #2 on the Billboard chart the following year. A year later, Holloway took her royalties and retired from performing.
There have been sporadic returns to performing and recording for Holloway over the years. My Love Is Your Love, her most recent album, was released in 2003.
[kml_flashembed movie="http://www.youtube.com/v/4DqSQaCrwss" width="600" height="344" allowfullscreen="true" fvars="fs=1" /]